Crackdown by security forces 'alienating many young Egyptians'
Sinai jihadists say they are behind terrorist attacks on police and army
Nadine Marroushi
Sunday 05 January 2014 01:00 Comments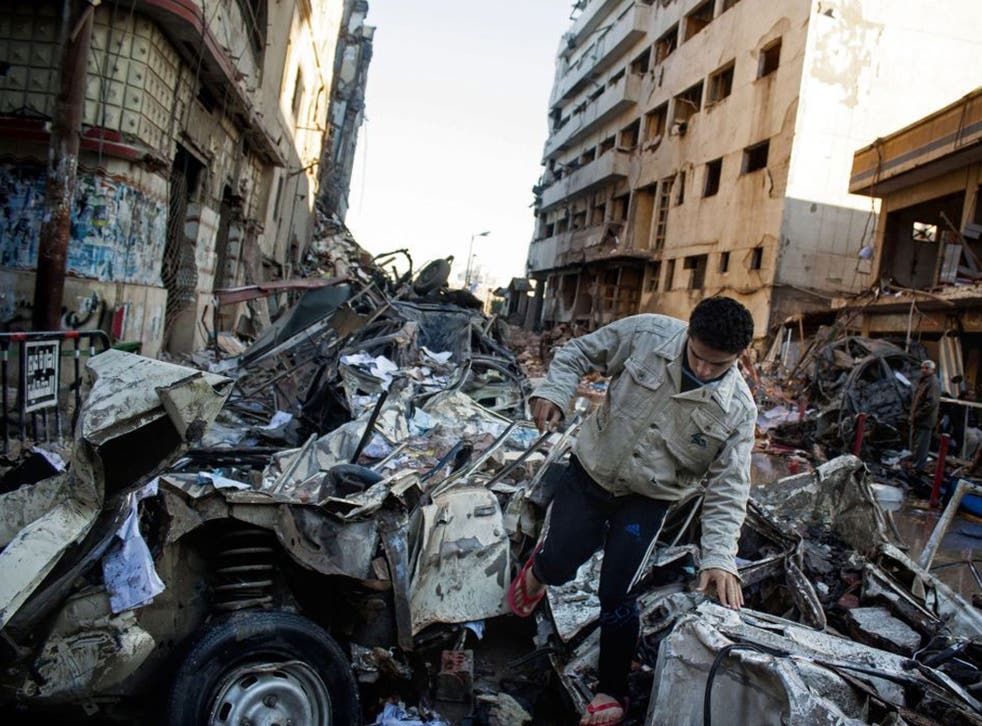 Sitting on a large wooden chair with a green leafy plant by his side, the bearded man looked down to the ground and confessed to his alleged crimes.
"My name is Yahia al-Mongi Saad Hussein. My name in the movement is Nasser. I'm a member of Ansar Jerusalem," he said in a video aired three days ago by the Ministry of the Interior, which runs Egypt's police forces. A deep-voiced, off-camera interrogator then intervened and told him to "raise his voice".
He continued: "I live in Dakahlia. I joined the movement after the 25 January revolution, after the events around Mohamed Mahmoud [a week-long series of violent protests in Cairo in November 2011], and I trained in Sinai for two weeks."
He went on to detail how he and his colleagues were behind a series of attacks in Mansoura, capital city of Egypt's Dakahlia province, north-east of Cairo, including a deadly bomb blast on Christmas Eve at a security headquarters that killed 16 people, almost all policemen.
Mr al-Mongi is also the son of a senior member in the Muslim Brotherhood, the Islamist organisation that last week was declared a terrorist group by the government after the 24 December bombing. The movement ruled Egypt until only six months ago.
If the confession is true, he is one of a number of people who, analysts claimed last week, are now being pushed towards terrorist attacks by the crackdown. "The current oppression is alienating many young Egyptians, particularly Islamists who [have] lost faith in politics and democracy and might adopt violence as the only way to deal with the current government," Khalil al-Anani, a senior fellow at the Middle East Institute, told al-Jazeera.
The confession is the first piece of purported hard evidence produced by the authorities to link the Brotherhood to Sinai-based militants, including Ansar Jerusalem, a connection that is central to the government's case for labelling the group a terrorist organisation. Human rights groups, however, criticised the terrorist label as a politically driven tag to justify a further crackdown on the Brotherhood's peaceful activities.
Analysts said the confession, and those of others extracted by the seven-member cell accused of the Mansoura bombing, need to be treated with a measure of scepticism. "You cannot treat evidence produced by the current regime or the Muslim Brotherhood objectively any more," said Ziad Akl, a researcher at the state-run al-Ahram Center for Political and Strategic Studies, a Cairo-based think-tank. "It has been turned into a political battle. The confession could be true, or it could be made up. We will never know because the regime is not credible."
A military-backed interim government took over after the army's ousting of President Mohamed Morsi, Egypt's first democratically elected civilian president and Brotherhood member, in July after a popular wave of protests calling for his removal. Since then, there has been a violent crackdown by Egypt's security forces against the Brotherhood and Mr Morsi's supporters.
Eric Trager, an expert on the Muslim Brotherhood at the Washington Institute for Near East Policy, said: "It's pretty clear the government is using the Mansoura attack as a pretext for going against the Brotherhood. The concern in the international community is that the Egyptian government is not taking the jihadi threat in the Sinai seriously, and is more focused on its own domestic politics than a very serious threat to its own people."
Attacks against security forces have escalated since Mr Morsi's removal, with about 400 police and soldiers killed in bombings and shootings, according to Reuters. Sinai-based militant groups have carried out many of these attacks.
Ansar Jerusalem, called Ansar Bayt al-Maqdis in Arabic, claimed responsibility for the Mansoura attack. It has also claimed responsibility for a failed assassination attempt against the Interior Minister in Cairo in September, and for the killing of a senior national security officer, Mohamed Mabrouk, also in Cairo in November.
Islamist militants in the Sinai peninsula, a lawless desert region that straddles the borders of Egypt, Israel and Gaza, have increased their attacks against security forces, and expanded their reach beyond Sinai and into mainland Egypt with increasing sophistication. They have gone from shootings to the use of improvised explosive devices and suicide car bombings. One group, the al-Furqan Brigades, claimed responsibility in September for an attack by rocket-propelled grenades against a moving cargo vessel in the Suez Canal.
Sinai's militants see in Mr Morsi's removal as "an opportunity to promote their cause and portray themselves as the defenders of Egyptian Muslims", said David Barnett, a research associate at the Washington DC-based Foundation for Defense of Democracies, a policy institute focusing on terrorism.
"The Muslim Brotherhood has long been criticised by jihadists for partaking in the democratic process. Now that they have been overthrown after engaging with Egypt's political system, jihadists see an opening to possibly garner support for their violent approach," said Mr Barnett.
The Brotherhood won every election in Egypt since the overthrow of Hosni Mubarak in 2011.
Mr Morsi's removal was followed by a bloody crackdown by Egypt's security forces against the Brotherhood and its allies. Conservative estimates put the death toll since Mr Morsi's removal at 1,500. Hundreds were shot when the police and army cleared a protest encampment of Morsi supporters in August, in what was described as the "most serious incident of mass unlawful killings in modern Egyptian history" by Human Rights Watch, a New York-based advocacy group.
Clashes between the Brotherhood and security forces continue and are likely to get worse, analysts said, as there appears to be little attempt by the government for reconciliation.
Thirteen people were shot dead on Friday as Brotherhood supporters clashed with police across Egypt in demonstrations defying the crackdown on the group. More protests have been called for by the Anti-Coup Alliance on Wednesday, the day Mr Morsi's trial resumes. He is being tried along with 14 other Muslim Brotherhood members, who are charged with inciting the killing of protesters outside the presidential palace in 2012.
Mr Trager sees the political conflict between security forces and the Brotherhood as a crisis that is unresolvable. "The Egyptian military is freaked out. They know the Brotherhood is coming for their heads, because of the way they removed them from power. So they're going to kill or be killed," he said.
Some of the fiercest battles between security forces and Brotherhood supporters have been taking place across Egypt's university campuses since the start of the current academic year last September.
Anti-military and anti-police graffiti is scrolled all over the walls of al-Azhar University in Cairo, where many pro-Brotherhood students have been holding demonstrations. "Morsi will return, CC is a killer" is one example, in reference to defence chief Abdel Fattah el-Sisi, who could be Egypt's next president if he decides to run in presidential elections expected within six months.
Youssof Salhen, 21, an al-Azhar student and spokesman of the students' anti-coup movement, said students will not stop protesting until those who supported Mr Morsi's removal are judged for their alleged crimes.
"Any leader of the coup is a war criminal, and should be judged that way. A killer should be killed. We're not going to attack them personally, but they should be judged according to their crimes. If they are proven guilty, they should be executed," he added.
Register for free to continue reading
Registration is a free and easy way to support our truly independent journalism
By registering, you will also enjoy limited access to Premium articles, exclusive newsletters, commenting, and virtual events with our leading journalists
Already have an account? sign in
Join our new commenting forum
Join thought-provoking conversations, follow other Independent readers and see their replies