'The death road': A young Syrian mother's journey smuggled from Sudan to Egypt
Exclusive: Refugee tells The Independent of her experience being smuggled from Sudan to Egypt – a dangerous journey being increasingly made by refugees and migrants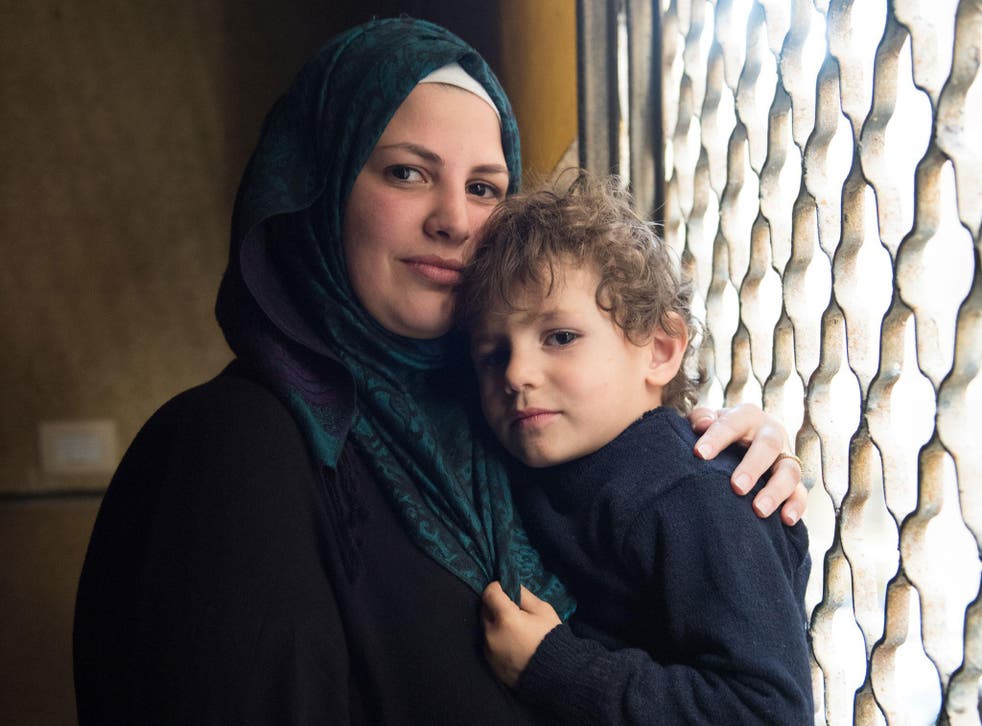 As Leen Baaj straddled the side of the speeding pickup truck, she held a rope around her three young children so they wouldn't fall out. There were 21 other people in the vehicle – seven of them children – making the treacherous desert journey from Sudan to Egypt.
At just 25-years-old – and with her husband still trapped in Syria – Leen made the trip with Hala, 10, Abdullah, nine, and Omar, four.
"Coming to Egypt from Sudan was a bad experience," Leen told The Independent from the offices of the Mustaqbalna school in Cairo, where she now works as a teacher. "I think I would have stayed in Syria if I had known, and dealt with the bombs."
She left her hometown of Homs to join her parents in Egypt after she decided she had nothing left to stay for. Communicating with a smuggling network through WhatsApp, her father arranged for her to make the trip from Sudan – there are no visa requirements for Syrians entering the country.
Refugees rescued and brought to shore in the Mediterranean
Her journey highlights a little-known route that is increasingly popular for Syrians escaping the war. According to the UN's refugee agency (UNHCR), there are nearly 117,000 Syrian refugees registered in Egypt, though some estimates place their number at over double that.
And of the 15,740 Syrians who registered with the UNHCR in Egypt in 2016, 60 per cent of them came overland from Sudan irregularly. The route is also used by numerous migrants from sub-Saharan Africa, particularly Eritreans.
After flying from Damascus to the Sudanese capital Khartoum, Leen and her children rendezvoused with the smuggling gang and other refugees and migrants, a mix of old and young people. They travelled north east to Port Sudan, making it past three checkpoints.
"It was so scary, the smuggler was shouting at us," Leen said. "He told us not to open the curtains [of the minibus] because of the police."
The group was dropped off in a house in Port Sudan, where they were joined by more refugees and migrants. At nightfall, they were put in a pickup truck and driven into the desert.
Leen continued: "We were terrified. It's so dangerous. They are travelling so fast it's easy for the children to fall. I was sat with my legs over the side, I thought I was going to fall out. And if you do, there is no one to rescue you.
"But there's also the authorities or bandits who could catch you and we risked being fired on. We could hear the gun shots at one point."
The desert areas of northern Sudan are notoriously lawless. Migrants not only have to cope with their hostile and unpredictable smugglers, but also roaming gangs of bandits and corrupt officials. Another family who made the journey told The Independent they feared the gangs of organ harvesters who are said to stalk the trail.
While this is impossible to verify, black market organ sales are strongly suspected to be a feature of the refugee and migrant trade. In December, the Egyptian authorities arrested 45 people in connection with it.
"No one should make this journey," said Leen. "It's a death road."
After two days in the truck, Leen and her children were forced out near the Egyptian border. "When we had to get out and walk my little one said 'let's run, let's race', but I was so tired," she said.
They met another driver on the Egyptian side. "The smuggler was hurrying because he was scared of the police," Leen said. "He was driving crazily, we were bumping up and down and screaming. But he came out with a stick, and told us to shut up."
By this time, Leen had gone well over a day without water, let alone shade. The group met a second driver, who sold them bottles at an extortionate price. They continued until the police came across the driver. He left Leen, her children and the other migrants in the desert without explanation and drove off.
In pictures: A day of refugee rescues in the Mediterranean Sea

Show all 7
Nearly two hours later, the driver returned and the group moved from the desert to a normal road. On safely reaching the southern Egyptian town of Aswan, they were told to disperse. Leen and her children spent the night in a mosque, before going to the railway station and catching a 15 hour train to Cairo.
Leen was traumatised by her journey, replaying it over in her head for a week. Her son Omar wants to forget it too, but recoils every time he sees a pickup truck in the street.
But her children have been receiving psychosocial support, thanks to a joint Unicef and EU project at the Mustaqbalna school to help refugee children deal with the trauma of war and displacement.
And just weeks after her arrival, Leen took up her position teaching other Syrian children who have sought a new home in Cairo.
Now, the family is now hoping to build a life in peace. "I can stand a lot because I am strong," said Leen, with an air of defiance. "I played with my kids and had fun with them in the chaos."
Join our new commenting forum
Join thought-provoking conversations, follow other Independent readers and see their replies