Escape of Ebola patient in Congo sparks fear of further infection
New cases emerge two days before Congo to declare end to Ebola epidemic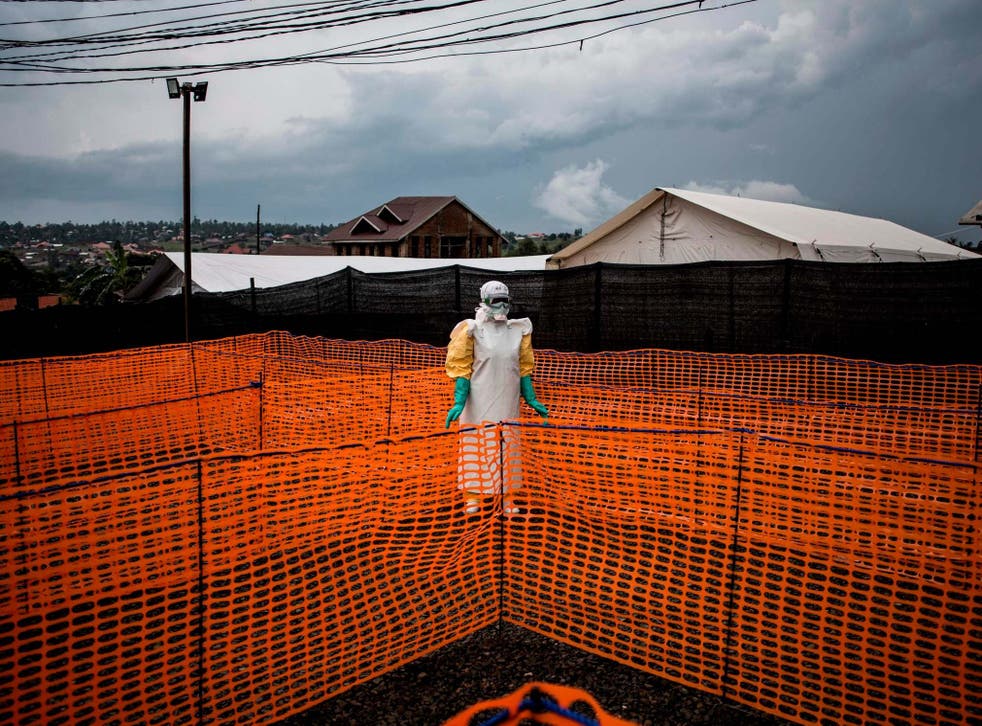 A patient infected with Ebola has escaped from a clinic in eastern Congo, which could set efforts to contain a flare up of the disease back significantly, said the World Health Organisation (WHO).
A new cluster of the disease was discovered on 10 April, just two days before the Democratic Republic of Congo (DRC) was due to declare an end to the world's second-largest Ebola epidemic. Before the new chain emerged, the DRC had gone more than seven weeks without a new case.
Health authorities sought to contain any renewed spread of the infections, which were confirmed in six people since last week.
But a 28-year-old motorbike taxi driver who tested positive for Ebola ran away from a treatment centre in the town of Beni, where the new cases surfaced.
The DRC had hoped to funnel resources collected to deal with Ebola into the Covid-19 outbreak, which has confirmed 327 confirmed cases of the virus, which 25 deaths. But a resurgence of Ebola could completely overwhelm the country's already-strained health system.
Boubacar Diaollo, deputy incident manager for the WHO's Ebola response operation, said: "We are using all the options to get him out of the community. We are expecting secondary cases from him.
"We do not have any details yet. All have been working with the authorities, youths and civil society to find him," Mr Diallo told Reuters via WhatsApp. "Search is ongoing."
Ebola has killed over 2,200 people since August 2018, but research shows that many communities in the Congo are sceptical that the disease is real. The lack of trust in the authorities resulted from decades of conflict and poor governance.
Health workers are scrambling to track, quarantine and vaccinate anyone who came into contact with the new Ebola cases to contain it.
Beni's deputy mayor Muhindo Bakwanamaha said local authorities have not yet been able to track down the patient who escaped. He said the patient will die without treatment and "create a lot of contacts around him".
A civil society group in Beni also called for the public to cooperate with emergency response teams working to contain the virus, and urged them not to attack medical workers.
According to African news site Election Net, the group also appealed to those who had been in contact with the people who tested positive for Ebola to inform the response teams.
At the height of the Ebola outbreak last year numerous medical workers were attacked or even killed, particularly in areas heavily guarded by militia groups. In April 2019, a Cameroonian doctor, Richard Mouzoko, was shot dead at a hospital in Butembo, where he was treating patients with Ebola.
The attacks have prevented health workers from reaching some areas hit by the virus despite the availability of two new vaccines.
In a statement made last week, WHO director-general Tedros Adhanom Ghebreyesus said: "Flare-ups are expected at the tail-end of Ebola outbreaks. Our teams in Benin are experienced in responding to new cases, and acted quickly to engage with affected communities, investigate alerts, identify and vaccinate contacts, decontaminate affected homes and health facilities, and send samples for sequencing.
"The Committee noted that armed groups are active in the area where these cases were identified, a lack of funding is constraining the response, and the Covid-19 pandemic is adding more challenges to an already complex operation.
"We have to anticipate and be prepared for additional small outbreaks. We need the full force of all partners to bring these outbreaks under control and to meet the needs of the people affected," he added.
Register for free to continue reading
Registration is a free and easy way to support our truly independent journalism
By registering, you will also enjoy limited access to Premium articles, exclusive newsletters, commenting, and virtual events with our leading journalists
Already have an account? sign in
Join our new commenting forum
Join thought-provoking conversations, follow other Independent readers and see their replies