Denis Mukwege: The Nobel prize-winning Congolese surgeon and warrior against rape
Gynaecologist known as 'Doctor Miracle' has survived assassination attempts to campaign against the brutal war tactic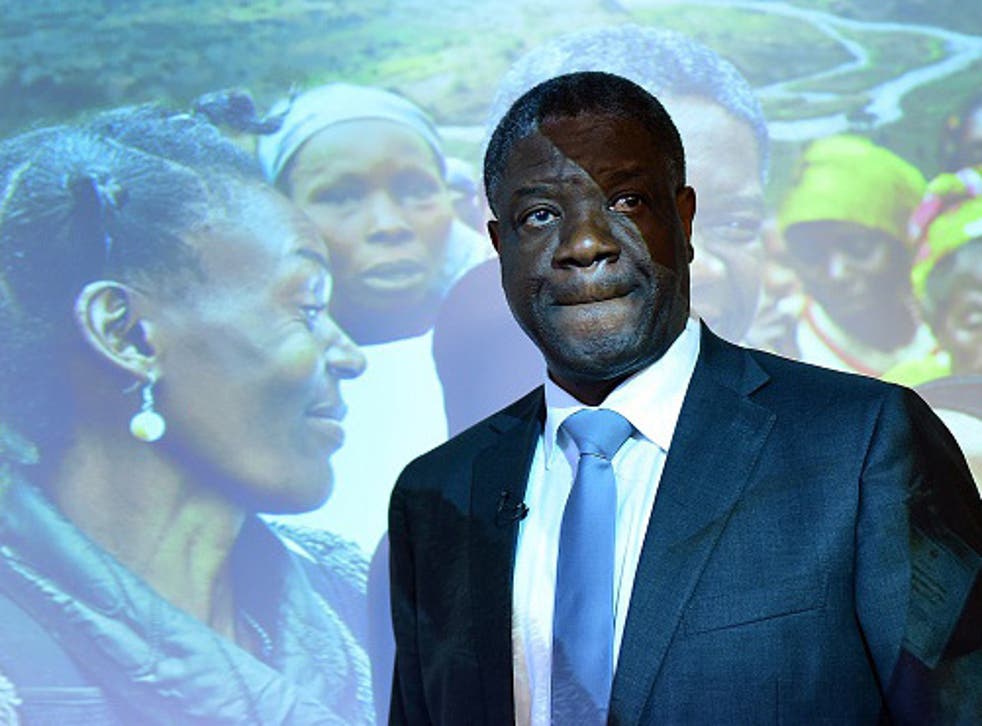 When a young Denis Mukwege qualified in France as a gynaecologist, he planned to spend his career treating women in pregnancy and labour near his African home.
Instead, brutal civil conflict in the Congo turned him into not just the world's leading expert on treating the damage from sexual violence but also a women's rights advocate and international campaigner against rape as a weapon of war.
Using surgery to repair the horrific physical damage inflicted on tens of thousands of women and girls is not enough for Dr Mukwege, known as "Doctor Miracle". He has lobbied at the highest levels against sexual violence and to raise awareness of the conflicts over natural resources that have led to war in the Congo.
It has nearly cost him his life.
Born in Bukavu in the eastern Democratic Republic of Congo, the third of nine children, he was inspired to become a doctor by his father, a pastor who visited the sick. After studying medicine in Burundi, he worked in a hospital before undertaking gynaecology training in France.
In 1999, he founded the Panzi Hospital in Bukavu as a clinic for gynaecological and obstetric care, whose purpose has switched to caring for survivors of Congo's epidemic of sexual violence.
Dr Mukwege and his staff have cared for more than 40,000 women, not only with operations but also providing holistic care, with the legal, psychological and social support they need to begin to recover.
The 63-year-old operates on up to 10 women a day, repairing vaginal fistulas – holes created either between the vagina and rectum, or vagina and bladder – a common occurrence after violent rape that can have traumatising long term consequences, leading to women being shunned by their communities.
His patients range from girls as young as two to women in their eighties.
The Congolese war, which is believed to have killed at least five million people since 1998, officially ended in 2003 but continues in the east, where rape is a tactic used to brutalise communities to control the country's mineral wealth.
Many children who arrive at the hospital are themselves the product of conflict rape.
In 2012, in an address at the UN he denounced the conflict, calling for those responsible to face justice, condemning the "deafening silence and lack of courage of the international community".
Soon afterwards armed men took his daughters hostage and fired on Dr Mukwege. His security guard was shot dead but the bullets narrowly missed him. The attackers fled.
Dr Mukwege took his family to Sweden and then Brussels, living in exile for three months, until the women of Bukavu pleaded for him to return, selling fresh produce to pay for his flight home.
When he arrived back, they lined the streets, cheering.
A children's crisis: Violence and insecurity in Congo

Show all 7
On coping with death threats, he said: "Because I just thought, 'Why does this have to happen to me? What am I doing that's bad? I'm just trying to help people.' But if you say violence is not a good thing, you become a dissident."
Today, he lives under the permanent protection of UN peacekeepers at his hospital.
"I don't have any social life," he says. "But I'm not complaining, I'm happy to be doing what I'm doing because when I can see how strong women are, all my strength, all my inspiration comes from them."
Before being awarded the Nobel prize, the father of five had already earned many distinctions. In 2014 he was awarded the Sakharov Prize for Freedom of Thought, the highest human rights award of the European Parliament.
In an interview with The Independent about survivors, he said: "They are dehumanised. Most are shamed by what happened to them. Most are excluded from their own community."
He is also on the advisory committee for the International Campaign to Stop Rape and Gender Violence in Conflict.
Eventually, after years of hearing survivors' accounts, Dr Mukwege had to stop listening to them, saying: "One does not get used to the suffering."
He has spoken out to demand political will for change so that minerals used in devices such as mobile phones can be mined cleanly.
And he wants zero tolerance of rape in war. "We've done this with chemical and biological arms and we can do the same thing for sexual crimes," he said.
Join our new commenting forum
Join thought-provoking conversations, follow other Independent readers and see their replies