Diamond mining company Octea facing claims it owes money to Sierra Leone town and New York jeweller Tiffany
Tiffany has announced it has deferred payment of $50m of loans it made to Octea to develop the mine in Koidu, where the town council now claims it will take legal action over £400,000 in unpaid property taxes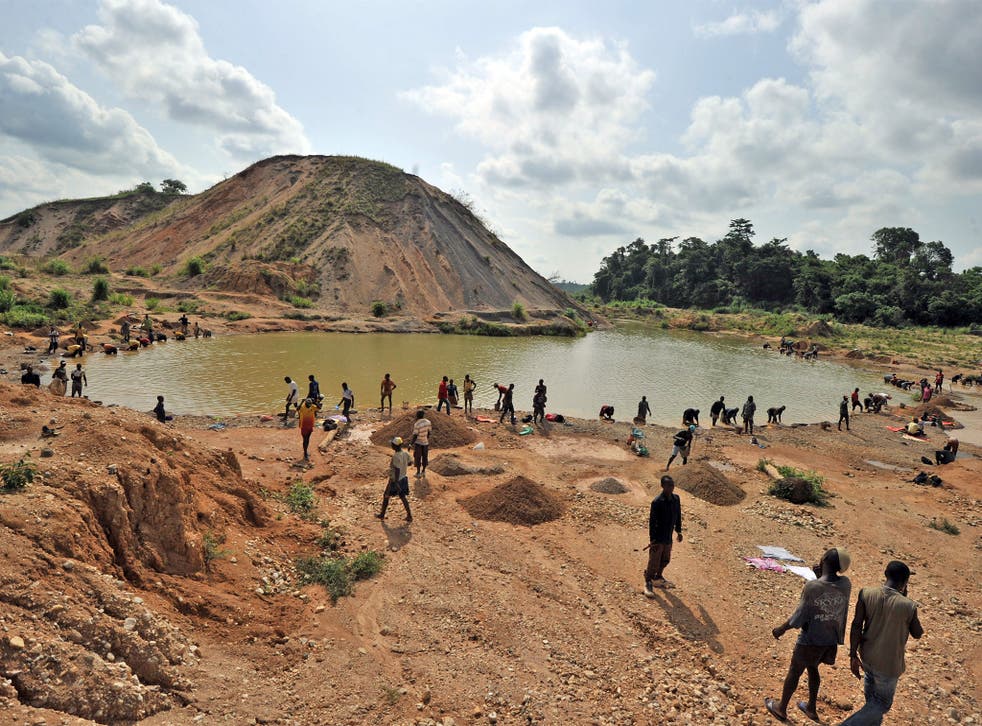 At a glance, the economically stricken town of Koidu in Sierra Leone in West Africa has little in common with the plush elegance of New York's premier jeweller Tiffany. Save for the fact that many of the diamonds on sale at Tiffany come from Koidu.
Now the two have something else in common. Both say they are owed money by a mining company owned by one of the world's richest mining magnates. Israeli billionaire Beny Steinmetz owns Octea, which has a 25-year lease to operate Koidu's diamond mine. Despite sitting on some of the world's most valuable diamonds – the 965-carat Star of Sierra Leone was unearthed there in 1972 – the company has been reported to be in trouble.
Tiffany has announced it has deferred payment of $50m (£33m) of loans it made to Octea to develop the mine while Koidu town council now claims it will take legal action over 2.7bn leones (£400,000) in unpaid property taxes.
Sierra Leone's Mining Minister visited London last week for crisis talks with the company, its bank Standard Chartered, Tiffany and other groups with interests in the diamond mine.
With the tiny West African country already reeling from the effects of the Ebola outbreak as well as a collapse in commodity prices, Mines Minister Mikailu Mansaray was eager to discover whether Octea is going to continue mining. He has complained the company is no longer paying the government statutory social security payments for its employees, according to the newsletter Africa Confidential. In a letter quoted by the newsletter, Mr Mansaray warned he would take "necessary action within our legal rights… to cancel or not renew the existing [licence] and/or secure Octea's assets in lieu of the company's outstanding obligations".
Octea's London lawyers, Mishcon de Reya, have protested at any attempt to revoke the operating licence.
Mr Mansaray's anxiety over Koidu's future has been sharpened by the fact that a company led by Hollywood star Jeffrey Wright is champing at the bit to take over.
The star of films including The Hunger Games and the James Bond series, Mr Wright is a champion of socially responsible mineral mining. His approach is especially popular in Sierra Leone where revenues from so-called "blood diamonds" fuelled a vicious civil war killing an estimated 50,000 people and forcing tens of thousands more to flee. Mr Wright already runs a mining operation in Sierra Leone called Taia Lion Resources. He and his takeover partners were unavailable for comment on the negotiations.
Guernsey-based BSG Resources (BSGR), which wholly owns Octea, denies facing financial difficulties. The company says it has invested $300m since 2004 and now directly employs 900 people. Its website says it was seeking to attract financing partners for the "injection" of between $600m-$1bn for other exploration and development opportunities.
Earlier this month BSGR's chief executive, Brett Richards, resigned after a secret tape recording of negotiations between the miner and Sierra Leonean government officials was leaked. During part of the meeting, which The Independent has listened to, Mr Richards recommended the government demand immediate payment of the fees his company owed it and BSGR needed to be "hit with a big stick" to motivate it.
World news in pictures

Show all 50
Mr Richards resigned after the recording emerged. BSGR director Dag Cramer was later quoted as saying: "He was supposed to tell them 'We're staying, we're paying.' He goes down and says something else."
Those involved in the London crisis meeting refused to comment afterwards but sources said the mining company pointed out the continued "challenging commercial environment" but claimed they remained committed to further investment at the mine. Further talks are expected early next year.
Join our new commenting forum
Join thought-provoking conversations, follow other Independent readers and see their replies