Drought devastates Lesotho as water is exported to South Africa
Country once nicknamed 'the Water Castle' is not benefiting from the vast Katse Dam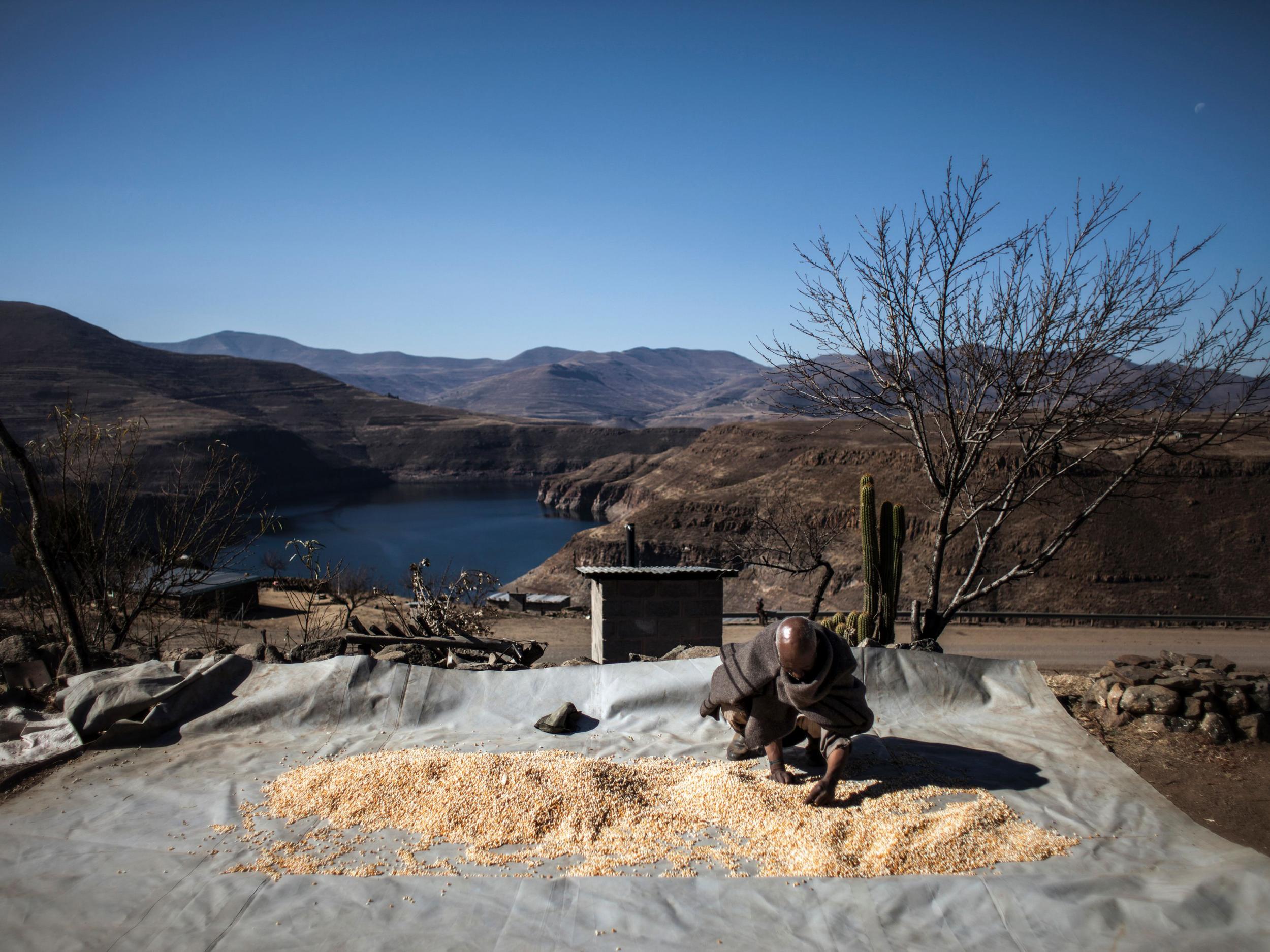 Lesotho is experiencing food insecurity as a result of drought despite being the site of the second largest dam in Africa, because water is being exported to its neighbour South Africa.
An estimated 680,000 people — more than a quarter of the total population – are in need of emergency food and assistance, according to the World Food Programme (WFP).
Crops are failing in the landlocked region because of erratic rainfall linked to the El Nino weather system, which has plunged swathes or eastern and southern Africa into drought. But farmers say that if they could irrigate crops with water from the vast Katse Dam they could increase their yield.
"I am very angry about that water, because it could benefit us, we could use it to water the crops when there is a drought. But that's not happening," Mohlakoane Molise, a 65-year-old farmer, told AFP.
Mr Molise's total annual harvest for 2016 filled just two large sacks, in place of the usual dozen. According WFP, the 2016 harvest for Lesotho's primary crop maize is less than a third of what it was last year.
While depleted, the Katse Dam is still at more than half its normal water level, meaning that many farmers are watching their crops shrivel and die against the backdrop of an expansive lake.
"The level today is about 63.4 percent, which is quite low," Tatuku Maseatile, Katse acting branch manager for the Lesotho Highlands Development Authority, told AFP. "[But] we are still able to meet our annual targets in terms of both [electricity] generation and water transfer."
When the Katse Dam was built in the nineties, Lesotho was dubbed the 'Water Castle' for South Africa, which surrounds it on all sides. It was negotiated that the dam would supply Lesotho with hydroelectricity, and the cities of Pretoria and Johannesburg in South Africa with water.
But Lesothian farmers said they have struggled to make a living since their land was flooded.
"There were fields around the river before the dam was built, and there were trees, but they are covered by water," said Mr Molise.
"Since the dam is here, it's difficult to get water. The crops are very poor, even the grazing land. It's like a desert."
Mozambique: Adapting to climate change with goats
Show all 13
The tiny nation is now forced to import food from South Africa, which has also been affected by El Nino, reducing crop yield and pushing prices up by 60 per cent in the past year.
"From September, we'll have nothing left and we'll struggle to buy maize from the shop," said Mr Molise.
According to the United Nations, 40 million people across southern Africa risk enduring malnutrition by next year's harvest.
Join our commenting forum
Join thought-provoking conversations, follow other Independent readers and see their replies