Ebola: Deadly outbreak crosses border as mistrust hampers medical staff
The highly contagious virus has spread from Guinea to Sierra Leone, but villagers are removing infected relatives from hospitals
Charlie Cooper Comments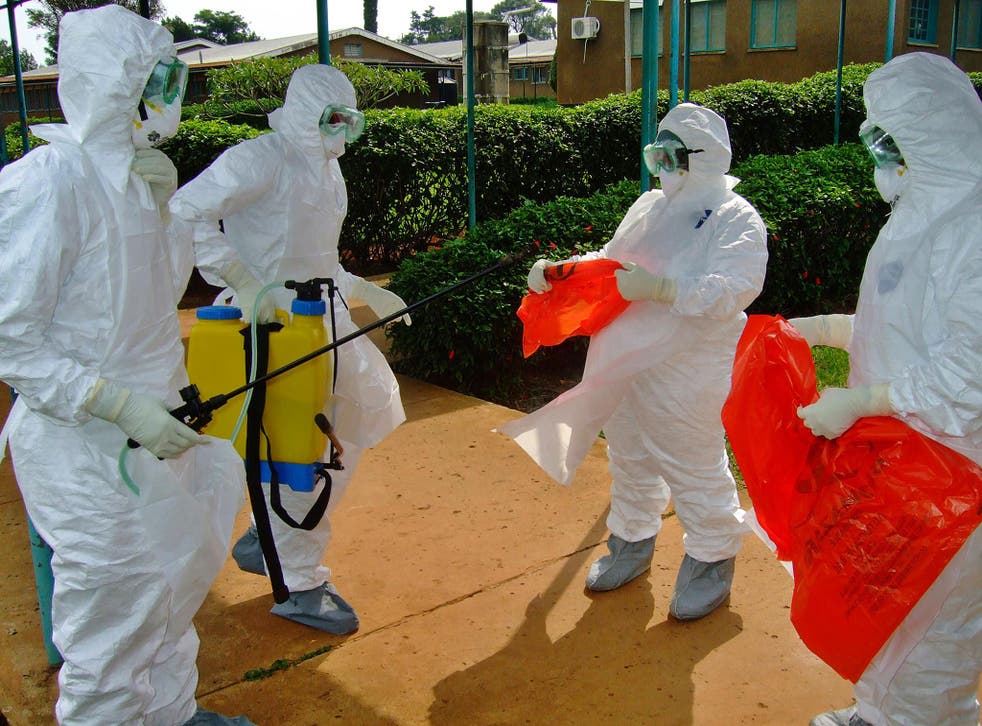 West Africa's deadly Ebola outbreak, which has already killed nearly 200 people in Guinea, has crossed the border and claimed its first lives in Sierra Leone, placing health authorities across the region on high alert.
The World Health Organisation and Médecins sans Frontières have dispatched teams to the east of the country, while health authorities in the capital are meeting daily to monitor the disease, amid fears that it could spread quickly among remote rural communities with little access to healthcare.
The current outbreak began in neighbouring Guinea in March. The first confirmed cases were detected in Sierra Leone earlier this week and the country has now recorded 16 cases and five deaths.
Ebola is a highly infectious virus which proves fatal in up to 90 per cent of its victims. It can be passed on through contact with the fluids of infected people, including sweat – meaning that just touching the body of an infected person can cause transmission. Healthcare workers have been forced to wear protective body suits.
An Ebola task force has been formed at Sierra Leone's Ministry of Health and Sanitation in the capital Freetown, incorporating government and international volunteer healthcare workers.
Shirley Simbo, head of the Voluntary Service Overseas Sierra Leone health programme, told The Independent that the outbreak was already being treated as an emergency. "It is causing major concern," she said. "We are currently working together with the Ministry of Health and Sanitation. Every day we have a task force meeting."
The VSO's team of 14 volunteer and nurses was helping government health workers to alert remote communities to the threat and advise on measures to prevent the virus's spread, she said. "The ministry has dispatched its teams to every district. Right now the prevalence is on the eastern side of Sierra Leone. There are still misconceptions in communities, especially rural communities. Some people are still doubtful that it is Ebola that is manifesting in Sierra Leone. Some still think it is cholera."
At an emergency meeting on Wednesday, the task force heard that Koindu, a town in the eastern Kailahun district, had become the "epicentre" for the outbreak.
In Kenema, Sierra Leone's third largest city, it was confirmed that one of three Ebola patients had died after being admitted to hospital. One woman, the daughter of one of the patients admitted to hospital in Kenema, said she had been told from relatives in Koindu that her mother had died. Her mother was among eight patients said to have been "forcibly removed" from a health centre in the town.
Health authorities are particularly concerned that mistrust of healthcare workers in some communities could prevent effective monitoring and prevention of the disease.
A team of health workers, who had entered Koindu, have already been "ambushed" and its ambulance "attacked", minutes from Wednesday's meeting revealed.
Earlier this week, six suspected Ebola patients were taken out of hospitals in Koindu by their families against doctors' orders. One of the patients has since died and the breach is considered a major infection risk.
Dr Amara Jambai, director of disease prevention and control at Sierra Leone's health ministry, told the BBC that staff at the clinic had tried to stop them but the families, who were said to have been afraid their loved ones would die alone, became "aggressive".
The government has prioritised 13 key messages, which it is attempting to disseminate to every Sierra Leonean. People have been told to attend the nearest health clinic immediately if they have symptoms of fever, diarrhoea or vomiting. There have also been warnings over hand-washing, and eating bush meat, especially from monkeys, chimpanzees or bats, or to eat fruit that might have been eaten by animals. Fruit bats are believed to be the natural host of the virus.
Ebola treatment has been made available free of charge at all health facilities.
Tarik Jasarevic, spokesperson for the World Health Organisation on Ebola, said the outbreak required a "huge social mobilisation activity" to alert the population to the dangers. "We really have to work with population," he said. "We need to talk to people to use every means, go to religious leaders, to village chiefs to explain what Ebola is. If you come to a village without preparing you can encounter some resistance."
Ebola has also been detected in Liberia during the outbreak, but no new cases have been recorded since April. There is no cure or vaccine for Ebola, but people have a much better chance of survival if the virus is detected early.
As of Wednesday, 281 cases of Ebola had been detected in Guinea, with 186 deaths.
Register for free to continue reading
Registration is a free and easy way to support our truly independent journalism
By registering, you will also enjoy limited access to Premium articles, exclusive newsletters, commenting, and virtual events with our leading journalists
Already have an account? sign in
Join our new commenting forum
Join thought-provoking conversations, follow other Independent readers and see their replies