Ebola: 11-month-old girl becomes second to die in Congo amid fears of new wave
Over 200 people traced to electrician who became first new case in weeks on Friday
Harry Cockburn
Sunday 12 April 2020 14:31 Comments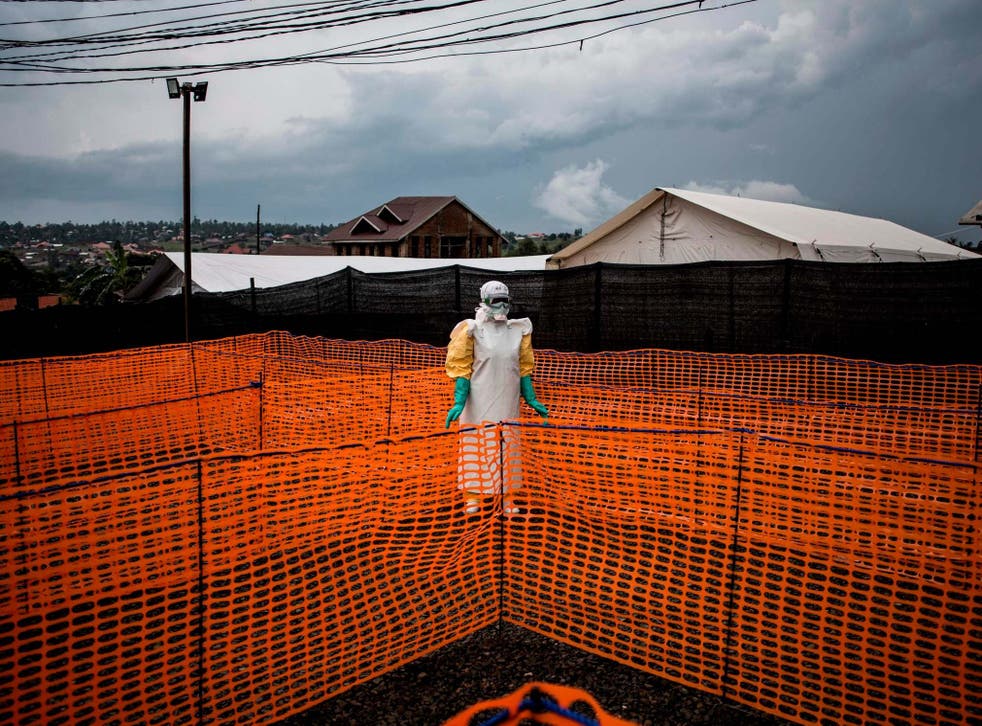 After more than seven weeks without any recorded cases, the Democratic Republic of the Congo (DRC) has now seen two deaths in recent days, with the latest victim being an 11-month-old girl, the World Health Organisation said on Sunday.
The country had been due to mark the official end of the second-deadliest outbreak of the virus on record, but on Friday a 26-year-old electrician in the eastern city of Beni was found to have the disease.
The 11-month-old girl had been treated at the same health centre as the electrician, Boubacar Diallo, deputy incident manager for the WHO's Ebola response, told Reuters.
Officials say it is not yet clear how the electrician contracted Ebola. He had no known contacts with other Ebola patients and was not a survivor of the virus who could have relapsed, the government said on Friday.
Forgotten Women: Survivors of Ebola 2019

Show all 12
Flare-ups or one-off transmissions are common towards the end of Ebola outbreaks, and a new case does not necessarily mean that the virus will spread out of control again.
The Ebola virus causes fever, bleeding, vomiting and diarrhoea and spreads among humans through bodily fluids.
The current outbreak has killed more than 2,200 people since August 2018 in an area of the country where militia violence hobbled efforts to contain it.
During this outbreak it has killed about two thirds of those infected.
Two new vaccines have helped contain the virus, though public mistrust and militia attacks prevented health workers from reaching some hard-hit areas.
On Saturday, a group of angry young men threw stones at a team of WHO workers and Beni's deputy mayor as they attempted to decontaminate the electrician's home and trace his contacts, Mr Diallo said.
"For them, Ebola is over," he told Reuters. "People here have some problems understanding how this case just came two days before the declaration of the end," Mr Diallo said.
The deputy mayor was forced to abandon his car and escape by motorbike taxi, said Kambale Sabuni, head of the police in Beni.
On Friday, after the first new case was discovered, the World Health Organisation said it was not entirely unexpected.
"While not welcome news, this is an event we anticipated. We kept response teams in Beni and other high risk areas for precisely this reason," said Dr Tedros Adhanom Ghebreyesus, WHO Director-General.
The organisation said efforts were already underway to find everyone who may have been in contact with the person in order to offer them the vaccine and monitor their health status.
By Sunday, this was believed to be in excess of 200 people.
"WHO has worked side by side with health responders from the DRC for over 18 months and our teams are right now supporting the investigation into this latest case," said Dr Matshidiso Moeti, WHO Regional Director for Africa.
"Although the ongoing Covid-19 pandemic adds challenges, we will continue this joint effort until we can declare the end of this Ebola outbreak together."
Additional reporting by Reuters
Register for free to continue reading
Registration is a free and easy way to support our truly independent journalism
By registering, you will also enjoy limited access to Premium articles, exclusive newsletters, commenting, and virtual events with our leading journalists
Already have an account? sign in
Join our new commenting forum
Join thought-provoking conversations, follow other Independent readers and see their replies