Ebola outbreak: No accurate death toll as crisis 'runs out of control'
Sarah Dilorenzo
,
John Heilprin
Saturday 16 August 2014 08:19 Comments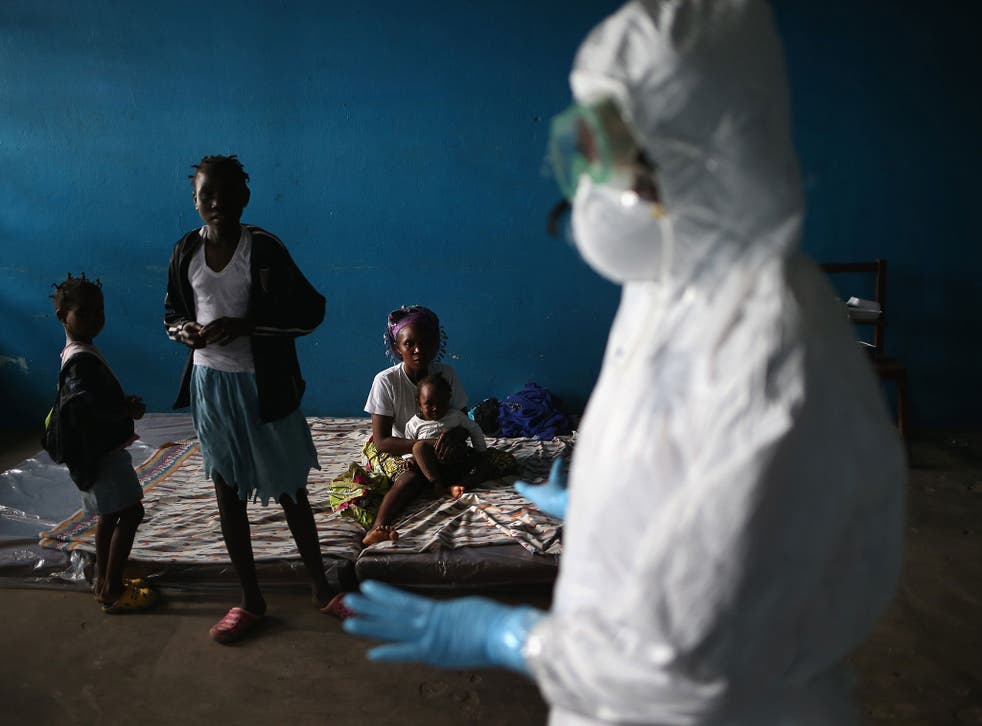 The Ebola outbreak that has killed more than 1,000 people in West Africa could last another six months, Médecins Sans Frontières (MSF) said on Friday, and a medical worker acknowledged that the true death toll is unknown.
Tarnue Karbbar, who works for the aid group Plan International in northern Liberia, said response teams simply were not able to document all of the cases.
Many of the sick were being hidden at home by their relatives, too fearful of going to an Ebola treatment centre.
Others were buried before the teams could get to the area, he said. In the past several days, some 75 cases had emerged in a single district.
"Our challenge now is to quarantine the area to successfully break the transmission," he said, referring to the Voinjama area in Liberia's north. Many people may be hiding, but many are also finally beginning to seek treatment, as more centres open up.
Gregory Härtl, a spokesman for the World Health Organisation in Geneva, said beds in such centres were filling up faster than they could be provided, evidence that the outbreak in West Africa was far more severe than the official numbers showed.
At a treatment centre that MSF recently took over in one quarantined county in Liberia, there are 40 beds but 137 people have flocked there, packing the hallways until they can be sorted into those who are infected and those are not.
In pictures: Ebola virus

Show all 62
MSF's international president, Joanne Liu, who recently returned from Guinea, Liberia and Sierra Leone, said: "It's absolutely dangerous. With the massive influx of patients that we had over the last few days, we're not able to keep zones of patients any more. Everybody is mixed."
The charity will have 300 beds available once several dozen open in the coming days, but Dr Liu said it could not possibly provide more.
The WHO's Mr Härtl noted that an 80-bed treatment centre which opened in Monrovia, Liberia's capital, in recent days filled up immediately. The next day, dozens more people showed up to be treated. Dr Liu likened the situation to a state of war because the "frontline" was always moving and unpredictable. She said the outbreak could last six more months.
"We're running behind a train that is going forward," Dr Liu told reporters in Geneva. "And it literally is faster than what we're bringing in terms of a response."
The UN health agency warned on Thursday that the official counts of 1,069 dead and 1,975 infected could "vastly underestimate the magnitude of the outbreak".
It said extraordinary measures were needed "on a massive scale to contain the outbreak in settings characterised by extreme poverty, dysfunctional health systems, a severe shortage of doctors, and rampant fear."
Ebola causes a high fever, bleeding and vomiting. It has no cure and no licensed treatment, and has been fatal in at least 50 per cent of cases, health experts say. The disease is usually found in eastern or central Africa, typically in rural, isolated communities, where outbreaks tended to be "self-limiting", Mr Härtl said.
By contrast, the current outbreak spread quickly to cities and the capitals of Guinea, Liberia and Sierra Leone, making it difficult to contain.
AP
Women more at risk of catching virus due to roles as caregivers
Caelainn Hogan
©Washington Post
As the number of lives claimed by the Ebola epidemic in West Africa rises above 1,000, the rate of infection among women is outpacing that among men because women are the caregivers, nurses and cross-border traders, health officials report.
Outbreaks are thought to originate through contact with infected forest animals, often making men who hunt for bush meat or handle the meat the first targets of infection.
But as an outbreak pro-gresses, women tend to be disproportionately affected. Women account for 55 to 60 per cent of the dead in the current epidemic in Liberia, Guinea and Sierra Leone, according to Unicef. "Women constitute a large section of the health workers and are on the front lines of this crisis," said Nyama Koroma, First Lady of Sierra Leone.
At a task force meeting in Liberia a few weeks ago, health teams reported that 75 per cent of those who were infected or died from Ebola were women, said Julia Duncan-Cassell, Liberia's Minister for Gender and Development.
"Women are the caregivers – if a kid is sick, they say, 'Go to your mom,'" she said.
"The cross-border trade women go to Guinea and Sierra Leone for the weekly markets, [and] they are also the caregivers. When there is a death in the family, it's the woman who prepares the funeral."
Register for free to continue reading
Registration is a free and easy way to support our truly independent journalism
By registering, you will also enjoy limited access to Premium articles, exclusive newsletters, commenting, and virtual events with our leading journalists
Already have an account? sign in
Join our new commenting forum
Join thought-provoking conversations, follow other Independent readers and see their replies