Egypt plane crash: Tourists stranded in Sharm el-Sheikh face 10-day wait for flight home
One group of marooned passengers has banded together in an effort to pressure easyJet into letting them fly home
Ruth Michaelson
,
Serina Sandhu
Saturday 07 November 2015 22:08 Comments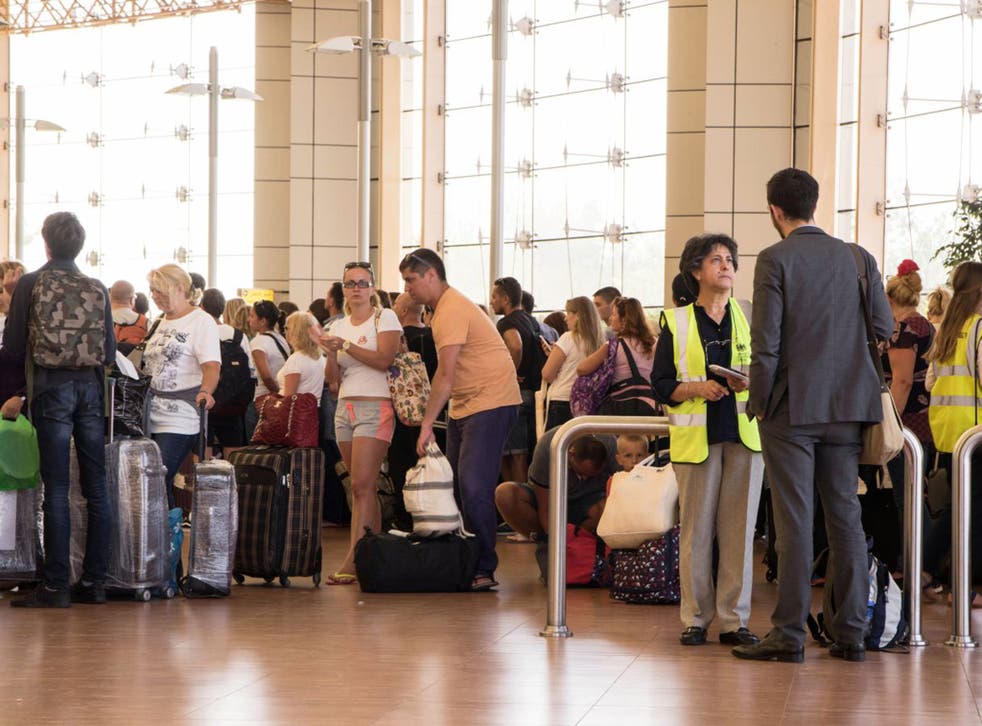 Thousands of stranded tourists in Sharm el Sheikh could face a wait of up to 10 days for a flight home, government officials have said.
Around 1,500 travellers arrived back from the Egyptian resort today, on nine planes. But as thousands more remained trapped in Egypt, one group of stranded passengers banded together in an effort to pressure easyJet into letting them fly home. Karen Washington marshalled around 50 passengers on flights back to the UK, after she and others said they had received "no information" from the budget airline.
"We demanded to speak to someone at easyJet at the reception in our hotel this morning," she told The Independent on Sunday. "We gave them our individual booking references, and they said they can get us on a plane. But then we said, well, we've got 50 others around us." She added: "We ended up typing up an email of 50 names and references .... After two hours of back and forth, we managed to send them all of our details."
Ms Washington said that easyJet did not appear to have a comprehensive list of which passengers were at the hotel. As a result, her efforts were what had forced easyJet to band all 50 people together, and put them on a flight home. "Afterwards, another 40 people came up to us and asked to be put on the same flight," she added. For the moment, it appears those 40 people are still stuck in the resort.
Asked how she felt about having to assume the responsibility of organising other passengers' travel, Ms Washington replied: "We would love if there had been a representative here."
Her husband, Martin Smith, added: "EasyJet have been worse than hopeless. We tweeted, we emailed, and they just kept telling us to look at their website."
Ms Washington said: "There are people here with children, and serious medical conditions. One lady ran out of medication and had to ring the British Consulate."
Others were not so lucky, braving searing heat and crowds of thousands only to be told that no flights were available.
Emma Beeney, 45, from Ely in Cambridgeshire, said: "There's a few places on a couple of flights going out today but they're giving priority to people with disabilities and young children. I have registered but I don't think we'll be going. I'm not even going to the airport. I'm not going to take my kids into that chaos."
Russian passenger plane crashes in Egypt

Show all 20
She added that the mood among guests at her hotel, the St George, was "relaxed" and that information from the airlines had now started getting through to guests and passengers, via text message and notice boards. "I think it's going to be Monday or Tuesday before we get out," she said.
Meanwhile, an anti-terrorism official said that the British government has eschewed security options that despite being more cumbersome, could prove better in the long term.
"You could send a plane out and have a team of dedicated searchers," he said, outlining how embassy workers could help. However, this would add three or four hours of extra security procedures per flight.
"In effect, they would 'chaperone' what the Egyptians are doing on the ground. It is an easily performed task ... and it gets people home and reassures them that the planes are safe."
Register for free to continue reading
Registration is a free and easy way to support our truly independent journalism
By registering, you will also enjoy limited access to Premium articles, exclusive newsletters, commenting, and virtual events with our leading journalists
Already have an account? sign in
Join our new commenting forum
Join thought-provoking conversations, follow other Independent readers and see their replies