EgyptAir flight MS804 crash: Egyptian minister says terror attack is more likely cause than technical problem
There has been no claim of responsibility for the crash in the Mediterranean Sea
Lizzie Dearden
Thursday 19 May 2016 13:48 Comments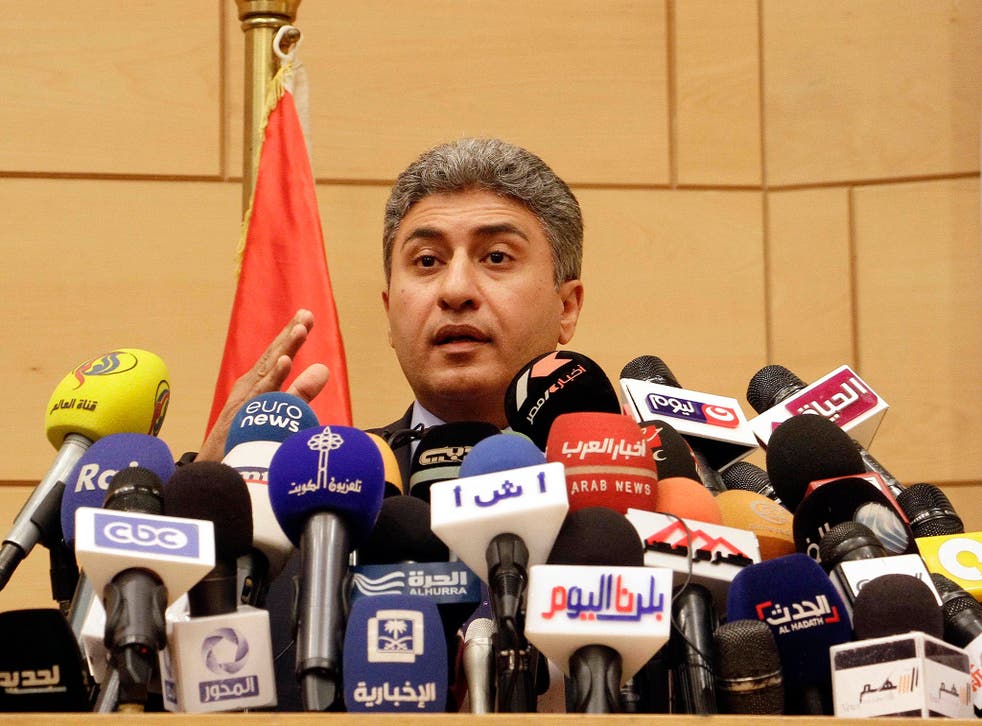 Egypt's civil aviation minister has said he believes the EgyptAir crash was more likely to have been caused by a terror attack than technical problems.
"Let's not try to jump to the side that is trying to identify this as a technical failure – on the contrary," Sherif Fathy told a news conference.
"If you analyse the situation properly, the possibility of having a terror attack is higher than the possibility of having a technical (failure)."
He did not provide any further information and added that he did not want to draw conclusions.
EgyptAir flight MS804 to Cairo disappears from radar
There was no immediate claim of responsibility for the disaster, although Isis supporters on social media were hailing "unparalleled penetration of security", according to monitors.
Mr Fathy said he was not concerned about systemic problems within Egyptian aviation when questioned by journalists, and would not comment on the report of "flames" seen from a merchant ship.
The Greek defence minister, Panos Kammenos, earlier said that the plane made sudden turns to the left and right and started rapidly losing altitude shortly before it vanished.
"It turned 90 degrees left and then a 360 degree turn towards the right, dropping from 38,000 to 15,000 feet and then it was lost at about 10,000 feet," he said.
Francois Hollande confirmed that the plane had crashed but said nothing has been ruled out about what caused the accident.
In pictures: EgyptAir flight MS804 crash

Show all 10
"When we have the truth we need to draw all the conclusions," the French President said.
"At this stage, we must give priority to solidarity toward the families (of the victims)."
The Paris prosecutor has opened an investigation in France, which is understood to be focusing on staff who had contact with the aircraft at Charles de Gaulle airport.
Egypt, which will lead the investigation into the cause of the disaster, has also launched an "urgent" probe.
Egyptian security officials said they were running background checks on passengers and staff to see if any of them had links to extremists.
Konstantinos Lintzerakos, director of the Greek civil aviation authority, said air traffic controllers were in contact with the "chirpy" pilot who reported no problems as the aircraft cruised at 37,000 feet, travelling at 519 mph.
But when they attempted to make routine contact with the pilot 10 miles before the plane exited Greek airspace, they received no response. There was no reply to repeated attempts to initiate emergency contact until the aircraft disappeared.
EgyptAir said the Airbus A320 vanished around 10 miles into Egyptian air space, around 175 miles off the country's coastline north of the Mediterranean port city of Alexandria.
An aviation official said a signal had been picked up from the plane two hours after it disappeared from radar, thought to have been an emergency beacon.
Egyptian military aircraft and navy ships are taking part in a search operation off Egypt's Mediterranean coast to locate the wreckage.
All 66 people on board, including a child and two babies, are feared dead.
EgyptAir said there were 15 French passengers, 30 Egyptians, one Briton, two Iraqis, one Kuwaiti, one Saudi, one Sudanese, one Chadian, one Portuguese, one Belgian, one Algerian and one Canadian.

Register for free to continue reading
Registration is a free and easy way to support our truly independent journalism
By registering, you will also enjoy limited access to Premium articles, exclusive newsletters, commenting, and virtual events with our leading journalists
Already have an account? sign in
Join our new commenting forum
Join thought-provoking conversations, follow other Independent readers and see their replies