Egyptian army chief Al-Sisi set to be next President after backing from leading generals
Alastair Beach
Monday 27 January 2014 19:58 Comments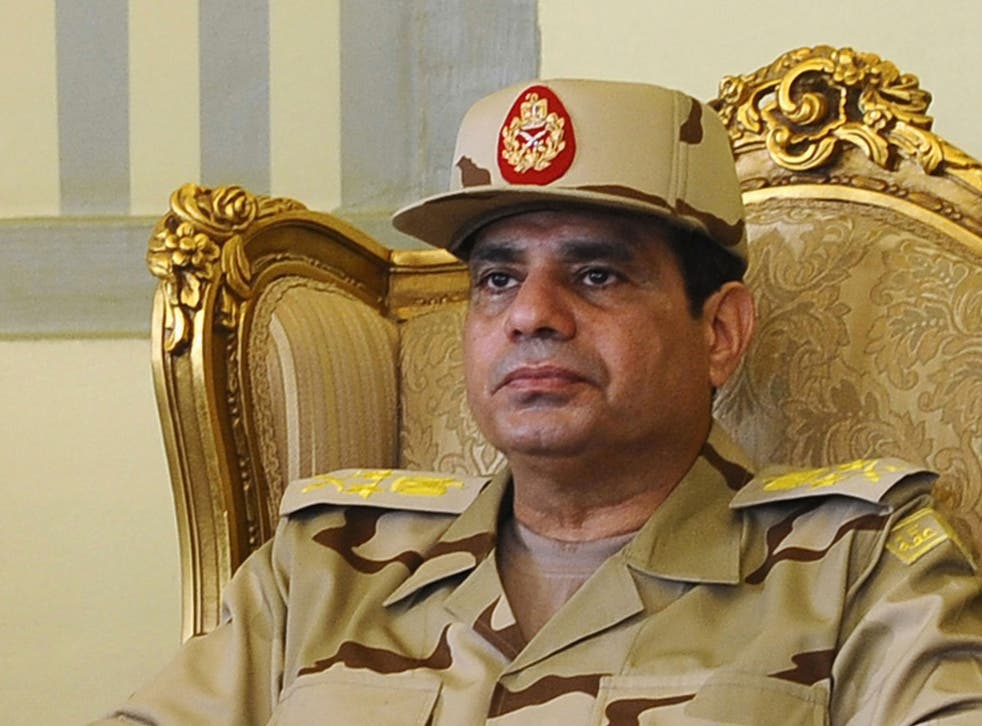 The Egyptian army chief, Abdel Fattah al-Sisi, seems all but certain to become the next President after a group of his leading generals reportedly backed his bid for the job.
For months, the nation has indulged in speculation as to whether al-Sisi, a former spy chief who was also promoted to Field Marshal on Monday, would announce his candidacy. A hysterical cult of personality has developed around the 59-year-old, making a bid for the presidency appear all but inevitable. After last night's announcement, Egypt's worst-kept secret has been all but confirmed. The state news agency Mena said al-Sisi would make an official statement "within hours".
A head of steam has been building towards this moment all week. On Saturday, the third anniversary of the Tahrir Square uprising, tens of thousands of people rallied to central Cairo to mark the day in 2011 when the nation erupted in revolt against President Hosni Mubarak. But instead of calling for the downfall of the regime, many were demanding that al-Sisi become their next leader.
"He is a brave man," Hussein Mohamed, 43, told The Independent. "After this, the country will be able to continue in a better way."
The following day, Egypt's interim President, Adly Mansour, announced that the forthcoming presidential elections would now take place before the parliamentary poll – completely upending a transitional "roadmap" which had been drafted following last summer's popular coup against Mohamed Morsi, the former Muslim Brotherhood president.
The new roadmap means a presidential election is due to be held by the end of April.
Then, late on Monday afternoon, Mr Mansour declared that al-Sisi had been promoted from the rank of general to Field Marshall – the highest position within the armed forces.
Assuming he confirms his candidacy, the way is now open for him to be elected virtually unopposed. The growing cult of al-Sisi has ensured that no other serious contenders have yet emerged – and yet even in a presidential run-off, his widespread popularity would likely lead to a landslide victory.
On the back of this wave of adulation, the poll looks set to become a de facto coronation – something, which has unnerved the activists and politicians who are aligned against the current military-backed government.
"I'm not happy at all," said Shady el-Ghazaly Harb, a political activist who, like many, lent his support to the military's toppling of Mohamed Morsi last year. "The main danger is that he will become a new dictator. This is what we are all worried about."
Millions will be elated if al-Sisi does become the next President; many revolutionary activists will be downbeat and despondent. But nobody will be surprised – particularly not the man himself.
Last month a series of strange audio recordings emerged in which al-Sisi, a onetime tank commander who received officer trained in the United States, revealed that many years ago he had a vision in which he met a previous Egyptian leader and told him that he would become President.
"I saw [former Egyptian] President Sadat, and he told me that he knew he would be president of Egypt so I responded that I know I will be president too," he said in the recording, which was reportedly conducted with a local Egyptian newspaper.
In pictures: Muslim Brotherhood clash with police in January 2014

Show all 19
Register for free to continue reading
Registration is a free and easy way to support our truly independent journalism
By registering, you will also enjoy limited access to Premium articles, exclusive newsletters, commenting, and virtual events with our leading journalists
Already have an account? sign in
Join our new commenting forum
Join thought-provoking conversations, follow other Independent readers and see their replies