Egyptian artist forced to change sculpture showing 'sexual assault' by soldier
The artist has defended his design, titled 'Mother of the Martyr', saying the soldier is shown 'protecting' the woman
Adam Withnall
Monday 05 September 2016 10:17 Comments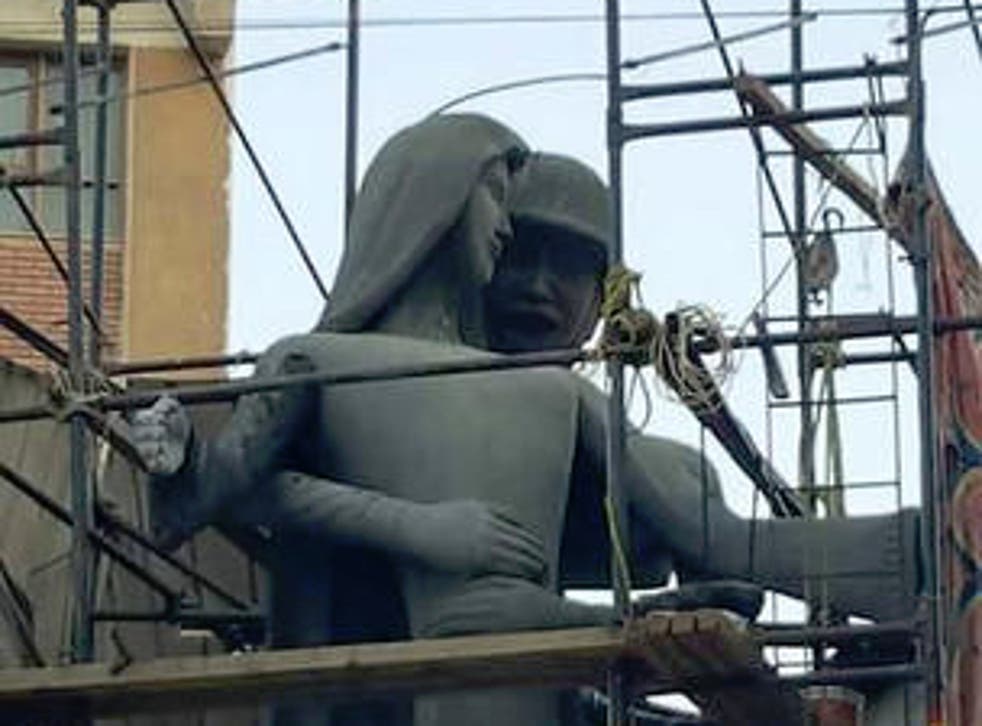 An artist has been forced to change a public statue commissioned by a local council in Egypt after critics said it appeared to show a soldier sexually assaulting a woman.
The sculpture appeared in a public square in the southern town of el-Belina, Sohag province, but had yet to be formally unveiled. It showed a slender peasant woman with a helmeted soldier standing behind her, his arms wrapped around her waist.
Residents complained that the sculpture was inappropriate, and the controversy hit the national stage when pictures began circulating on social media.
The artist has defended his design, titled "Mother of the Martyr", saying the soldier is shown "protecting" the woman. The peasant woman is a traditional artistic representation of Egypt.
But in a country where the President, formerly General Abdel Fattah el-Sisi, came to power in a military coup, some interpreted the statue as representing the military seducing the country.
Others said it appeared to show a sexual assault. Sohag and other southern provinces are traditionally more conservative than the rest of the Muslim-majority country, and critics said the statue was especially inappropriate as it stands close to an all-girls' school.
The provincial governor has now stepped in, ordering changes to the statue calling for an investigation into how it was commissioned by the local council without greater oversight into its design.
Pictures taken on Sunday showed the modifcations had already begun, with the soldier now gone and an olive branch of peace placed in the woman's outstretched arms.
The sculptor, Wagih Yani, 60, told the Associated Press he would eventually add white doves to form a crescent over the woman's head.
But he rejected any suggestions of impropriety, saying the soldier represented the "spirit of the martyr" protecting the woman, the "spirit of Egypt".
"I remain convinced of the sculpture's original idea and the modifications will not steer far from that," he said. "But I personally feel that it's important to me that everyone is happy with the sculpture."
World news in pictures

Show all 50
Sohag's governor, Ayman Abdel-Monaim, said his provincial government should have been consulted before the 8.5m-tall, 250,000 Egyptian pound ($28,400) sculpture was commissioned by the el-Belina council.
"Sometimes, an artist's vision clashes with the culture of society," he said. "If our objective is to treat citizens with respect, then we must not do anything to offend their feelings. We all respect our army and country."
Register for free to continue reading
Registration is a free and easy way to support our truly independent journalism
By registering, you will also enjoy limited access to Premium articles, exclusive newsletters, commenting, and virtual events with our leading journalists
Already have an account? sign in
Join our new commenting forum
Join thought-provoking conversations, follow other Independent readers and see their replies