Poachers kill nearly 11,000 Mozambique elephants in 7 years
Criminals with large-calibre hunting rifles and illegal AK-47 assault rifles outgun teams trying to disrupt their activities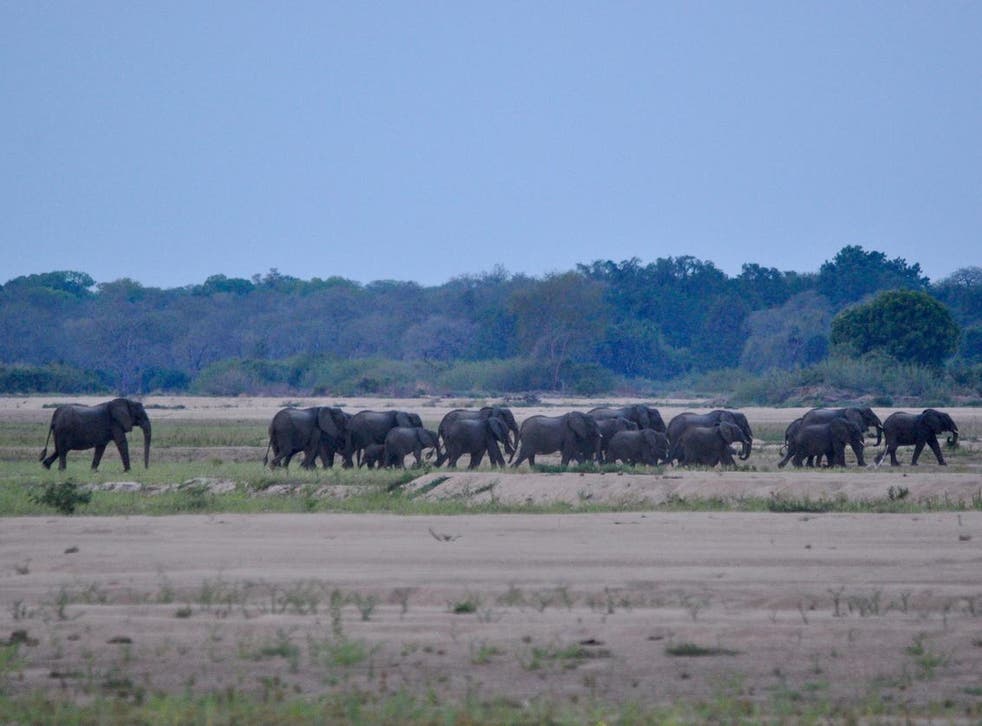 Poachers have killed more than four elephants a day since 2011 in a Mozambique nature reserve, cutting the population from 12,000 to as few as 1,500, according to a conservation group.
Fauna and Flora International (FFI) said it feared surviving elephants in the Niassa National Reserve may be wiped out if heavily-armed poaching gangs are not shut down.
In the last two months, the group said, up to five per cent of the reserve's remaining elephants had been killed for their ivory.
Its chief executive, Mark Rose, said: "The value of Niassa as one of the continent's last great wildernesses should endure beyond a short-term scramble for ivory and other illicit goods, such as minerals.
"Its long-term economic, social and cultural significance cannot be overstated.
"The Mozambican government must take immediate action to curb this poaching crisis before it is too late."
Niassa had been home to 70 per cent of Mozambique's elephants, FFI said. The reserve covers more than 16,000 sq mi.
Matt Rice, a conservationist who runs the Chuilexi tourism concession inside Niassi, told The Independent he believed the area's poaching crisis had begun in 2009 and only escalated since then.
Poachers carrying large-calibre hunting rifles and illegal AK-47 assault rifles outgunned the teams trying to disrupt their activities, he said.
"We ... can only get access to pump-action shotguns [which are only effective at short range]. We struggle to get licences for shotguns, so many of our scouts are unarmed."
Chuilexi employs some 60 scouts in its conservation effort, which is required by its contract and was a key reason he signed it, Mr Rice said. He added that he believed Mozambique had been identified as a "softer target", a country where the law enforcement regime is less robust than elsewhere on the continent.
World news in pictures

Show all 50
Mr Rice said: "The consensus is that it's largely being driven by Chinese syndicates. This goes hand-in-hand over the last decade with a substantial increase in Chinese investment and Chinese nationals that are living and working in these African countries.
"It's fantastic that China are making the moves that they are [against the ivory trade]. However, there's still a burgeoning illegal trade."
The syndicates are also involved in trading the scales of highly endangered pangolins, he said.
At the end of January Hong Kong politicians voted to outlaw the sale of ivory in the region by 2021. Hong Kong is thought to be the world's biggest retail ivory market.
Mainland China, the biggest source of global ivory demand, banned sales at the start of the year after shutting all carving factories and shops last March.
The World Wildlife Fund called for governments in other Asian countries such as Vietnam, Laos, Cambodia and Japan to institute similar bans, saying there was evidence those markets were increasingly catering to Chinese visitors.
China and the UK unveiled a joint effort against illegal wildlife trading during Theresa May's recent visit and pledged to share expertise in tackling the trade with southern African nations.
Wildlife campaigners believe 30,000 African elephants are killed by poachers every year.
In neighbouring Zimbabwe earlier this month, four elephants died of cyanide poisoning after poachers contaminated their water sources.
Zimbabwe Parks and Wildlife Management Authority spokesman Tinashe Farawo said poachers were increasingly turning to poison instead of using noisy rifles as police and park rangers increased joint patrols.
Mr Farawo added that poachers were also injecting cyanide into oranges and pumpkins, which are favourite foods of elephants.
Additional reporting by agencies
Register for free to continue reading
Registration is a free and easy way to support our truly independent journalism
By registering, you will also enjoy limited access to Premium articles, exclusive newsletters, commenting, and virtual events with our leading journalists
Already have an account? sign in
Register for free to continue reading
Registration is a free and easy way to support our truly independent journalism
By registering, you will also enjoy limited access to Premium articles, exclusive newsletters, commenting, and virtual events with our leading journalists
Already have an account? sign in
Join our new commenting forum
Join thought-provoking conversations, follow other Independent readers and see their replies