Emmerson Mnangagwa: After Robert Mugabe resigns, who is the Zanu-PF politician favourite to succeed him as Zimbabwe President?
Zanu-PF official says Mnangagwa will be in place as President within 48 hours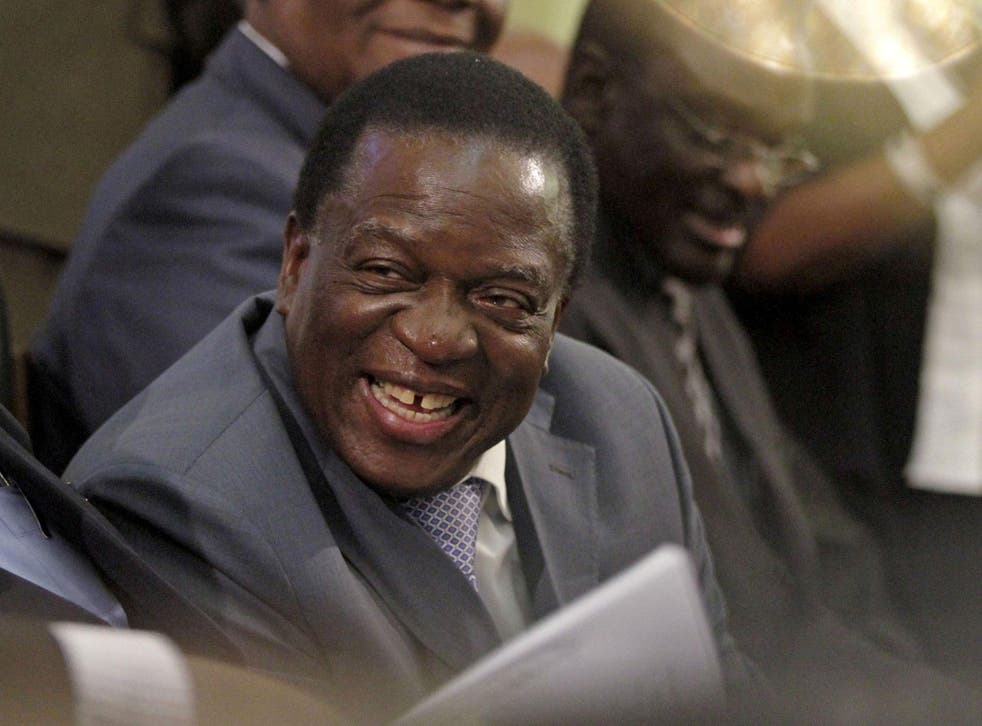 A Zimbabwe ruling party official says the recently fired Vice President Emmerson Mnangagwa will take over as the country's leader within 48 hours, after President Robert Mugabe resigned on Tuesday evening.
Ruling party chief whip Lovemore Matuke says Mr Mnangagwa, who fled the country after his firing, "is not far from here."
The official spoke to the Associated Press immediately after the Parliament speaker announced Mr Mugabe's resignation, in the middle of impeachment proceedings.
Mr Matuke said they look forward to Mr Mugabe doing the handover of power "so that Mr Mnangagwa moves with speed to work for the country."
The resignation letter written by Mr Mugabe and read out by the speaker made no mention of who he was leaving in charge of the country.
The speaker added that he was working on legal issues to make sure a new leader was in place by the end of Wednesday.
Who is Emmerson Mnangagwa?
For those who spent decades fighting the dictatorship of Mr Mugabe, the news of his downfall is bittersweet as his successor could potentially be just as brutal.
Known as "the Crocodile", Emmerson Mnangagwa's firing as Vice President is the move that is seen to have triggered the events of past week, ultimately and likely leading to him replacing the 93-year-old. A military takeover came within days of Mr Mugabe's decision to fire Mr Mnangagwa.
The government said at the time that Mr Mnangagwa was showing "traits of disloyalty, disrespect, deceitfulness and unreliability".
In reality, his removal was more likely to have been a bid to clear a path for Mr Mugabe's wife Grace to succeed him.
The rivalry between Ms Mugabe and Mr Mnangagwa is well known. He claimed she had tried to poison him during a youth rally in August after he took ill, an allegation denied by Ms Mugabe.
Rise to prominence
The 75-year-old Mr Mnangagwa is a veteran of the brutal struggle to end white minority rule in Zimbabwe, which saw the rise of a new ruling elite with Mr Mugabe as its leader.
He was sentenced to 10 years in prison in the early 1960s for bombing a train and spent many years in exile where he trained as a lawyer.
In the later stages of the fight against white-minority rule, which came to an end in 1980, Mr Mnangagwa served as Mr Mugabe's personal assistant and bodyguard.
Before then the country, along with Zambia to the north, had been known as Rhodesia which had officially declared independence from the UK in 1965 but it was not recognised until Mr Mugabe came to power.
Mugabe's first public appearance since Zimbabwe military takeover

Show all 9
After independence he served as the country's first security minister and soon became its chief spymaster.
He is widely believed to have orchestrated the Gukurahundi massacre where the Zimbabwean Fifth Brigade massacred rebels many from the ethnic Ndebele tribe in Matabeleland during the 1980s.
Estimates for the total deaths vary but it is believed to be anywhere between 4,000 and 20,000.
He has always denied involvement, saying army officers were responsible for the killings, but later referred to the supporters of a rival party, Zapu, as "cockroaches" that the Fifth Brigade would eradicate.
Over the next two decades he served in a variety of different roles in the cabinet such as justice minister, finance minister and for a time foreign Minister before becoming vice president in 2014.
Emergence as a potential successor
Between 2000 and 2004, Mr Mnangagwa was the ruling Zanu-PF party's secretary of administration, which meant he was able to appoint his allies to key posts within the party.
He was demoted to secretary of legal affairs in December 2004 – reportedly because he had been campaigning too hard to be made vice president.
But despite this, he was able to maintain his influence within the party due to his faction within it. Known as "Lacoste" after the clothing brand which has a crocodile as its logo, it included members of the army and veterans from his time as security chief.
He is reportedly known as "the crocodile" for his resilience and ability to survive the turbulence of Zimbabwean politics.
Others point to "crocodile gang" he was part of as a young man which led to his arrest.
One unnamed Zimbabwean businessman told the New Statesman last year it was because "he never says a word but suddenly he bites".
His main rival in the succession during this time was Joice Mujuru who was his predecessor as vice-president.
After building her own power base within the party she was denounced in 2014. She then went onto found an opposition party, Zimbabwe People First.
With Ms Mujuru out of the way Ms Mugabe then rose as a new potential successor.
Known for her violent temper and excessive shopping habits, the 52-year-old had largely stayed out of the public eye because of her unpopularity with the public.
A former secretary from South Africa, she has been compared unfavourably to Mr Mugabe's first wife Sally who is regarded as the "Mother of the Nation". She died in 1992.
To soften her image with the public, Grace Mugabe was often seen doing charity work
In 2014 she began to build up support among the rank and file membership, which has always been hostile to Mr Mnangagwa. Her husband appointed her to the head of the women's league which gave her a seat on the Politburo – the central committee which controls the party.
Her rise led to fears among her opponents in the military and among the veterans who began to feel they may lose the wealth and power they acquired after Mr Mugabe's death.
Ill gotten gains
Ms Mugabe is well known for her extensive shopping trips in European countries and her husband flies to Singapore several times a year for an undisclosed "medical treatment".
Meanwhile the country's economy has collapsed following the seizure of land from white farmers in the early 1990s. This was placed into the hands of senior Zanu-PF members and war veterans.
Last month, the country which was once known as the breadbasket of Africa was forced to impose a ban on the import of fruit and vegetables in order to save its foreign currency reserves.
Overall food production has tumbled as the country's arable land was in the hands of people with no farming experience – wheat production fell from 320,000 tonnes in 1990 to just 20,000 last year.
Zimbabwe's 'military takeover' explained
Zimbabwe was forced to effectively abandon its own currency and use US dollars instead after hyperinflation made it worthless in 2008.
The latest estimate of GDP per capita is just $2,276 (£1,723) and one in four children live in chronic poverty, according to the official government statistics agency in 2012.
Although the Mugabes are the poster children for this obscene wealth and corruption, Mr Mnangagwa and his cronies are seen as just as culpable.
A UN report has accused him of plundering diamonds when Zimbabwean troops intervened in the civil wars of the Democratic Republic of Congo in 1990s.
In 2002 he seized the farm of a white man, Koos Burger, who was forced to claim political asylum in the US due to death threats, the New Statesman reported.
Nor is he much of a democrat. He is believed to have masterminded the stealing of the 2008 election when they were accused of widespread vote rigging and political violence against supporters of opposition candidate Morgan Tsvangirai.
The future
According to a report by the World Bank earlier this year, Zimbabwe's economy has stabilised somewhat over the past 10 years as it has a thriving informal economy and private sector.
It said the country had "enormous potential" if they could heal their "political fragility" and introduce investment and fiscal reforms.
A reformist government could rely on Zimbabwe's ample natural resources – as well as arable land the country has large supplies of diamonds, gold and platinum – and support from China, a key ally, to use government funds to improve its infrastructure and skills base.
But although Mr Mnangagwa's accession may provide Zimbabwe some much need political stability after years of plots and denouncements he is unlikely to be the reformist its people crave.
Register for free to continue reading
Registration is a free and easy way to support our truly independent journalism
By registering, you will also enjoy limited access to Premium articles, exclusive newsletters, commenting, and virtual events with our leading journalists
Already have an account? sign in
Register for free to continue reading
Registration is a free and easy way to support our truly independent journalism
By registering, you will also enjoy limited access to Premium articles, exclusive newsletters, commenting, and virtual events with our leading journalists
Already have an account? sign in
Join our new commenting forum
Join thought-provoking conversations, follow other Independent readers and see their replies