Warning that 'tens of thousands' could starve to death in Ethiopia as war rumbles on
'We have to get prepared for the worst,' says president of Ethiopian Red Cross
Rory Sullivan
Thursday 11 February 2021 17:27 Comments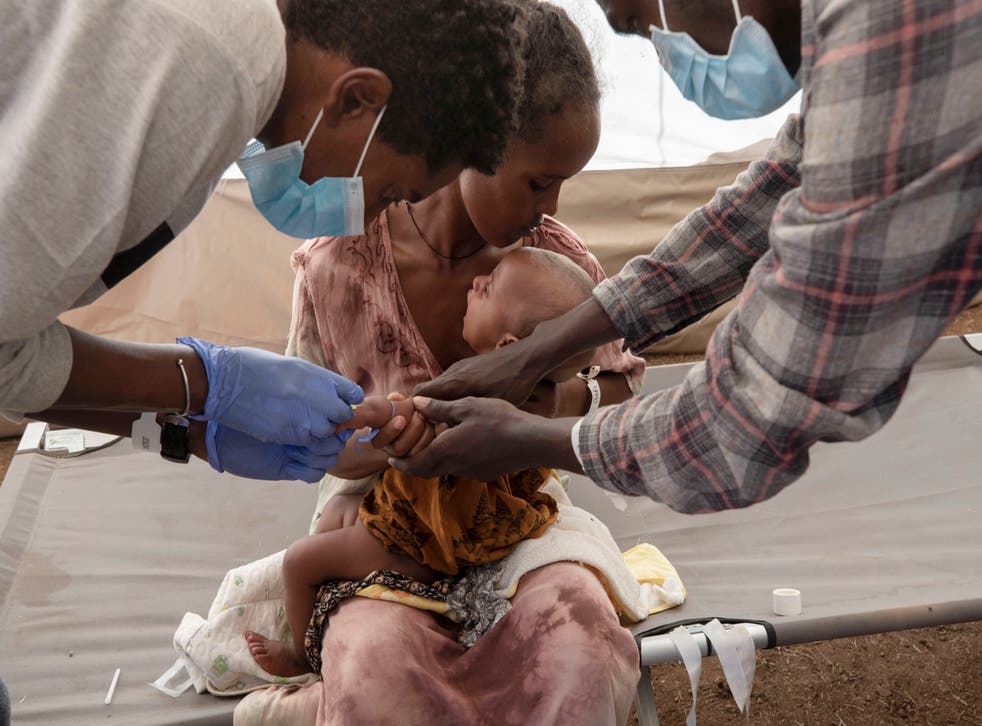 Leer en Español
Tens of thousands of people in Ethiopia's Tigray region could starve to death as a result of war, the country's Red Cross has said.
The warning comes four months into a conflict between the government and Tigray People's Liberation Front (TPLF), whose leaders are now in hiding because federal troops control much of the province.
Hostilities started in the northern region of 6 million people in November, before crops could be harvested. This followed the postponement of national elections and Tigray's decision to hold its own.
Although Tigray has been shut off from the outside world, news about the current situation has been brought out by those who have fled their homes.
Ato Abera Tola, the president of the Ethiopian Red Cross, has spoken of the large humanitarian crisis in Tigray, with almost 3.8 million people there needing urgent assistance and 80 per cent of the region currently unreachable.
Speaking on Wednesday, Mr Abera warned that tens of thousands could die from starvation within a few months if they do not receive aid.
His words come as reports suggest people are already severely malnourished. Women and children who escaped to camps in the Tigrean town of Shire are "all emaciated... their skin is really on their bones", according to Mr Abera.
He predicted that aid workers would see "a more devastating crisis" when they are able to get to rural areas. "We have to get prepared for the worst, is what I'm saying," he told reporters.
Similarly, Hailu Kebede, head of foreign affairs at the Salsay Woyane Tigray party, said people will be shocked when Tigray becomes accessible again.
His party alleges that 52,000 civilians have been killed in the war so far. "This is the least-documented war. The world will apologize to the people of Tigray, but it will be too late," Mr Kebede said.
A woman from Tigray told Associated Press that the Ethiopian authorities had brought food supplies near her family's village. However, she suggested the were not distributing it to families with alleged links to TPLF fighters.
"If you don't bring your father, your brothers, you don't get the aid, you'll starve," she said.
On a visit to Ethiopia earlier this month, Filippo Grandi, the UN's high commissioner for refugees, described the situation in Tigray as "extremely grave".
"People need all possible forms of support: food items, non-food items, medicine, clean water, shelter [and] the closure of the banking system, of the telecommunication system has added to the hardship of thousands of people," he added.
This week, the EU has joined US calls for Eritrea to withdraw its army, which is widely acknowledged to be helping the Ethiopian government's military campaign. The bloc accuses Eritrean forces of "reportedly committing atrocities and exacerbating ethnic violence" in Tigray.
Additional reporting from AP
Register for free to continue reading
Registration is a free and easy way to support our truly independent journalism
By registering, you will also enjoy limited access to Premium articles, exclusive newsletters, commenting, and virtual events with our leading journalists
Already have an account? sign in
Join our new commenting forum
Join thought-provoking conversations, follow other Independent readers and see their replies