Eugene de Kock: Apartheid's sadistic killer that his country cannot bring itself to forgive
The debate rages in South Africa over whether Eugene de Kock should ever be released from jail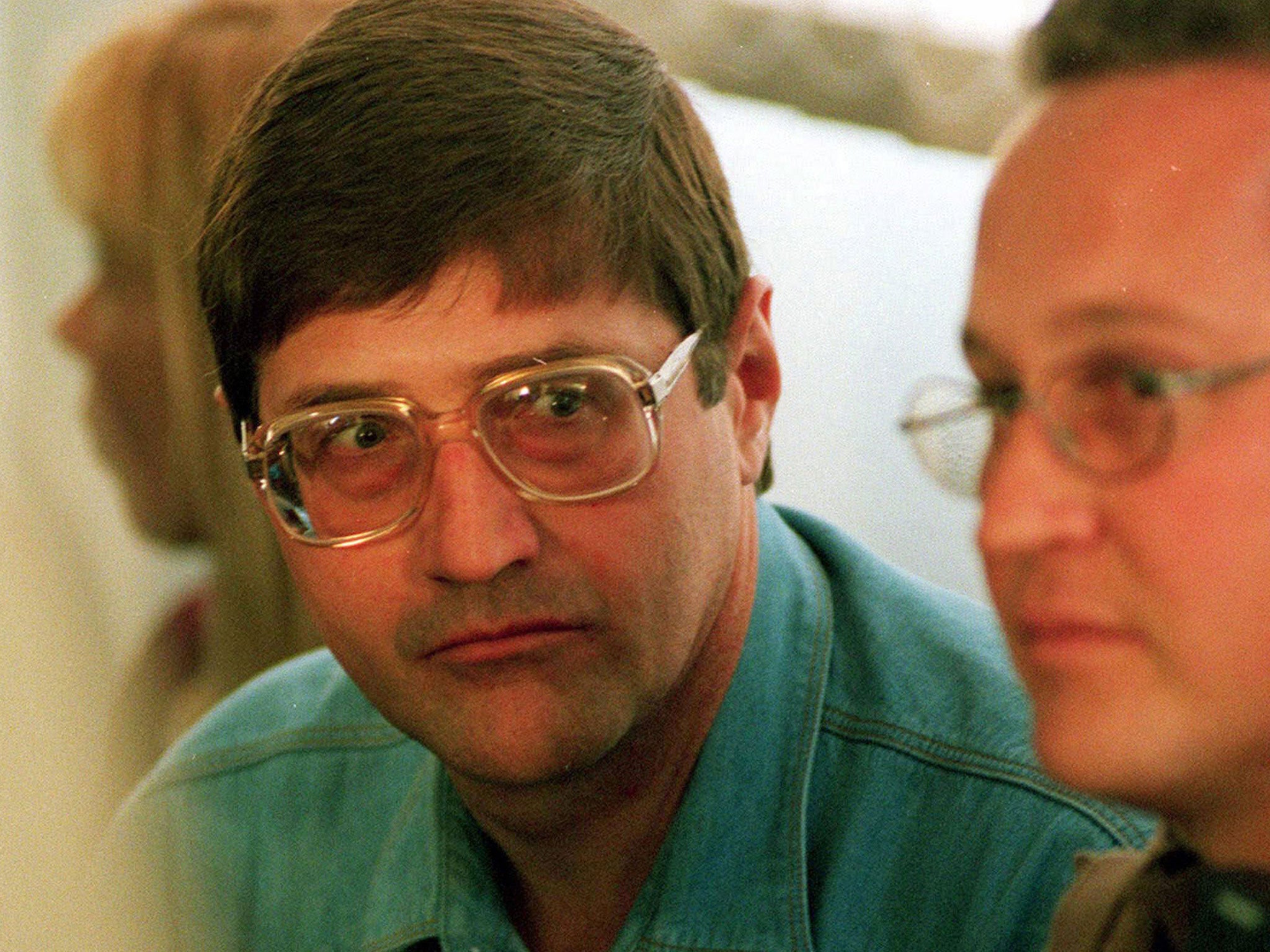 He has already served 18 years in prison, but the chances of Colonel Eugene de Kock, better known to millions of South Africans as "Prime Evil" ever getting out remain doubtful.
The former police officer responsible for thousands of deaths in apartheid's final years is a model prisoner and, by all accounts, a reformed man. Public opinion began to change after he went before the Truth and Reconciliation Commission, confessed to many more killings than the number for which he had been convicted, and wept on meeting relatives of some of his victims. His struggles with guilt and remorse were recently the subject of A Human Being Died That Night, a play hailed by The Independent's Paul Taylor as "a profoundly searching duologue about guilt and forgiveness".
But whatever his personal journey, his role in apartheid's death throes was so ugly and so central that his fate is still of intense interest.
Tall and heavily built, with a boyish fringe, thin lips and mournful, meditative eyes behind black-framed glasses, at his trial in 1994 De Kock was identified as the human embodiment of apartheid's ruthless, blood-stained attempt to survive. After The Independent's then correspondent in South Africa, John Carlin, interviewed him, a friend of De Kock asked if he had removed his spectacles. "No, why?" Carlin replied. That's good, the friend said, if he takes his glasses off, it means he's going to kill you.
De Kock was the senior police officer who, after Nelson Mandela's release in February 1990, organised with Inkatha (the anti-ANC Zulu party) large-scale black-on-black violence, with the object of derailing the African National Council's hopes for a peaceful transfer of power.
Four years later, with his brutal role exposed, De Kock went on trial, and was eventually given two life sentences plus 212 years for the thousands of murders in which he was involved.
No one in South Africa supposed that he was uniquely evil, nor that he acted alone: in a newspaper cartoon from 1996, he was depicted as a grim-faced waiter serving the apartheid government seated at table with a tray of dishes labelled "state terrorism", "torture", "murder" and "bombings". "No, there's no mistake," he tells them, "this is what you ordered."
"His conviction raised one very interesting question," John Carlin says today. "If he was sent to jail, why weren't his superiors? Government ministers, top police officers ... when De Kock is in jail, why are all these people living in splendid retirement ... on the Indian Ocean?"
De Kock was no scapegoat: there is no doubt about his guilt, or the extent of it. But the way things turned out, he alone stood trial for crimes of which many others were also guilty, and he alone paid the price. Since his incarceration, he has consistently shown remorse for his crimes and has made efforts to seek the forgiveness of the surviving relatives of some of his victims. For all these reasons, many were prepared to look approvingly on his application for parole in June.
Yet earlier this month, the Justice Minister, Michael Masutha, rejected his application for parole on the grounds that relatives of his victims had not been given the opportunity to make submissions to the parole board. De Kock's lawyer has appealed the decision; the debate continues.
In the late 1980s, as the apartheid state began to tremble under the combined weight of international sanctions, sporting boycotts and universal disapproval, murky forces loyal to the regime went into action to try and ensure its survival. But it was not until November 1989 that the murk began to clear a little, after two former members of the covert police unit headed by De Kock spilled the beans about the unit in interviews.
Eleven policemen were named as "allegedly involved in a police-run terror network", as John Carlin reported. "Eugene de Kock," he went on, "is believed to still head a Pretoria-based anti-terrorist unit." His name, Carlin said, had "come up again and again in the evidence submitted". President Willem de Klerk responded by promising to get to the bottom of the allegations. But if that was truly his intention, he failed.
Three months later, in February 1990, Nelson Mandela was finally released from jail after 27 years. Finally, almost miraculously, a peaceful resolution of the long racial nightmare seemed possible.
But even as the first direct talks between Mr Mandela and De Klerk got under way, a new cycle of violence erupted. Under Eugene de Kock's direction, thousands of assault rifles and other weapons were delivered to Inkatha militants, who used them to kill ANC members and their families, with massacres on trains and bloody battles in townships.
Murderous attacks were launched from urban hostels which Inkatha fighters turned into fortresses. From his headquarters in Natal province – a short distance from the Pretoria prison where he is incarcerated – De Kock directed black-on-black conflicts in Natal and Transvaal that caused some 12,000 deaths between August 1990 and April 1994. The secret plan was to provoke such mayhem that South Africa would appear to be teetering on the edge of ungovernability. Majority rule would appear out of the question.
Appalled by the mass killing that had greeted his release from jail, in September 1990, Nelson Mandela, had given a speech in which, as he later wrote in his book Long Walk to Freedom, "I said there was a hidden hand behind the violence and suggested there was a mysterious 'Third Force', which consisted of renegade men from the security forces who were attempting to disrupt the negotiations ... They were murderously effective in their targeting of the ANC and the liberation struggle."
Mr Mandela confessed that he had no idea, at that time, as to the identity of these men. But thanks to the admissions of the former hitmen, De Kock emerged as the eminence grise of this death squad – "the cog", as John Carlin wrote at the start of his trial, "around which the 'Third Force' machine revolved".
The accusations against De Kock and his unnamed subordinates included shooting, stabbing, burning and bombing their targets. He faced eight charges of murder, one of attempted murder, several of fraud, as well as charges relating to the unlawful possession and supply of arms, explosives and ammunition and 26 incidents of violence and terrorism.
A measure of catharsis was therefore felt when Eugene de Kock was finally convicted and sent to jail, apparently for ever. Not everybody had got away with murder. Not everybody was sitting pretty and counting their takings. At least one villain, and a major one, had paid an appropriate price.
In some ways, it would be more satisfactory if De Kock had not proved to be a model prisoner, if the sadistic brutality exposed at the trial had proved to be an ineradicable character trait. Then his incarceration till death would have troubled few. As it is, the issue won't go away. "No one should have to bump into De Kock in the supermarket," one South African columnist wrote after his parole application was turned down, approving the decision. But, one day, they may have to do just that.
Join our commenting forum
Join thought-provoking conversations, follow other Independent readers and see their replies