Explorer declares himself 'king' of unclaimed land in North Africa
Syash Dixit is calling for 'subjects' to join him in Bir Tawil - a stretch of desert between Egypt and Sudan - and establish an eco state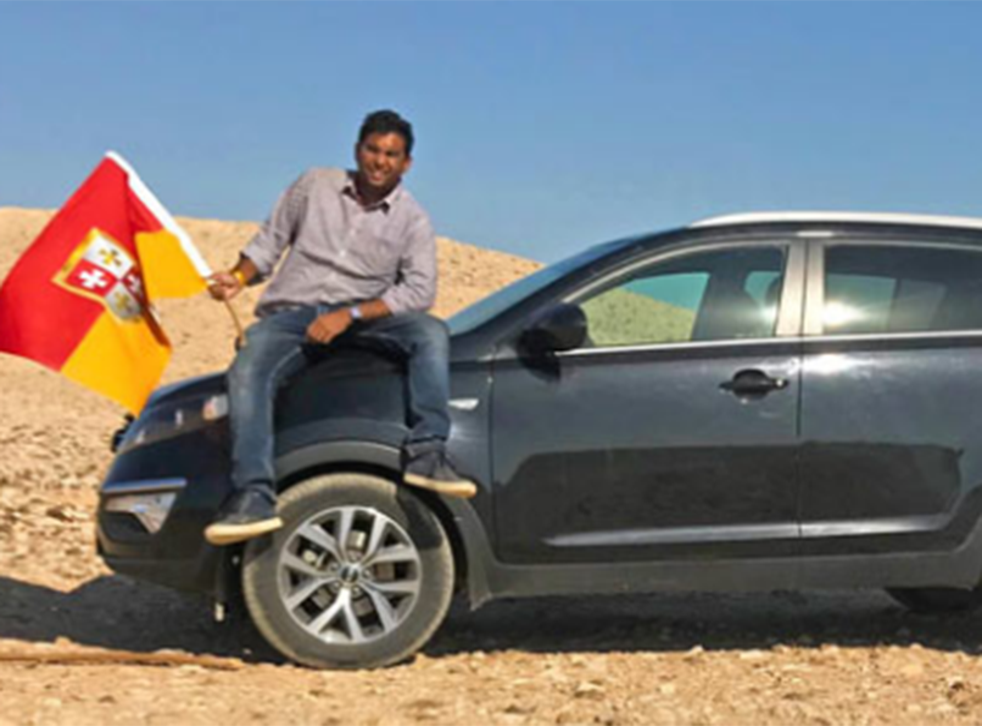 An explorer has declared himself the "King" of a strip of no-man's land in North Africa between Sudan and Egypt and has called on others to apply to be subjects of his supposed new country.
Syash Dixit planted a flag in Bir Tawil, an 800 square mile area of desert land, after he travelled there while spending time in Egypt during a trip through the nation.
The Indian computer coder also planted seeds in the ground in the "Kingdom of Dixit" after reading that it was necessary to grow crops in a territory before he could claim it as his own.
The stretch of land, which is un-inhabited, became free of control of either Sudan or Egypt when the border between the two countries was drawn up at the end of the 19th century by the then British colonial rulers.
Mr Dixit published a post on his website looking for citizens to travel to the no-man's land he has claimed as his own, with a view to establishing his 'country' as a green area.
He wrote: "The dawn of our nation begins as a blank slate in an arid, desolate desert. Through the charity of the world community and the disciples of modern science, we will construct the most fertile, ecologically sensitive nation on Earth."
Mr Dixit added: "I am the king! (Please?) This is no joke, I own a country now! Time to write an email to UN."
But he warned that anyone interested in joining him in the "Kingdom of Dixit" faced a dangerous trip to get there from Egypt. He had to convince a taxi driver to take him because of the perils, he said.
"The route that I took is under Egyptian military control and is an area of terrorists so military have 'shoot at sight' orders," Mr Dixit wrote.
"But, if your bucket list ideas are not scary enough then they are not worth trying! You need permissions to even enter the route to this place.
"We [had] three conditions; no photos of military areas, be back in a single day and no valuables."
World news in pictures

Show all 50
Bir Tawil was touted as a tract of unclaimed land when Ken Jennings, star of US game show Jeopardy, claimed that is was up for the taking for anyone who took the challenge.
"It's unclaimed land, so go ahead and set up shop. This can be the fabled homeland for your ethnic group, religious sect, or fringe political belief of choice," he told Conde Nast Traveler in 2011.
But international law does not stand on Mr Dixit's side over his claim of ownership of Bir Tawil. Only recognised nation states can assert sovereignty over any territory, experts say.
Join our new commenting forum
Join thought-provoking conversations, follow other Independent readers and see their replies