Fire breaks out in Kenya wildlife reserve during British troop exercise
Hundreds of soldiers trying to douse flames as nearby families evacuated
Samuel Osborne
Friday 26 March 2021 12:13 Comments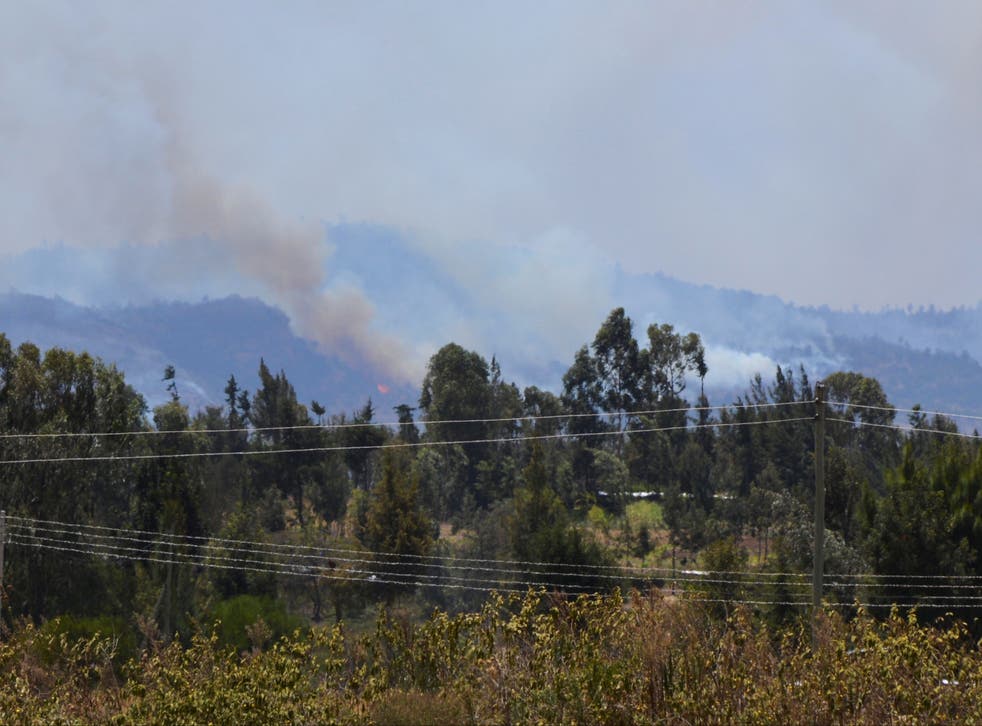 A fire broke out at a wildlife reserve in Kenya during an exercise by British troops.
Hundreds of soldiers were trying to douse the flames, which led to the evacuation of nearby families.
"We can confirm that there has been a fire during a UK led exercise in Kenya and that investigations are ongoing," a spokesperson for the British army said in a statement on Thursday.
The fire began on Wednesday evening, and locals told The Times it broke out when food being cooked by British soldiers caught fire, before spreading rapidly through the nearby woods.
The paper said three British helicopters had been deployed, two with buckets, while Kenya send another helicopter. Soldiers used fire beaters and a local landowner was helping with a water sprayer.
A spokesperson from the Kenya Wildlife Service told Reuters its team had joined the effort to extinguish the fire.
"All personnel have been accounted for, and our priority now is to urgently assist the local community if they have been impacted," they said in a statement.
"We are putting all our resources into containing the fire and are working closely with the Kenyan authorities to manage the situation."
A staff member at Lolldaiga House, a private holiday home in the Lolldaiga Hills Ranch some 20km north of Mount Kenya in the country's central region, confirmed a fire was raging.
The British army runs joint exercises with British and Kenyan soldiers in the northern Laikipia region and has a base there in the town of Nanyuki.
Register for free to continue reading
Registration is a free and easy way to support our truly independent journalism
By registering, you will also enjoy limited access to Premium articles, exclusive newsletters, commenting, and virtual events with our leading journalists
Already have an account? sign in
Register for free to continue reading
Registration is a free and easy way to support our truly independent journalism
By registering, you will also enjoy limited access to Premium articles, exclusive newsletters, commenting, and virtual events with our leading journalists
Already have an account? sign in
Join our new commenting forum
Join thought-provoking conversations, follow other Independent readers and see their replies