Forces of everyday conservatism rally to their stricken dictator
It's not just state employees who are calling for 'stability'. Donald Macintyre hears the respectable voices of moderation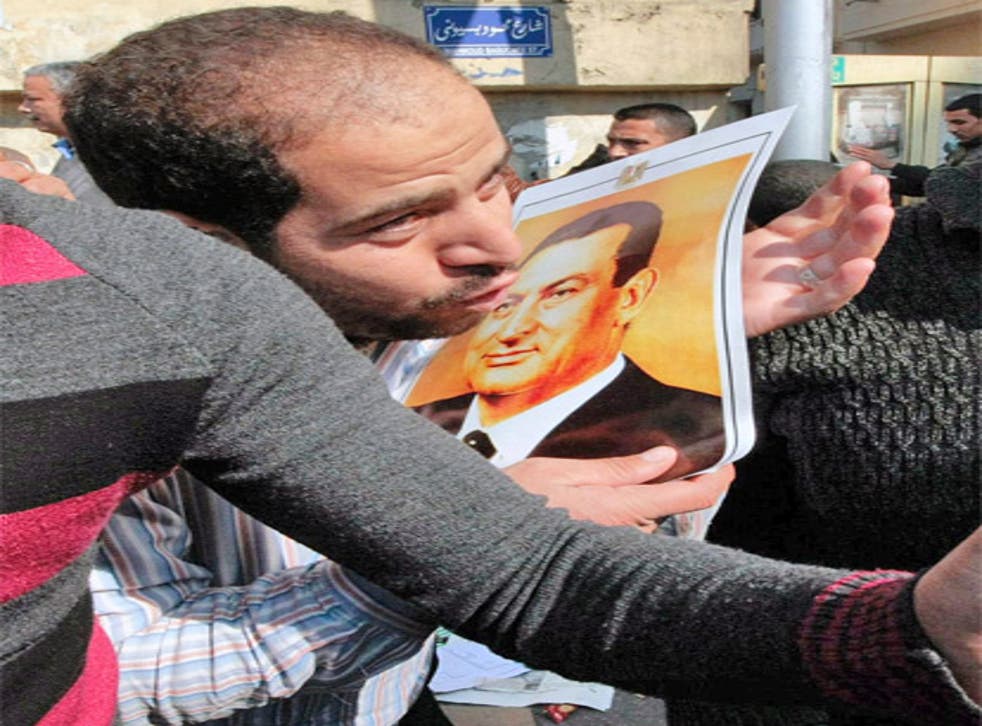 Away from the bloody pitched battles of Tahrir Square yesterday, noisy but mainly less thuggish Mubarak supporters gathered on the other side of the Nile for a demonstration that provided more palatable images for state television.
Watched by a small group of soldiers, their tank plastered with "Yes Mubarak" slogans and graffiti, a few thousand people, supported by the honking horns of taxis and some private cars, had assembled by mid-afternoon in a square by the Mustafa Mahmoud mosque in Mohandiseen.
And while many simply chanted slogans, others appeared genuinely to believe, especially after his pledge not to run for re-election, that their President still provided the best chance for "stability" and an end to an economic meltdown which has shut down banks and businesses.
Rifaat Hilal, a chemistry professor at Cairo University, said: "He doesn't deserve this kind of treatment. They [the anti-Mubarak protesters] got what they wanted; now they've pushed us out to the edge of nowhere. We want the President to stay: let him make the changes he has talked about."
Like the rest of the crowd, Sarah Farouk, a media planner, emphatically dismissed Mohamed ElBaradei as a potential alternative leader, asking: "Where has he been for the last 30 years?" Saying she had originally been among the protesters in Tahrir Square, she added: "I didn't want Mubarak to stand for a next term but they achieved what we wanted. I think he should definitely stay for at least six months."
As pro-Mubarak groups also mustered in Alexandria, one of the Mohandiseen demonstrators, Khaled Hamadi, 48 – unemployed and angry about it – said of the anti-Mubarak demonstrators: "In the beginning they were good, but it ended in a bad way. They want to kick him out but we want him to die here in Egypt. We need some changes but this is a process; there is no magic stick. We need the space to think and to change and reform."
As younger demonstrators chanted anti-opposition slogans, Said Alessan, a company chairman, said of Tuesday's huge anti-Mubarak demonstrations: "Egypt is 80 million people, not one million." He claimed that 50 or 60 million supported the President. "If he leaves there will be chaos. Egypt will become Tunis, Iran, Gaza." Mr Alessan said he had responded to a call on state television to attend the rally in support of the President.
Amid widespread hostility to the Arabic satellite television channel Al Jazeera, which has enraged the authorities with its continuous live coverage of the anti-Mubarak protests, Ismail Abdel Ghaweh, a lawyer, said: "We hate Al Jazeera, because it gives the wrong news. It wants Egypt to be a small, weak country, but we will make it the best in the world."
Amir Ezzat, 25, who said he was a psychologist, declared: "I am responsible for children but they haven't seen me for a week. All life has stopped in Egypt because of demonstrations."
Amira El Sherbiny, 18, an engineering student, at the demonstration with her father and brothers, said: "We have been staying at home for the last week, very afraid. Now the President has supported the demands and said he will go this year, so he should be allowed to bring stability back to the country."
Another young woman, Samiha Abu Amira, who said she worked in asset management, also said Mr Mubarak had responded to the protesters' demands and should be allowed to stay for now. "You can see that there are people from all social classes here, Christians and Muslims together," she said.
Nabil Kamal, an accountant at the Taba Hilton in north Sinai, said: "We don't support violence. But Mubarak said everything is going to change, so I have one question for those people who are still demonstrating. Why are you still in Tahrir Square?"
Register for free to continue reading
Registration is a free and easy way to support our truly independent journalism
By registering, you will also enjoy limited access to Premium articles, exclusive newsletters, commenting, and virtual events with our leading journalists
Already have an account? sign in
Register for free to continue reading
Registration is a free and easy way to support our truly independent journalism
By registering, you will also enjoy limited access to Premium articles, exclusive newsletters, commenting, and virtual events with our leading journalists
Already have an account? sign in
Join our new commenting forum
Join thought-provoking conversations, follow other Independent readers and see their replies