Mohamed Morsi: former Egyptian president sentenced to death over jail break
Morsi's lawyer says that he will appeal the sentence
Louis Dore
Wednesday 17 June 2015 07:33 Comments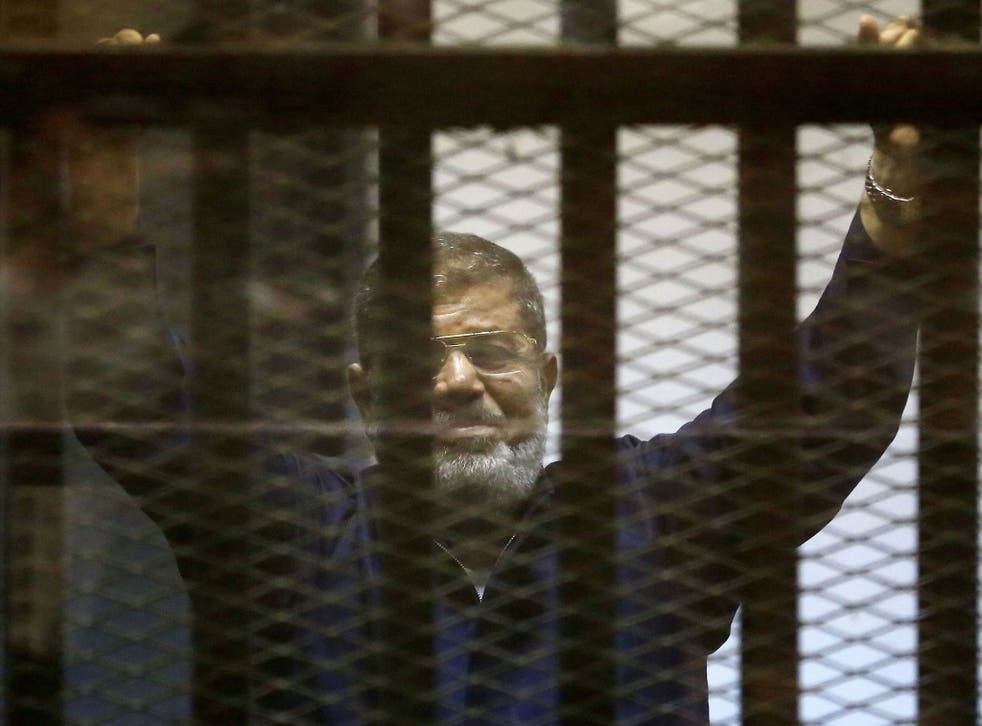 An Egyptian court has confirmed the death sentence of former President Mohamed Morsi.
Morsi was charged with killing, kidnapping and other offences during a 2011 mass jail break, and a court-appointed lawyer says he will appeal the sentence.
The ruling reaffirms an initial decision in May, when Morsi was sentenced to death alongside more than 100 others for killing and kidnapping policemen, attacking police facilities and breaking out of jail during the 2011 uprising against Mubarak.
He became Egypt's first democratically elected president following the uprising against Hosni Mubarak in 2011 but was himself overthrown by the army in 2013 after mass unrest.
The death sentence request had drawn criticism from the United States, other Western governments and human rights groups.
A senior Muslim Brotherhood member said the trial had "fallen below all international standards."
"This verdict is a nail in the coffin of democracy in Egypt," Yahya Hamid, a former minister in Morsi's cabinet and head of international relations for the Brotherhood, told a news conference in Istanbul.
Morsi was calm and smiled slightly in his blue prison suit as the judge read out the first sentence in the court in the Police Academy.
The defendants chanted "Down, down with military rule," as they were led into the court.
Morsi has describing legal proceedings against him as part of a coup led by former army chief Abdel Fattah al-Sisi in 2013.
The Muslim Brotherhood's general guide and four other Brotherhood leaders were also handed the death penalty in today's rulings, while more than 80 others were sentenced to death in absentia.
Earlier today, the court sentenced Morsi to life in prison in a separate case related to conspiring with foreign groups.
Judge Shaaban el-Shami, said the Grand Mufti, Egypt's top religious authority, had said in his opinion that the death sentence was permissible for the defendants who had been referred to him.
Since Morsi was overthrown, hundreds have been killed and thousands arrested in a crackdown by Egyptian authorities on Islamists.
President and former general Abdel Fattah el-Sisi, says the Brotherhood poses a grave threat to national security. The group maintains it is committed to peaceful activism.
Despite US lawmakers' concerns that Egypt is lagging on democratic reforms, Cairo remains one of Washington's closest security allies in the region.
Relations cooled after Morsi was overthrown but ties with Sisi have steadily improved.
In late March, US President Barack Obama lifted a hold on a supply of arms to Cairo, authorizing deliveries of US weapons valued at over $1.3 billion.
Additional reporting Reuters
Register for free to continue reading
Registration is a free and easy way to support our truly independent journalism
By registering, you will also enjoy limited access to Premium articles, exclusive newsletters, commenting, and virtual events with our leading journalists
Already have an account? sign in
Join our new commenting forum
Join thought-provoking conversations, follow other Independent readers and see their replies