Gabon election: Huge fire and clashes break out in capital Libreville as President Ali Bongo declares victory
EU observers criticise a 'lack of transparency' over election result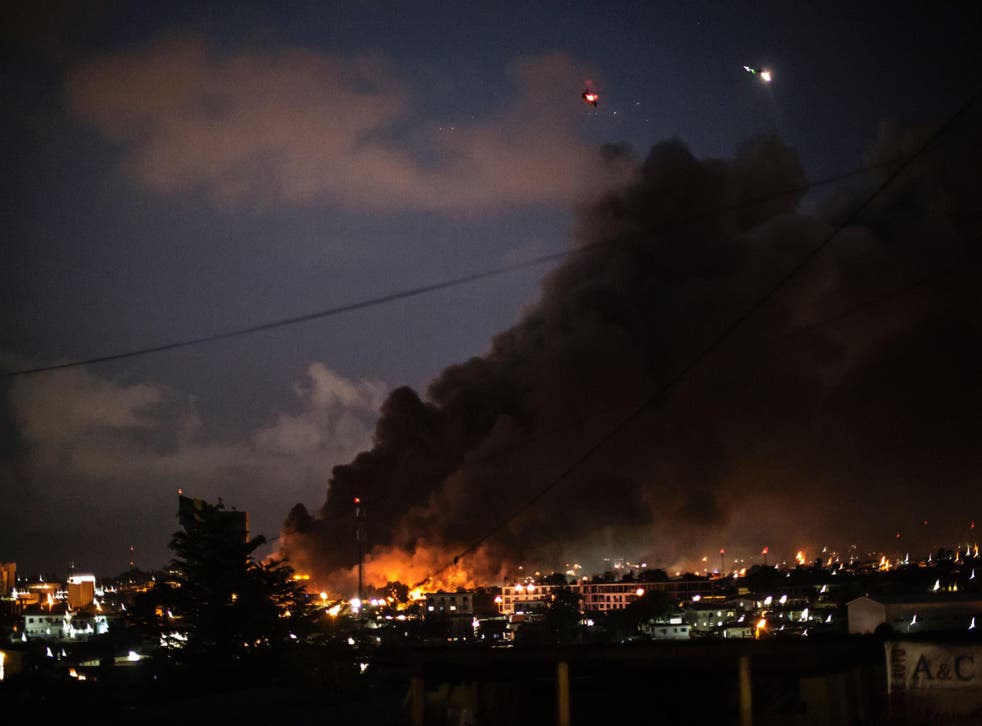 Gabon's newly re-elected president sought to assert his authority on Thursday as the presidential guard stormed the opposition candidate's party headquarters overnight, leaving at least one person dead and injuring more than a dozen amid fiery protests that have seen hundreds detained and the internet blocked.
The opposition quickly alleged election fraud after results announced on Wednesday showed that a family dynasty stretching back to the 1960s would remain in power in this oil-rich Central African country.
President Ali Bongo Ondimba beat opposition candidate Jean Ping by a narrow margin in Saturday's vote, 49.8 per cent to 48.2 per cent, according to the electoral commission's provisional results.
Violent clashes break out in Gabon as President Ali Bongo declares victory

Show all 10
"I know who has won and who has lost," Mr Bongo said on Thursday. "Who has won? One million, eight hundred thousand Gabonese with whom we will progress together. Who has lost? A small group which had the objective of taking power to use Gabon instead of serving it."
Mr Ping's supporters have taken to the streets in protest, burning cars and buildings, vandalising and looting. They burned cars in front of the National Assembly on Wednesday night, sending thick smoke over the city, after police fired tear gas at hundreds of demonstrators.
Security forces detained 800 people in the capital, Libreville, and 400 people in other areas of the country, according to interior minister Pacome Moubelet Boubeya.
The unrest killed at least three people, Mr Boubeya said, without giving details.
The President said he was sad for the deaths of citizens, and he thanked security forces, who he said did all they could to avoid using live bullets.
UN Secretary-General Ban Ki-moon called the response by security forces "disproportionate" and he called on the government to "immediately restore communications, especially the internet."
Around 1am on Thursday, soldiers in green berets, who are known to be part of the presidential guard, shot live rounds during an attack on Mr Ping's opposition headquarters, injuring at least 20 people, according to Paul Marie Gondjout, an opposition official who was there.
Security forces later surrounded the building, and remained there on Thursday night, detaining more than a dozen members of the National Union opposition party inside, said party spokeswoman Sandrine Akere. Mr Ping was not in the building.
Government spokesman Alain Claude Bilie-By-Nze confirmed the presidential guard operation on the opposition headquarters.
"It was a part of securing the headquarters of Jean Ping, because all of the operations for the capital had been planned there," said Mr Bilie-By-Nze, referring to the protests. He said at least 16 people had been injured.
The spokesman called on people contesting the vote to do so through proper legal channels.
Looting and clashes also followed Mr Bongo's previous election win in 2009, when he came to power after the death of his father, long-time ruler Omar Bongo.
European Union observers have criticised what they called a "lack of transparency" in the vote, and both the EU and the US have called for electoral officials to publish results from all polling stations.
Associated Press
Register for free to continue reading
Registration is a free and easy way to support our truly independent journalism
By registering, you will also enjoy limited access to Premium articles, exclusive newsletters, commenting, and virtual events with our leading journalists
Already have an account? sign in
Register for free to continue reading
Registration is a free and easy way to support our truly independent journalism
By registering, you will also enjoy limited access to Premium articles, exclusive newsletters, commenting, and virtual events with our leading journalists
Already have an account? sign in
Join our new commenting forum
Join thought-provoking conversations, follow other Independent readers and see their replies