Gaddafi's intelligence chief 'cornered as he hid at his sister's house'
Reported discovery of Colonel's spy chief brings curtain down on tyrant's reign of terror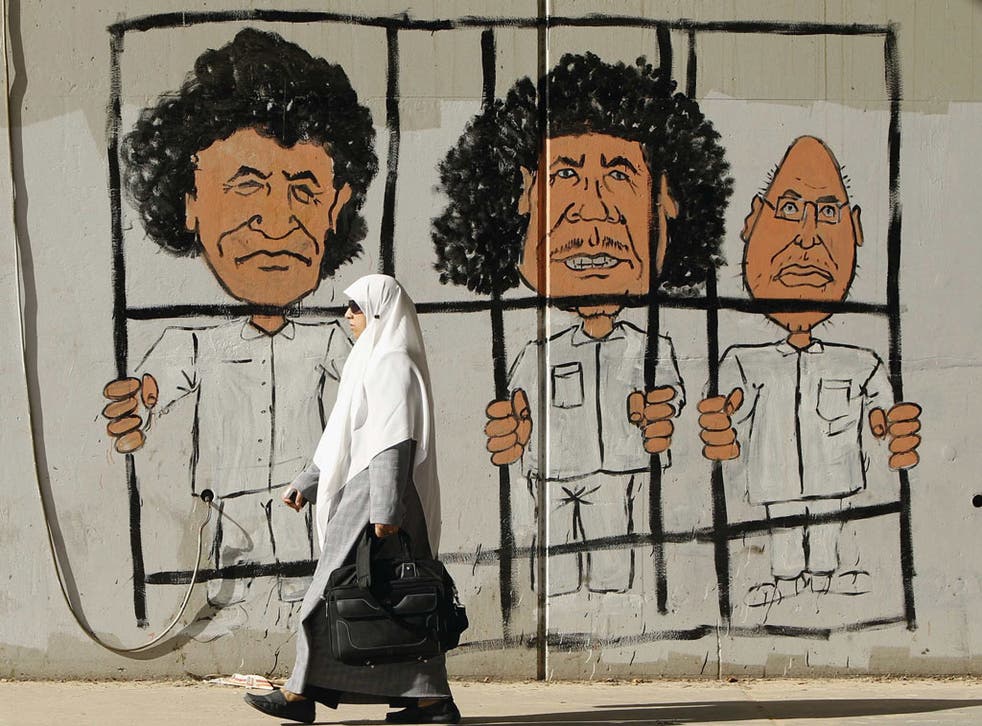 The deposed Libyan regime's intelligence chief was reported to have been found yesterday, just 24 hours after the capture of Colonel Gaddafi's son Saif. Abdullah al-Senussi was said to be negotiating his surrender after being surrounded by Libyan forces.
There were conflicting accounts about the fate of Senussi who, like Saif al-Islam faces an international warrant for war crimes. A spokesman for the National Transitional Council (NTC) claimed that he had been arrested, while a revolutionary commander stated that talks were continuing after the spy chief was located at his sister's house in the southern town of Birak. A group of fighters' in Sabha, one of the last regime strongholds to fall, maintained that Senussi had fled to the property after breaking cover after news broke that Saif al-Islam being held.
General Ahmed al-Hamdouni, the military commander in the southern province of Fezzan, said: "We do not want unnecessary bloodshed - that is why we are giving him [Senussi] the opportunity to surrender. He will face justice, he will not be killed."
The apprehension of the two men, both of whom faced international warrants for war crimes, means that the last senior members of Muammar Gaddafi's regime wanted for human rights abuses are now in the hands of the rebel forces. Other members of the former dictator's family, including his wife and remaining children, are in exile in Algeria but they have not been directly implicated in atrocities.
Amnesty International and Human Rights Watch have asked that Saif al-Islam should be handed over to the International Criminal Court in the Hague to ensure his safety following the lynching of Col Gaddafi and another son, Muatassim.
However, NTC and Western officials say it is highly unlikely that either Saif al-Islam or Senussi would be sent abroad for trial. Instead, proceedings will take place inside Libya with international observers present.
The prime minister designate of the new government, Abdurrahim El-Keib, has spoken to a number of foreign officials, including the British ambassador Dominic Asquith, to reassure them that the trials will be "fair and correct". But after 42 years of totalitarian rule a new legal code is due to be drawn and it is likely to be a long time before proceedings can take place.
Meanwhile it has emerged that interceptions of telephone calls by Western powers indicated that Saif al-Islam had not managed to flee from Libya and was ultimately tracked down after being betrayed by some of his followers.
Col Gaddafi's son had been travelling in the south of the country along the borders of Algeria and Niger guarded by various groups including Tuareg tribal fighters. Some of those who helped him were reported by anti-Gaddafi fighters in Sabha to have been white.
At the end Saif al-Islam was accompanied by a dwindling group of followers, some of whom passed on details of his last journey attempting to cross into Niger. "We kept on looking for him when everyone was saying that he had already escaped [to Niger or Chad] because we had good information," said Mohammed Abu Hassani, a revolutionary fighter in the southern city of Sebha.
"We were getting information from Nato, but this was beginning to get less and less as they withdrew from their mission. We heard that Saif al-Islam was continuously travelling with Tuaregs at one stage and then some white people, we don't know where they were from. But at the end we had exact information from his own people about when he was going to be in Ubari and that is how he was caught.
"He was with a small party at the end. They weren't heavily armed, just AKs [Ak 47 Kalashnikovs] and we only found about $5000 in cash. So we need to find out what happened to all the other money they had looted."
Moussa Grife, a member of the revolutionary committee from the town of Zintan, whose fighters captured Saif al-Islam, said "We got our intelligence from local sources who knew about his plans, he was trying to leave the country, maybe go to Algeria, maybe Niger,so we laid a trap for him. He and his people were caught easily at the end."
Rebel forces in Sabha, near the oasis town of Ubari, claimed that Saif al-Islam had been almost arrested on another occasion around three weeks ago. "We got to a place, it was a farmhouse, and he had gone," said Ziad Mustafa Abbas. "But he stayed inside Libya and that was his mistake."
Join our new commenting forum
Join thought-provoking conversations, follow other Independent readers and see their replies