Ghana's national costume has been 'crowded out' by Primark cast-offs, say cultural experts
Traditional garments replaced are by 'Obroni Wawu' – the dress of the dead white man
Ian Burrell
Saturday 12 July 2014 01:15 Comments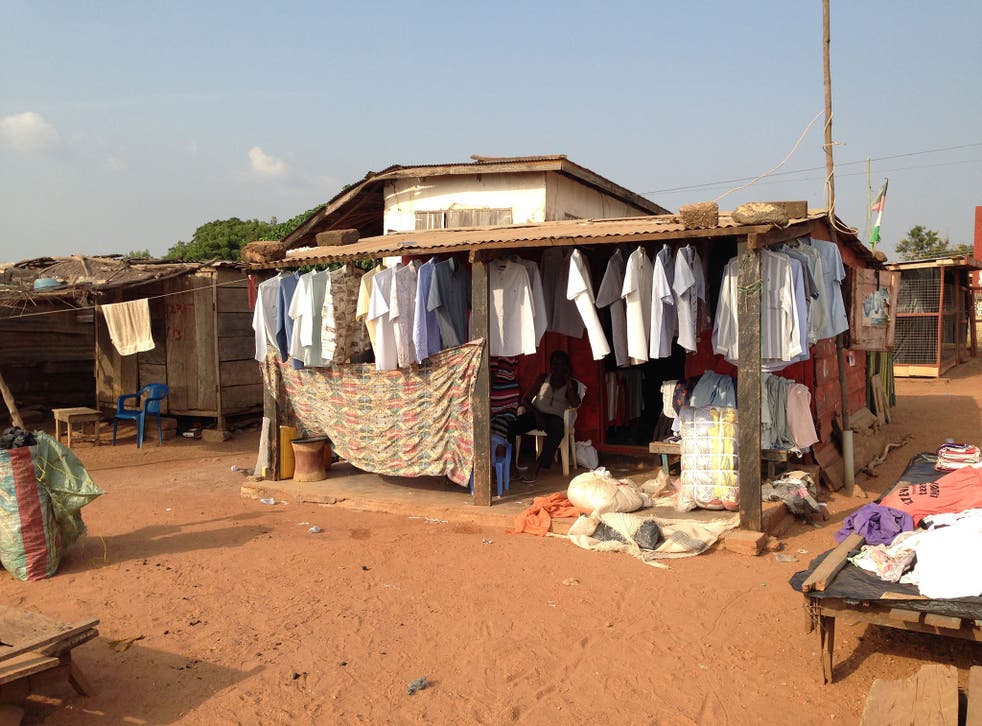 The complex patterns of bright colours adorning gowns made of traditional kente cloth have long been the de riguer tribal statement in Ghana. Now there are fears they are facing extinction due to a British invasion in West African fashion, as they are replaced by the "Obroni Wawu" – the dress of the dead white man.
Fashion cast-offs from UK charity shops are said to be killing traditional garment manufacture in Ghana. The £50m-a-year second-hand clothing trade in the West African nation, much of which is dependent on unsold garments from British charity outlets, has led to the country becoming a "dumping ground", according to Ghanaian cultural experts and clothing industry bosses.
The impact of the Obroni Wawu has even led some companies to introduce "thank Ghana it's Friday" days, when employees are asked to wear African dress to work.
The extent of the cultural problems caused by British clothes swamping the market is revealed in a BBC Two documentary to be shown on Monday night.
The Secret Life of Your Clothes found fashion castoffs from British brands such as Superdry, Next, Dorothy Perkins, Primark and Ben Sherman being bartered for a few pence in remote villages in rural Ghana.
Wholesalers distribute vast quantities of clothing bundles – imported from Britain after being collected from a wide range of charity outlets including the Salvation Army, the RSPCA and Mind.
"The [charity] bundles from the UK were seen like gold dust," said the BBC2 documentary's presenter Ade Adepitan. "These clothes are often made by the poorest people in the world for big British companies. We wear them for a month or so and give them to charity shops who sell them back to these poor people, who are funding the charities in the UK."
Eric Forson, an Obroni Wawu wholesaler based in Ghana's capital Accra, tells the programme: "We used to get [clothing] from Manchester, sometime we go to Leeds, sometimes we go to Coventry... In terms of second-hand clothing, the UK stuff is best."
Holding up a Ben Sherman shirt sold on by a British charity shop, Accra trader Asiedu Aboaden explained that UK clothes are preferred to those from the US because of "the smaller sizes".
In Kumasi, capital of the inland Ashanti region, bales of British charity clothing swap hands for £40. The least-wanted garments are carried by small traders to rural villages, such as those close to Lake Volta, where they are sold for a few pence but are still in great demand.
Osei-Bonsu Safo-Kantanka, a historian, said the trade in Obroni Wawu was having a negative impact on demand for clothes made from the traditional Ghanaian kente cloth, which is crafted by hand on looms. "One has to undergo training, a year or more, to learn how to weave the very simple kente," he said. "Economics come to play... Second-hand clothing brought in from Europe and America is cheaper, far cheaper.
"We were trained, even when I was young, to believe that everything West is civilisation. Our belief and respect for our own things has faded to a degree that if we are not very careful sometime, somewhere, someday… we would not see some of our own things anymore."
Steve Dutton, an ex-pat Mancunian who runs Akosombo Textiles, one of Ghana's last remaining cloth factories, said that the industry was already under grave pressure from fake African prints produced in the Far East. Some even come with fraudulent Akosombo labels. "It's difficult for me to overemphasise just how close we are to closing down. I'm very, very worried that this copying is going to destroy us."
But Adepitan said he did not feel British charities were at fault for their role in the Obroni Wawu trade. "You cannot blame the charities – they are getting clothes in such vast quantities they cannot sell them all."
Register for free to continue reading
Registration is a free and easy way to support our truly independent journalism
By registering, you will also enjoy limited access to Premium articles, exclusive newsletters, commenting, and virtual events with our leading journalists
Already have an account? sign in
Join our new commenting forum
Join thought-provoking conversations, follow other Independent readers and see their replies