Grindr urges LGBT community to hide their identities as Egypt persecutes nation's gay community
Six were sentenced in Egypt yesterday after posting on Facebook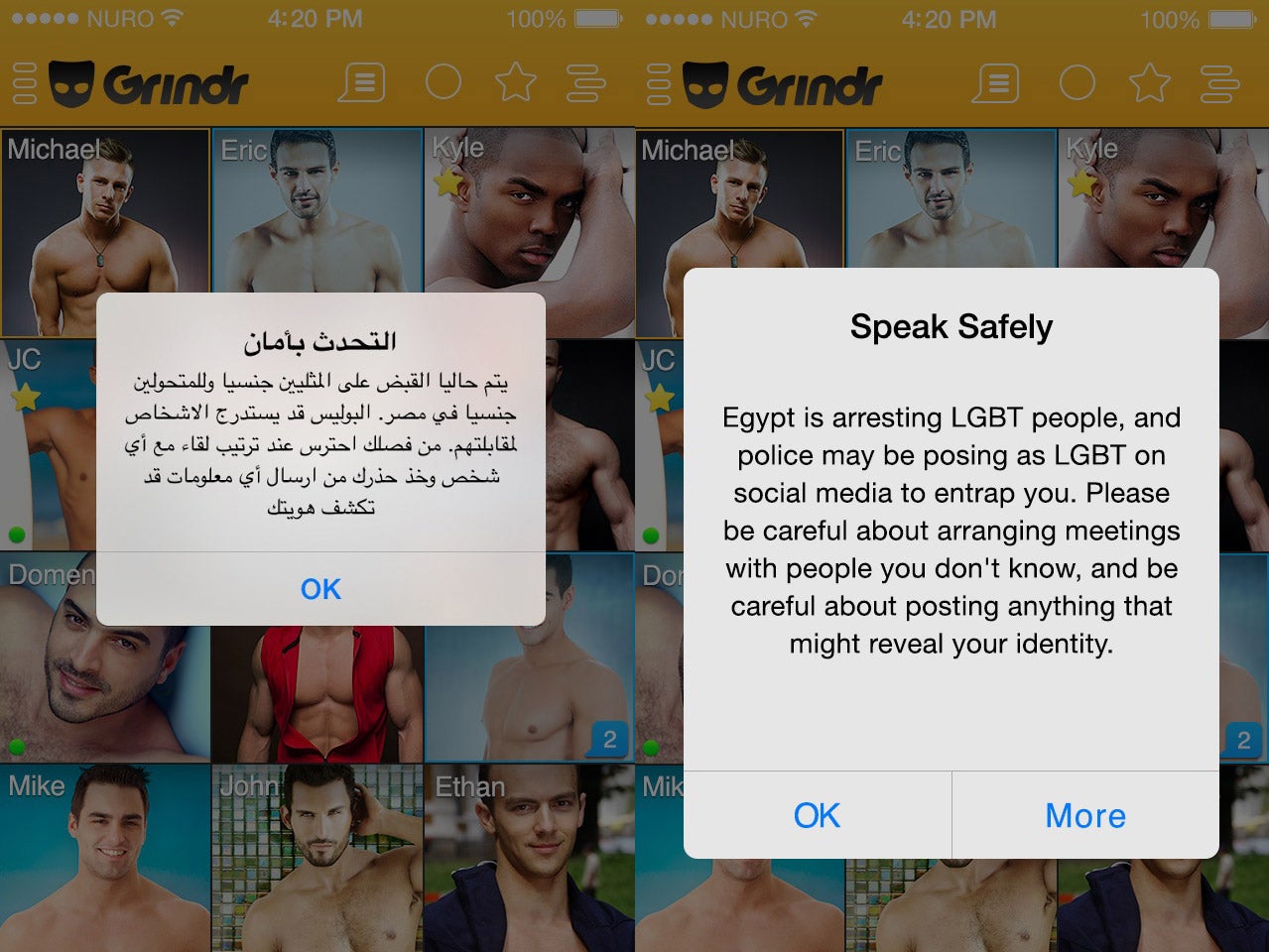 Grindr has warned users to hide their identities on social media following the arrests of scores of gay men and fears Egyptian police are using the social network to seek out members of the country's LGBT community.
"Egypt is arresting LGBT people and police may be posing as LGBT on social media to entrap you," Grindr warned users in an on screen message.
"Please be careful about arranging meetings with people you don't know and be careful about posting anything that might reveal your identity."
In what may be the first case of Egyptians being charged on the basis of evidence gathered online, six men were sentenced yesterday to two years of jail-time and hard labour after advertising their apartment as a place for gay men to have sex on Facebook.
Egyptian state media said the men had been caught "red-handed" in "committing debauchery". Homosexuality is not explicitly illegal in Egypt but in the deeply conservative nation members of the LGBT community have been routinely charged with immorality, debauchery and contempt of religion and then jailed for their sexuality.
Grindr had faced criticism over the potential infiltration by Egyptian state security and has said it is "taking proactive measures to keep users safe in territories with a history of violence against the gay community.
"Any user who connects to Grindr in these countries will have their distance hidden automatically by default, which include Russia, Egypt, Saudi Arabia, Nigeria, Liberia, Sudan and Zimbabwe. There are many more countries already being protected by this location change, and we will continue to add more to this list."
Egypt has stepped up its prosecution of homosexuals over the last year, following the ouster of the country's first democratically elected president Mohammed Morsi. Activists say as many as 80 people have been arrested in the well-publicised cases.
Eight men are currently standing trial for appearing in a video which went viral in Egypt showing two men exchanging rings at an alleged gay marriage ceremony. They face three years in prison.
In 2001 more than 50 defendants were put on trial at once in the infamous "Queen Boat Trial".
The US NGO Human Rights Watch has said Egyptian authorities have routinely arrested, tortured and detained men suspected of consensual homosexual conduct. It said the arrests "reflect the Egyptian government's growing disdain for the rule of law."
Join our commenting forum
Join thought-provoking conversations, follow other Independent readers and see their replies