High turnout in Mali's first election since coup
Peter Tinti
Monday 29 July 2013 00:18 Comments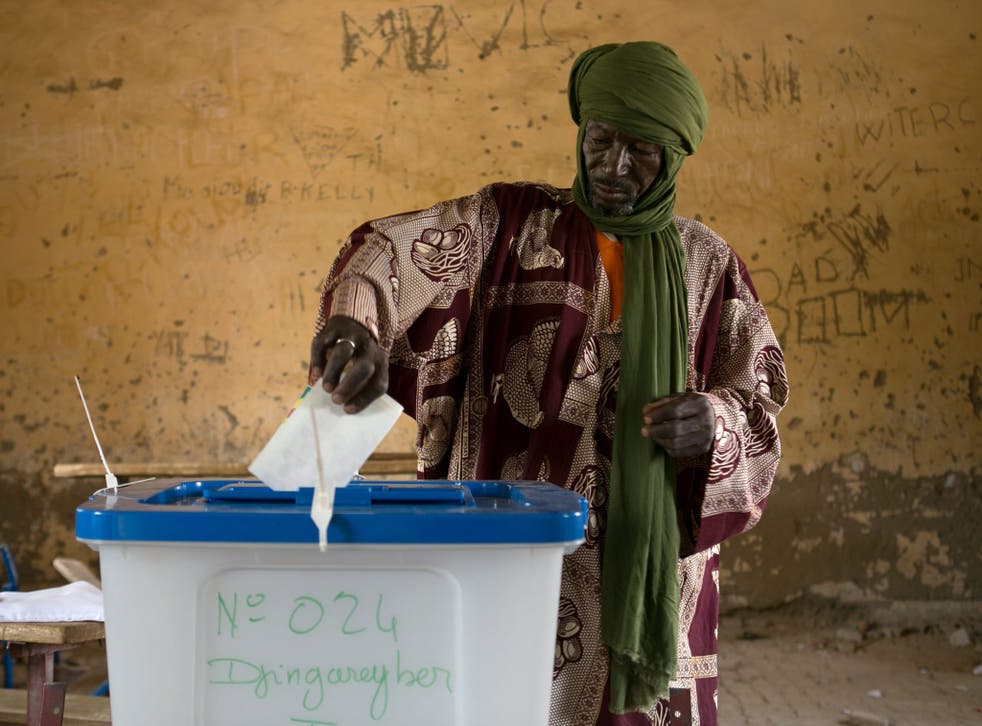 The West African nation of Mali voted in presidential elections on Sunday just 16 months after the country descended into chaos in the wake of a coup led by mid-ranking army officials.
Sunday's polls are seen as an essential first step for a country once considered a model of democracy, and come just six months after France intervened to liberate northern Mali, a vast desert expanse that fell under the control of rebel groups linked to al-Qa'ida.
The run-up to the elections saw several of the 27 presidential candidates barnstorming across the country, filling local stadiums along the way.
Despite calls for a delay by some local politicians and several prominent international NGOs, Mali forged ahead with elections that the international community, particularly the US and France, had been calling for as a condition to releasing nearly $4bn dollars in pledged aid and assistance.
Yesterday, Malians went to the polls in large numbers. The election observers said in a statement that 96 per cent of polling stations had opened on time and turnout was "high", without giving further details. Unless a candidate garners more than 50 per cent of the votes outright – an outcome that most observers see as unlikely – a second round run-off will follow on 11 August.
In several voting locations in Bamako, small lines had formed before polls had even opened, and in dirt courtyards across the city, electoral officials guided voters through a multi-step process, which featured the use of biometric voting cards, known by their local acronym, Nina, for the first time in the country's history. The 6.8 million Nina cards arrived in the country in June, and, despite initial delays in their distribution and what one official referred to as "enormous logistical challenges", electoral officials insisted that 85 per cent of Nina cards had reached, or at least been made available to, their intended recipients.
Despite the implementation of a new system, people in Bamako expressed satisfaction with the process. "Before, I was very worried," said Aissata Coulibaly, a 37-year-old mother of three, "with all of these problems, I did not think we could do it [hold elections] in a way that was just and fair, but I am happy with today," she said.
Mrs Coulibaly said she voted for Ibrahim Boubacar Keita, known locally by his initials, IBK, because he is a leader with lots of experience and because he "speaks the truth".
Mr Keita, considered by many to be the frontrunner, served as the country's Prime Minister for much of the 1990s, and has run for President unsuccessfully in two previous elections.
His chief opponent, Soumaila Cissé, has served as the Finance Minister and once headed the West African Monetary Union. Like Mr Keita, Mr Cissé has previously run for president.
Bakary Soumano, a 31-year-old shop owner who stood in the midday heat for several hours, was undeterred by long lines and the growing pains of a new voting system.
"It was confusing, I stood in three different lines before I found the right one," Mr Soumano said, but said that he approved of the way elections were being run. "In the past, it was easier to vote, but not as well organised. I think this one will be more transparent," he explained.
Register for free to continue reading
Registration is a free and easy way to support our truly independent journalism
By registering, you will also enjoy limited access to Premium articles, exclusive newsletters, commenting, and virtual events with our leading journalists
Already have an account? sign in
Join our new commenting forum
Join thought-provoking conversations, follow other Independent readers and see their replies