The hunt for the lost children of Sierra Leone
The war left a generation on the streets and invisible. Can a census help them rebuild their lives?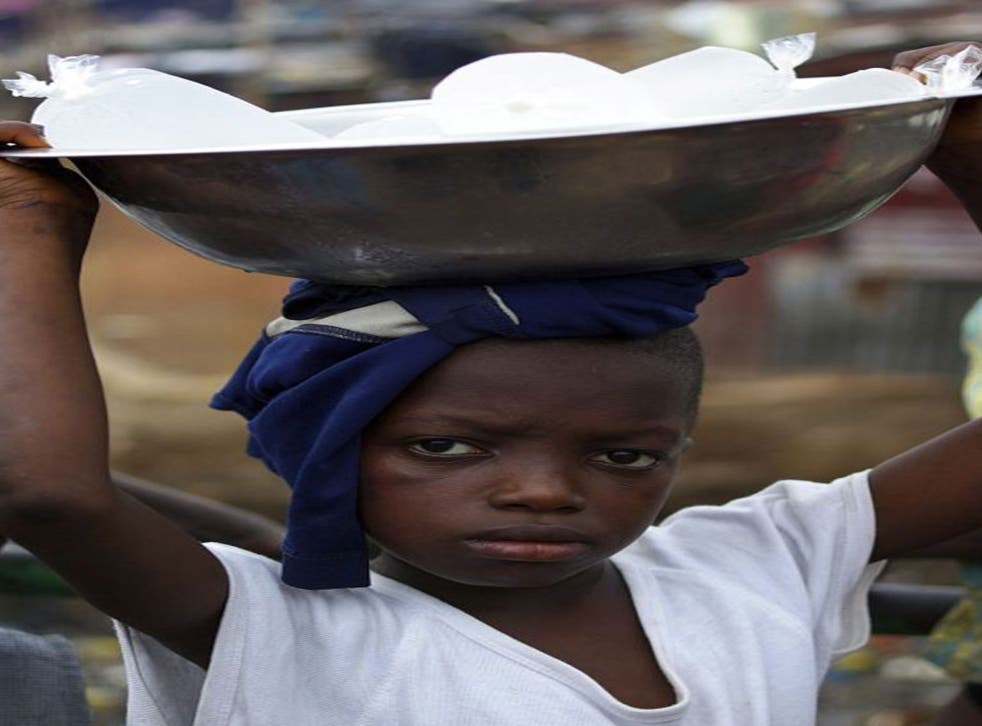 "Many times, four or five men used me in one night. Afterwards, they took my money and beat me mercilessly." In a Sierra Leonean local radio studio, 17-year-old Isatu Conteh is describing her life on the streets. Leaning over the microphone, she explains that rebels burned her parents to death in the war. Destitute, she turned to prostitution aged 13.
In Sierra Leone, the only shocking thing about Isatu's story is that it is well-documented. For, as the population of street children has rocketed since the end of a savage civil war in 2002, the government has struggled to keep up.
No one knows how many children like Isatu there are, and, as tight budgets constrain efforts to rebuild the country, there are fears that their fate will slip off the agenda, a prospect that experts say could mean another lost generation and could even risk a return to the social tensions of the pre-war years.
Isatu is on the radio to lend her support to the first step in grappling with the problem, a step at once simple and enormously complicated. It is time, she says, to count the street children. The country's first nationwide headcount has been under way since September. It will cover 16 cities, concluding in the capital, Freetown, with the totals published early next year. The attempt to get a sense of how many street children there are is a hugely ambitious undertaking, and fraught with difficulties.
"It's much more than a census, which only provides a snapshot of demographics and is potentially inaccurate," says Jacinta Sweeney, director of training at Streetinvest, the British organisation that designed a process being put in place by a British charity, Street Child of Sierra Leone (SCoSL), with backing from the country's Ministry of Social Welfare, Gender and Children's Affairs.
The counters are local volunteers with expertise in street work. Their knowledge is essential in identifying likely locations and knowing how to blend into them. They will visit ghettos, ganglands and red-light districts.
"A risk is that those on the street misunderstand the counters' role and feel threatened, including the children themselves," explains Ms Sweeney. For this reason, the counters have sought police clearance. They dress to match their surroundings and tally numbers discretely in palm-sized notebooks.
The counters walk each city's streets repeatedly, day and night, to ensure consistent results. "In the day, the children are engaged in casual work – selling, washing dishes or carrying loads – for a little money or food," says Salim Alim, who heads SCoSL's social work team and is a head-count trainer. "The greatest difficulty is in observation. We have to determine whether they are true street children or go home at night." The counters also record beggars, the disabled, the jobless and sex workers.
Children across Africa are sent to work to boost family incomes. The nation is third from the bottom on the Human Development Index, and over half the population survives on $1 a day. Children commonly turn to the street following family breakdown. The government estimates more than 15,000 children were separated from families during the 11-year war. Others flee domestic violence. Sierra Leone passed its Child Rights Act (CRA) in 2007 and ratified the United Nations Convention of the Rights of the Child in 1990, but the act has largely failed. "People see the CRA as a western ideology that challenges local traditions," says Mr Alim. "Corporal punishment happens here every day."
As a result, thousands of children live independently, becoming sick or falling into crime. HIV and STIs are rife among girl prostitutes, and malaria and pneumonia kill indiscriminately. Children suffer abuse from gang-leaders, or "bras".The bras organise bands of pickpockets and, in a haunting echo of the war, when child soldiers were prepared for battle with injected cocaine, pump the boys with drugs before sending them to steal. For teenage girls, prostitution is the standard method of survival. Charging as little as 5,000 leone (70p) an hour, their work is dangerous and the stigma it carries denies the children their basic rights. "Once I was stabbed by a customer,"says Isatu. "When I went to the police, they arrested me and expected 50,000 leone for bail. I had to sell my belongings to pay it."
Night counting is designed to capture this group on Saturdays and Wednesdays – "ladies' night" when clubs offer girls free entry. In the eastern city of Kono, once a diamond boom-town but blighted by the war, prostitution is aggravated by foreign miners. "Girls migrate from villages to Kono because the miners pay well," says Mr Alim. The Kono count recorded more than 100 child prostitutes in one evening.
Tom Dannatt, founder of SCoSL, which has returned hundreds of street children to schools and families since 2008, warns: "If we do not address this issue, these children will grow up uneducated and unable to make a useful contribution to society. They grow up brutalised, radicalised and in active opposition to society. That is when it becomes dangerous. Sierra Leone's recent history is a shocking reminder of that."
Sierra Leone's Ministry of Social Welfare says it is committed to tackling the problem. "The head count will enable the ministry to speak with authority on the issue and put us in a better position to map appropriate strategies to remove these children from the streets," says the Minister for Social Welfare, Rosaline Oya Sankoh.
Isatu hopes the count helps more street children return, as she has, to their families and to school. "Now I feel secure and protected," she tells the radio audience. "All I want is an education, so I never have to live on the streets again."
Join our new commenting forum
Join thought-provoking conversations, follow other Independent readers and see their replies