The hyena men of Nigeria: Nomads tame baboons and snakes to make them perform
Trainers claim the animals, which are kept chained and muzzled, 'enjoy' it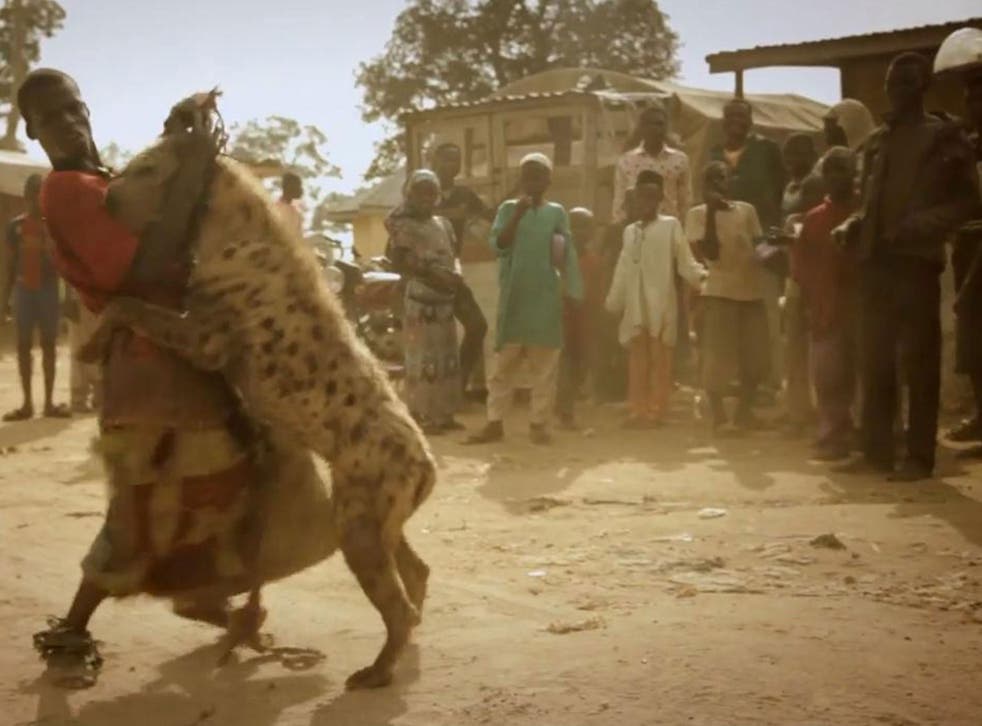 Hyenas are seen "hugging" their tamers and sitting on command as baboons wearing football shirts take money from onlookers in wild animal shows in Nigeria.
A documentary on the "hyena boys" has revealed the trainers' practices and methods in trapping hyenas, monkeys and snakes to use in paid performances in the country.
Dancing men make the hyenas spin around before they jump into their arms and snake handlers shock crowds by putting their faces perilously close to poisonous reptiles.
A crew from South African company TIA Productions filmed the group around Abuja, Nigeria's capital, showing their family business in action.
Children are trained to tame the wild animals from birth, being fed potions the nomads believe enables them to handle them without fear of harm.
"The hyena boys must also be tamed, fed strange medicines from infancy, and plied with snakes to be integrated into the community fuelled by the belief that they are spiritually connected to the animals," the documentary makers said.
Mufasa Mohammed, a tamer who demonstrated making a hyena "sit" on command, said he had been practicing since he was five years old and raises his own animals.
"Since the animal was little, I've been feeding him, giving him meat and medicine - he got used to me," he added.
"I beat him if he misbehaves but if he does nothing I don't...it will turn around and hug us when it enjoys it."
Global animal charities have long campaigned against the capture and training of wild animals, pleading to countries to introduce laws to stop performances and asking tourists not to fuel the trade by giving money.
The hyenas are kept chained and muzzled, while snakes live in boxes and containers.
Some of the tamed animals are sold to rich Nigerian families who keep them for their children, while others are used in touring performances that incorporate dancing, drumming and music.
Baboons are trained to approach spectators and dance or perform tricks, then take money back to their masters.
The head of the group is Baba Mohammed, father to Mufasa and several other trainers.
"We use medicine to help us," he said.
"We drink the medicine before we go, then we can go and catch them. We give the animals medicine to drink too."
His youngest son, a small toddler, is seen crying as he is force-fed the liquid and later being placed with a snake in a ceremony to mark his supposed power over the reptiles.
The boy's mother, Aisha Mohammed, who married Baba when she was 14, said she believes the potion means snakes can do him no harm.
Abdullahi Barau, head of snake handlers and an instructor, shares her belief after 22 years in the trade.
"My dad gave me medicine that I drank," he said. "That's when I went into the bush and any snakes that I see, I'll catch them without fail."
To prove his talents for the cameras, he put a live snake's head inside his mouth and then unflinchingly let the reptile slither down his trousers.
When asked if the animals are mistreated, Baba said tamers do not have to beat the animals because they are obedient, claiming they "miss" their trainers when they leave.
"This is our work and we will continue doing it," he added. "We use the money to survive."
Join our new commenting forum
Join thought-provoking conversations, follow other Independent readers and see their replies