Initial assault on Gaddafi stronghold falters
Missiles fired from Bani Walid repulse first attack on town where ex-leader is rumoured to be hiding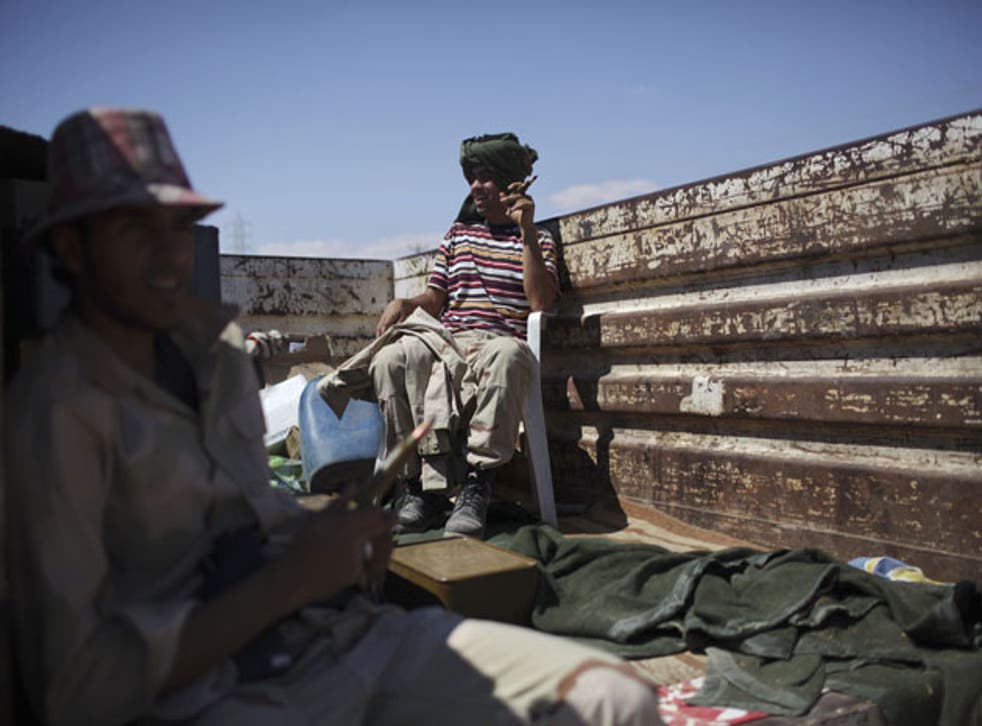 The rockets landed in quick succession, three blasts throwing up debris, dust and shrapnel, sending the fighters scampering for cover. Sniper fire followed, pinning them down in ditches, behind their trucks and cars. The only immediate response from the forces of the provisional government, the Transitional National Council (TNC), was defiant cries of "Allah hu Akhbar" while they waited for Nato air strikes.
Twenty-four minutes earlier Abdullah Kenshil, the chief negotiator for the TNC, had been confident the Gaddafi forces entrenched in Bani Walid were close to surrender. "This chapter will now close with roses not guns. They know they are beaten; they are very keen to negotiate," he declared. But the spokesman for the TNC's military council, Abdurrahman Busin, had given a differing account of fierce street fighting inside the town, saying: "The Gaddafi troops had tried hard to fight back, but they are now pushed right back and we are in the centre."
Yet another version came from the fighters who had just come out of Bani Walid. "Man, they have Grads [rockets], mortars, machine guns. We went in and then had to come out again; we do not have enough people," said Ramzi al-Hamsi, 28. His 22-year-old companion, Abdel Al-Aguri, was sceptical about the prospects of another assault. "We cannot do it unless we get reinforcements. They have more people in there than we expected."
Yesterday saw the expiry of the surrender deadline given by the revolutionaries for the remaining strongholds of the former regime – Sirte, Sabbah and Bani Walid. There was no movement on the first two fronts, while at Bani Walid Gaddafi's troops had retreated. TNC forces coming in from the east had got to within three miles of the town by early yesterday morning. By the afternoon they had fallen back 25 miles, blaming this, again, on the lack of manpower. A further advance would be made, their officers said, when 400 car-loads of fighters arrived from Misrata, supposedly by nightfall.
The revolutionaries had claimed that their retreats around Bani Walid had been at Nato's request to allow air strikes to take place. However, an alliance spokesman in Brussels denied this, saying that Nato "does not have contact with TNC forces".
By yesterday afternoon, though, there appeared to have been at least one air strike following rocket attacks on the revolutionary forces, and warplanes could be heard overhead for several hours. One TNC fighter, bemoaning the stalemate on the ground, blamed Nato's supposed lack of action. "We would not be stuck on this road if they had bombed those Grads earlier," he said.
Casualties on both sides were relatively light yesterday. Two TNC fighters were killed, one of them when his machine gun blew up, and the Gaddafi forces also lost two. The revolutionary forces also claimed to have taken six prisoners, including a brigadier-general. Residents trickling out of Bani Walid reported that some early skirmishes had been followed by exchanges of artillery fire, which had made them fearful that their homes would be hit.
"We have been hearing for days that the rebels [TNC forces] are coming, but nothing happens and all we get are some bombs landing," said Mohammed Abduallah Ali, 44, bringing his wife and four children out of the town through a back route in a battered Peugeot car. "There are some people from some tribes who are loyal to Muammar. There are not many of them and it should not be difficult for the rebels to deal with them. We do not want people dying, getting injured, but we also want this to be over."
Many of the TNC fighters had convinced themselves that the reason for the stubborn resistance they had encountered at Bani Walid was that the former regime's most senior fugitives were holed up there. "We hear that Gaddafi himself may be there, but I cannot say any more because this is secret intelligence," the TNC's Mr Kenshil let on at one stage. However, he had also "revealed" three days earlier that "Sirte has surrendered", leading to wild celebratory gunfire by the TNC fighters.
Faraj Mohammed Ahmuda, a 29- year-old dentist turned fighter, insisted he had personal knowledge of Gaddafi's presence in the town. "I went back there last Friday in civilian clothes to make sure my family was all right," he said. "I went to a place where Gaddafi was having lunch; he was having couscous and chicken." The dictator's son Saif al-Islam and the former head of military intelligence, Abdullah al-Senussi, were also in Bani Walid, he added.
In reality, the fallen dictator and his close circle have remained elusive for the TNC forces. Different, and often contradictory, locations are given by senior members of the TNC, despite Western special forces, including the SAS, supposedly being involved in the hunt.
Interpol announced that it has issued its top-priority, "most wanted" alert for the arrest of Gaddafi, Saif al-Islam and Abdullah al-Senoussi. The governments of Niger and Burkina Faso, where, according to some reports, they had headed in a convoy, denied the fugitives were in their territory.
Meanwhile, officials in Niger said four senior Libyan military officers had entered the country. The justice minister, Amadou Morou, said late on Friday that the Libyan chief of staff of the air force, his pilot and the commanders of two Libyan military regions have arrived in Niger. Mr Morou declined to name the officers, and he condemned an attack on the Niger embassy in Tripoli on Wednesday night by a group of 20 armed men who tried to force their way in. He said the compound is now being offered protection by the TNC.
Financial aid: IMF offers cash to help provisional government
The International Monetary Fund cleared the way yesterday for billions of dollars in aid to be sent to the provisional government of Libya, the National Transitional Council.
The head of the IMF, Christine Lagarde, offered "technical assistance, policy advice and financial support if requested" as the NTC begins to "rebuild Libya's economy".
The G7 announced aid worth $38bn (£24bn) – $20bn more than it pledged earlier this year – to help to boost democracy in Arab countries, including Egypt and Tunisia, and ease trade with the Middle East and North Africa. Libya's interim ruling council will be invited to join the scheme.
George Osborne, the UK Chancellor, said: "Greater trade and prosperous, dynamic, successful economies in the region is an opportunity for both these countries but also for Britain."
The IMF offered an extra $35bn to support the region's oil-importing countries. "They are the ones suffering the most from the high commodity prices," Ms Lagarde said.
However, a report from the US suggested that IMF resources could prove insufficient if financial conditions worsen.
Matt Chorley
Register for free to continue reading
Registration is a free and easy way to support our truly independent journalism
By registering, you will also enjoy limited access to Premium articles, exclusive newsletters, commenting, and virtual events with our leading journalists
Already have an account? sign in
Register for free to continue reading
Registration is a free and easy way to support our truly independent journalism
By registering, you will also enjoy limited access to Premium articles, exclusive newsletters, commenting, and virtual events with our leading journalists
Already have an account? sign in
Join our new commenting forum
Join thought-provoking conversations, follow other Independent readers and see their replies