Is the world's retail giant about to swallow Africa?
The decision to allow Wal-Mart to enter South Africa will threaten hundreds of smaller, local competitors, claim critics of the move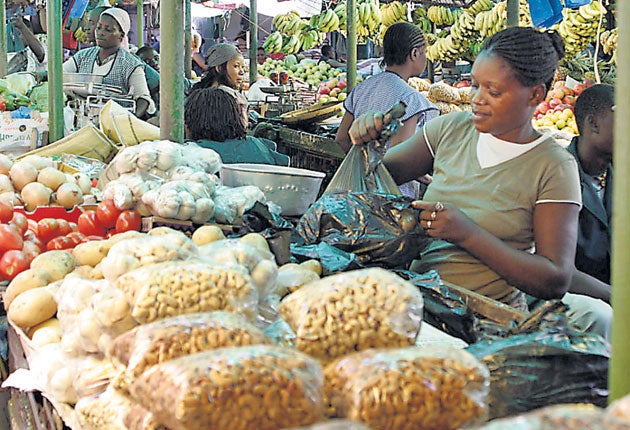 Pavement trader Babalwa Ngcolo makes a "fair living" selling tomatoes at one rand apiece (8p) from a board laid out on two plastic crates near Cape Town railway station. "Of course, there is competition," she says glancing at the woman to her left with identical stock, "but if she has a good day today, I may have a good day tomorrow".
Mrs Ngcolo cannot imagine any of the large stores ever threatening her small business. But according to trade unions, the landmark decision on Tuesday by the South African Competition Tribunal to allow US retailer Wal-Mart to enter the African continent is bad news for Mrs Ngcolo and millions like her.
Eight months after the world's biggest store group made its first offer to buy warehouse retailer Massmart, the Pretoria-based tribunal allowed the purchase of 51 per cent of the South African group for £1.5bn.
"We're pleased that the competition authorities have recognised the benefits that our investment in Massmart can deliver," Wal-Mart International chief executive Doug McMillon said. Massmart chief executive Grant Pattison greeted the news with a pledge to create 3,000 jobs in 200 new stores in the next three years.
But Mike Abrahams, spokesman for the South African Commercial, Catering and Allied Workers Union said the tribunal's decision was a "disappointment". "The tribunal disregarded our evidence about the broad public impact of the takeover. They completely failed to consider that when you talk about Wal-Mart you are talking about a whole different history and scale than in any other takeover situation."
The Arkansas-based group has 4,000 stores in the US and as many outside. It trades in 14 countries and, until this week, had a presence on every continent except Africa. It is the biggest retail group in the world. Its buying power makes competitors tremble and the company has notched up hundreds of court appearances on four continents for union-bashing, discrimination and price-fixing. The group's annual sales are three times the South African national budget. If Wal-Mart were a country, it would be listed among the world's 30 top economies.
Massmart, which was set up in 1990 by entrepreneur Mark Lamberti, is South Africa's biggest food and general goods retailer with 288 stores in 14 African countries. The company last year shed 1,500 jobs and has been accused of doing so in preparation for the deal with Wal-Mart. Its revenue last year was 47bn Rands (£4.1bn), the latest in a series of 10 per cent year-on-year increases.
Massmart's target customers are the growing Southern African middle class who, like professionals everywhere, drive cars and enjoy topping up their weekly shop with a bargain garden table or kitchen appliance. South Africa is the continent's most vibrant consumer market and forecasters say that the 59 million Africans who earn at least £5,000 a year will have doubled in number by 2014.
Proponents of the Massmart takeover see it as crucial to investor confidence in South Africa where the influential trade union confederation, Cosatu, is part of the African National Congress governing alliance. Those backing Wal-Mart's arrival also claim it will create jobs: "All new employment is worth having in our country where up to 60 per cent of the population doesn't enjoy the dignity of having a formal job," said Johannesburg-based economist Mike Schüssler.
Tuesday's tribunal ruling followed months of talks and discomfort in the ANC alliance which accommodates strongly pro-market forces alongside apartheid-struggle comrades from the unions and the communist party. In December, Economic Development Minister Ebrahim Patel put in place an expert panel to consider the offer and his department and two others – Agriculture and Trade and Industry – came out against the deal.
Among their claims was that if Wal-Mart shifts Massmart's local procurement policies by as little as 1 per cent, as many as 4,000 jobs will be lost. In their evidence to the tribunal, the unions cited a German study suggesting that for every two jobs Wal-Mart creates when it opens stores, three are destroyed as competitors go out of business.
While the tribunal said it would release its full reasons for the judgment only on 29 June, Mr Abrahams said the decision seemed to mark a complete "capitulation" by the respected competition body. Indeed, while the judgment included a short list of conditions – including no sackings at Massmart for two years, a pledge to recognise collective bargaining agreements for three years and the creation of a 100m Rand support programme for local suppliers – the very same "demands" had been contained among sweeteners offered by Wal-Mart at the tribunal's hearing in March.
But experts in competition law said South Africa had been left with little choice than to open the door to Wal-Mart. As a member of the World Trade Organisation and signatory of the General Agreement on Tariffs and Trade, South Africa would not have been permitted to demand, for example, that Wal-Mart should buy domestic products.
"If Wal-Mart's entry into the South African market had been denied, South Africa would have been breaching its international commitments," said Paul Kruger, a researcher at the Trade Law Centre for Southern Africa.
Outside Cape Town station yesterday, Mrs Ngcolo declared herself happy with the business of the day. She had never heard of Wal-Mart. Neither had she ever set foot in the nearby Massmart-owned Game store. "Game is too expensive for me," she explained, "and it is too expensive for all the people who buy tomatoes from me. I am not too worried."
Join our commenting forum
Join thought-provoking conversations, follow other Independent readers and see their replies