Isis in Libya: Jihadists 'shaving off beards' to blend in with civilians as they flee government advance on Sirte
Fighters backed by the new Government of National Unity have been advancing on the group's Mediterranean coastal stronghold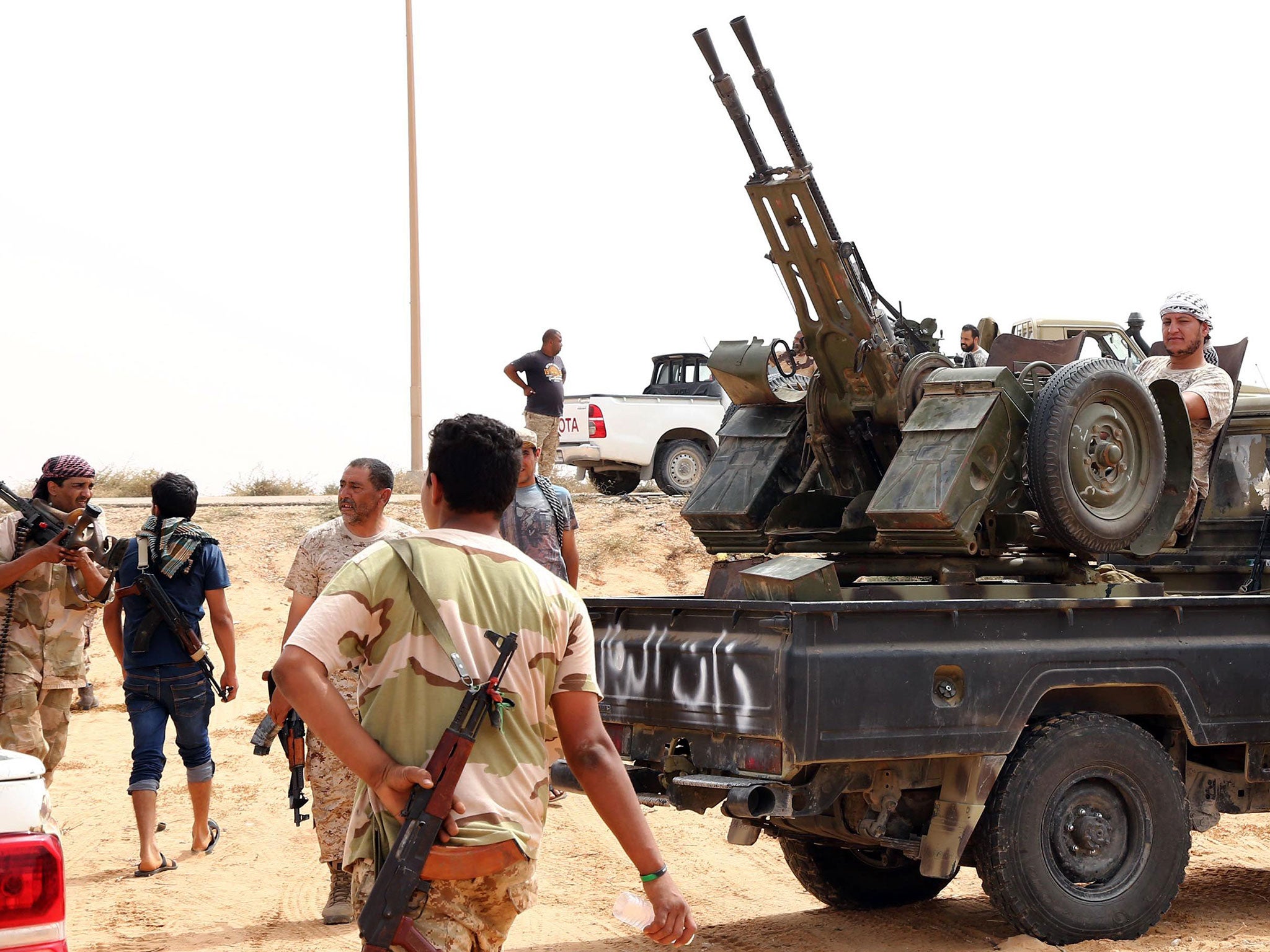 Isis fighters fleeing their Libyan stronghold of Sirte are reportedly cutting of their beards and long hair to blend in with civilians as militias advance on the city.
Forces allied to the country's new unity government pushed into the city in tanks and pickup trucks mounted with machine guns on Thursday, backed by air strikes and bombardment from ships in the Mediterranean.
A Libyan naval commander, Rida Issa, said the entire coastline around the city was under tight control, leaving up to 1,800 Isis fighters unable to escape by sea.
Libya: UN-backed government forces make gains in Sirte
With Sirte mostly surrounded, there were reports that some militants were attempting to blend in with displaced civilians by ditching their distinctive clothing and facial hair.
Ahmed Hadiya, a media official based in Misrata, told the Associated Press that his forces found sinks full of shaved-off beards and long hair inside a school taken from Isis, as well as mobile phones and leaflets pledging allegiance to Isis leader Abu Bakr al-Baghdadi.
In a statement, the Tripoli-based Government of National Unity (GNA) said its forces were in control of a military barracks, roads and bridges leaving into Sirte, where specialists were clearing mines and booby-trapped vehicles.
Dozens of fighters have been killed and hundreds wounded in a month of fighting in surrounding the symbolic city, which was the hometown of deposed leader Muammar Gaddafi and the scene of his death in the last major battle of the Libyan civil war.
Isis took advantage of the ensuing chaos to expand into the country, seizing Sirte and 155 miles of surrounding coastline in late 2014 to construct its biggest stronghold outside Syria and Iraq.
In pictures: Isis' Libyan stronghold of Sirte
Show all 10
Civilians trapped by the terrorist group have reported "unbearable" atrocities, including regular public executions and corpses left hanging or "crucified" in the streets.
Brigades mainly composed of fighters from the western city of Misrata have advanced rapidly, driving the militants back along the coastal road west of Sirte before seizing strategic points on the edge of the city.
A separate militia that controls terminals in Libya's oil crescent, the Petroleum Facilities Guard (PFG), said it had advanced further from the east to reach the town of Harawa, about 40 miles away.
Fighting was underway at symbolic locations including the Ouagadougou conference complex, where Isis holds compulsory Sharia instruction seminars, and a roundabout where militants previously hung the bodies of executed enemies had been seized.
Mohamed al-Gasri, a military spokesperson based in Misrata, told Reuters: "We think that Sirte will be liberated within days, not weeks.
"The Daesh (Isis) snipers are a concern to us because they shoot from long distances and that has hindered us in the battle inside the city."
Pro-government militias have been the main fighting force for the UN-brokered unity government formed in January after more than four years of bloodshed and chaos following Gaddafi's death.
They are being supported by the UK and other nations including the US, which sending a second aircraft carrier and its strike group of guided-missile cruisers and destroyers to bolster operations Mediterranean.
The Ministry of Defence told The Independent it could not comment on reports that British special forces were supporting militias in Sirte, alongside American and Jordanian teams.
The assault on Sirte comes as US-backed fighters in Syria converge on the Isis stronghold of Manbij on three sides, while Iraqi special forces push into the Iraqi city of Fallujah.
The so-called Islamic State has suffered setbacks on several fronts in the region where it captured large swathes of territory two years ago, including the loss of the ancient Syrian city of Palmyra earlier this year.
Analysts have interpreted its recent wave of almost daily suicide bombings in Iraq, as well as propaganda hailing its expansion into Bangladesh and other areas of Asia, as an effort to re-gain momentum and publicity.
Join our commenting forum
Join thought-provoking conversations, follow other Independent readers and see their replies