Isis in Libya: The new centurions protecting the ruins of Leptis Magna from militants' cultural jihad
At first they were like a Neighbourhood Watch of antiquities, but now locals with automatic weapons are protecting the Roman city from jihadists hell-bent on its destruction. Kim Sengupta meets a force to be reckoned with
Kim Sengupta
Friday 05 June 2015 00:34 Comments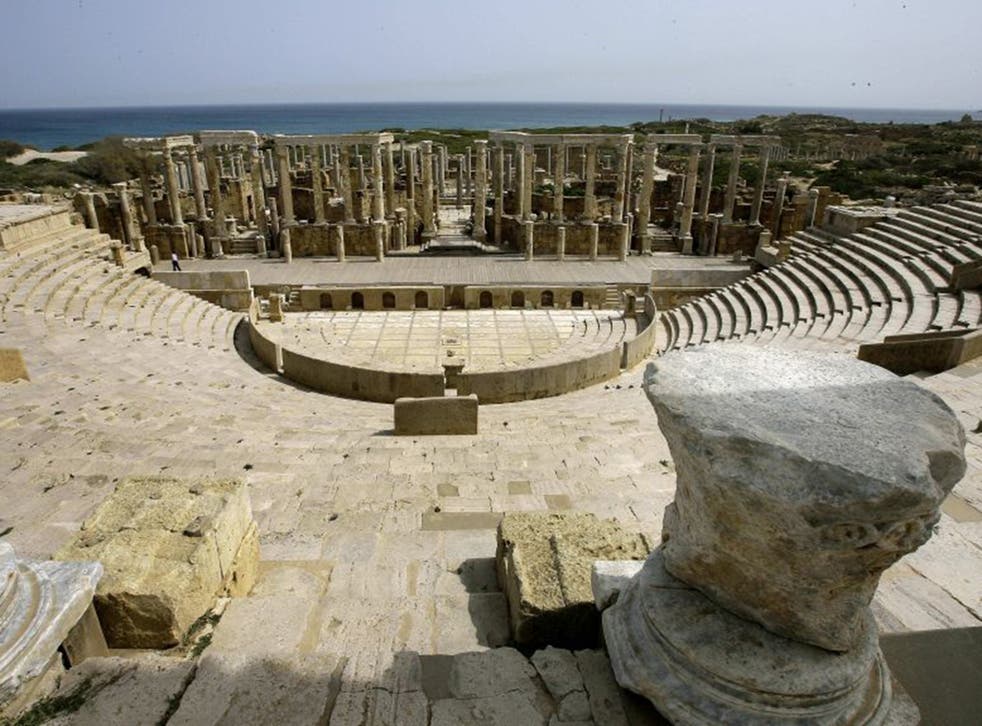 Leptis Magna was bathed in sunshine as a cool breeze from the Mediterranean blew tumbleweeds in the majestic amphitheatre; and nearby, gunmen moved in the shadows of the arch of Septimus Severus.
For a moment it looked as if Isis, on the march in Libya, had already arrived at one of the best preserved sites of antiquities in the world to carry out its cultural jihad of destruction. But the men with Kalashnikovs were locals, a volunteer guard determined to protect the remains of what was once said to be one of the Roman Empire's most enchanting cities.
The Independent found the new centurions on patrol during a visit to Leptis Magna. They started off as a version of Neighbourhood Watch for antiquities, with a few elderly men. But the group has grown, drawing from different generations and backgrounds: and as the threat has increased, so has their need to be prepared. Now they carry semi-automatic rifles and walkie-talkies, and have installed a surveillance system, albeit a rudimentary one.
Isis has destroyed some of the world's most precious heritage in Iraq and Syria. In Libya, the jihadist group has taken control of the coastal cities of Sirte, former home of Muammar Gaddafi, and Darna in the east. Its reach is growing and it has attacked targets in the capital, Tripoli, and in the cities of Misrata and Benghazi. A suicide bomber killed six people at Dafniya, just 30 miles from Leptis, on Sunday, and a man was beheaded in Darna on charges of spying and un-Islamic behaviour.
There has been vandalism and looting in Libya since the revolution of 2011, even before Isis first appeared on the scene. Artefacts have gone missing from Sirte: a rare collection of 8,000 gold, silver and bronze coins, dating back to Alexander the Great, has disappeared from Benghazi. Prized ceramic tiles were stripped from the Karamanli Mosque in Tripoli and one of the capital's iconic landmarks, a nude woman with a gazelle, was pulled down. There has been vandalism of Sufi shrines in Zlitan, and a Fatimid palace has been turned into a stable in Tobruk.
Now there are growing fears over what may befall Libya's Unesco world heritage sites with their Phoenician, Greek and Roman remains. Best known among them are Cyrene, near Darna, Sabratha, near Sirte – and Leptis Magna, the brightest jewel in this treasure house of history.
"We know the value of this place to the whole world," said Ali Hribesh, pointing at the Temple of Ceres Augus. "We have had kings, presidents, millionaires, they all come here, so it is truly famous. I don't know anywhere else in Libya they have guards like us, but this is a very special place. That is the reason we do this, paying for everything out of our own pockets, look at what's at risk."
The 59-year-old electronic engineer and a group of friends in Khoms, the modern city adjoining Leptis Magna, formed the volunteer group during the civil war in 2011. The widespread looting they had feared did not materialise, and the watch tailed off. But the advent of Isis, its creeping proximity to Leptis and the images of systematic destruction elsewhere have spurred recruitment, and now they number around 100 members.
Ancient monuments under Isis threat

Show all 8
"This is not just a special place, it is our place. It has been part of our lives, and the lives of generations of our families," said Mr Hribesh. "I used to carry my breakfast here as a little boy and eat at different places – at the market or the circus. Our children used to come and watch the tourists from all the different places."
Mohammed al-Shaqiri, another volunteer, added: "The guns are our insurance as we don't know what we may come up against. Ordinary criminals carry guns now, let alone Daesh [Isis].This place is full of such amazing and valuable things."
Mr Shaqiri, 32, a Sunni Muslim, wore a blue T-shirt with the words "Property of Jesus" written on the front, but he insisted he did not know the meaning of the words in English. "There's nothing religious in wearing this. I just like the colour," he added. What would the fundamentalists of Isis make of it? "I hope they like the colour!" was his response, with a smile.
Libya remains in turmoil: two rival governments, one based in Tripoli, the other in Tobruk, are engaged in civil war and are both, separately, fighting Isis. Touareg and Toubou tribal paramilitaries control the lands that border Niger and Chad to the south, and clash with each other. Into this combustible mixture comes the threat of military action by the European Union, as it tries to stop a flood of migrants crossing the Mediterranean to Europe.
Irina Bokova, the director-general of Unesco, has sought to highlight the full extent of cultural peril. "Libyan heritage is the expression of a shared memory of the country and its respect represents a cornerstone for long-lasting national reconciliation," she has declared. "I therefore urge all parties, as well as the Libyan population, to commit to and act for its safeguarding."
For Mr Hribesh, however these are empty words. "We have had Unesco here, we have had other international organisations here, ministers and ambassadors. They came when things were a bit safer. They came, they made promises of support, of money, then they went away and we heard nothing more. They all said this is world's heritage, well, why isn't the world helping? But we are not going away, we can't go away, we shall stay here until the end."
Standing next to him, Mustapha Sharif, 32, pointed out: "We get nothing from our own government either. Most of us are unemployed, so this is hard. We haven't got any body armour, we don't have any four-wheel drives, no internet. It's frustrating."
No foreign visitors have been seen in Leptis in months. Libyans do, however, turn up from time to time. Ahmed Umar, a geography teacher who was visiting with his wife and four young children, was unsure how much damage Isis might inflict. "They will destroy the statues showing faces – that's what they have done in Iraq," he said. "But they will probably leave the buildings alone, so maybe we will have some things left."
Khalil Emboga, 48, a municipal worker, was also there with his family. "I wanted to show my son what a wonderful place this is," he said. "Of course, we want these great things to be here for ever. But everything is so uncertain. I am not talking just about Daesh: the future of this country, the future of all of us, is so very uncertain."
Register for free to continue reading
Registration is a free and easy way to support our truly independent journalism
By registering, you will also enjoy limited access to Premium articles, exclusive newsletters, commenting, and virtual events with our leading journalists
Already have an account? sign in
Join our new commenting forum
Join thought-provoking conversations, follow other Independent readers and see their replies