Isis 'loses control of Sirte' as Libyan pro-government forces say battle is over
Militants have been holed up for weeks in what was once Isis's North African stronghold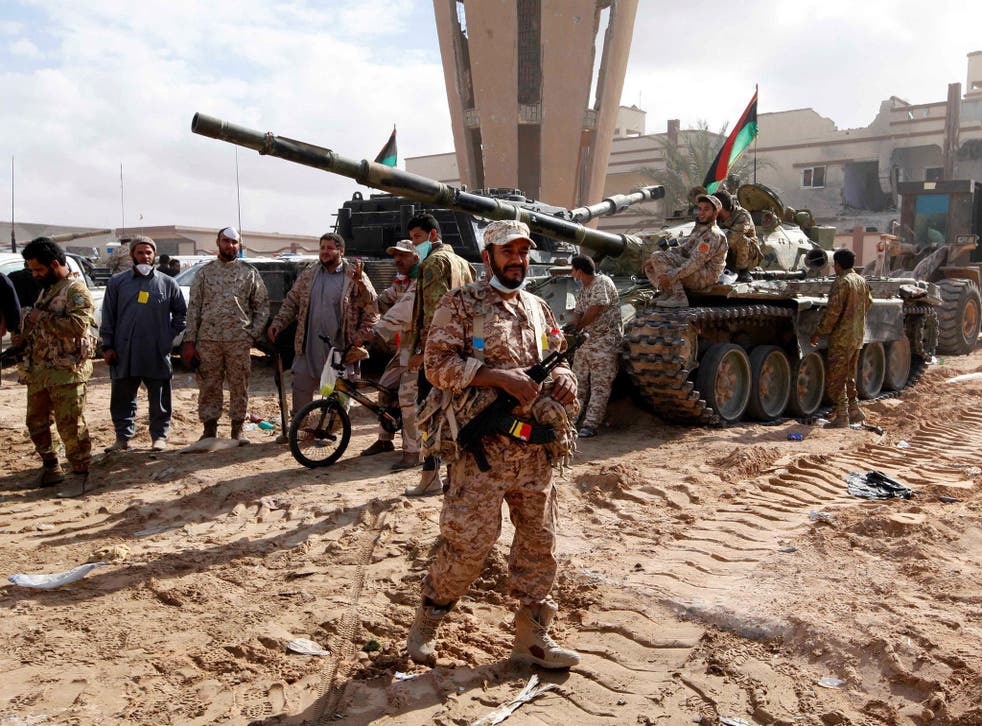 Libyan pro-government forces say they have driven Isis militants out of the last neighbourhood of Sirte, declaring the battle for control of the city is over.
Backed by US air strikes, forces loyal to Libya's unity government have been fighting for more than six months to drive the militants out of their North African stronghold.
Earlier on Monday, more than a dozen Isis fighters who had been holding out in Sirte surrendered to Libyan forces, officials said.
And Rida Issa, a spokesman for the joint offensive against Isis in the city, said forces led by brigades from the western city of Misrata "control all of Sirte's Ghiza Bahriya neighbourhood and are still securing the area".
Once a city of 80,000 people, Sirte has suffered severe civilian casualties as Isis has been accused of using the local population as human shields.
Reports estimated that as long ago as the end of October there were just 100 Isis fighters remaining holed up in houses in Ghiza Bahriya.
The protracted final stages of the campaign to liberate Sirte, which began on 12 May 2016, bodes ill for the operation to clear the much larger city of Mosul in Iraq.
Isis first took over Sirte in early 2015, setting it up as its most important base outside the group's core territories in the Middle East and expanding its control along about 150 miles of Mediterranean coastline.
In recent days, Libyan forces say dozens of women and children have left the last group of buildings controlled by militants, and three more women fled on Monday.
The presence of the families has been one of the factors complicating attempts to push forward into the final sliver of land held by Isis, while several women have carried out suicide attacks as they were being granted safe passage.
Meanwhile, Western-backed Iraqi forces have begun shelling parts of west Mosul, residents said, preparing to open a new front against Isis seven weeks into a tortuous campaign to drive the militants from the city.
Military commanders hope that by opening a second front within the city they can increase pressure on the few thousand jihadists who have deployed suicide bombers, snipers and militant cells against elite Iraqi troops in eastern districts.
Additional reporting by agencies
Register for free to continue reading
Registration is a free and easy way to support our truly independent journalism
By registering, you will also enjoy limited access to Premium articles, exclusive newsletters, commenting, and virtual events with our leading journalists
Already have an account? sign in
Register for free to continue reading
Registration is a free and easy way to support our truly independent journalism
By registering, you will also enjoy limited access to Premium articles, exclusive newsletters, commenting, and virtual events with our leading journalists
Already have an account? sign in
Join our new commenting forum
Join thought-provoking conversations, follow other Independent readers and see their replies