Israel's deportation of African asylum seekers labelled 'cruel and unlawful' by Amnesty International
Rights group says one migrant was told: 'If you don't leave, you will leave Israel in a coffin'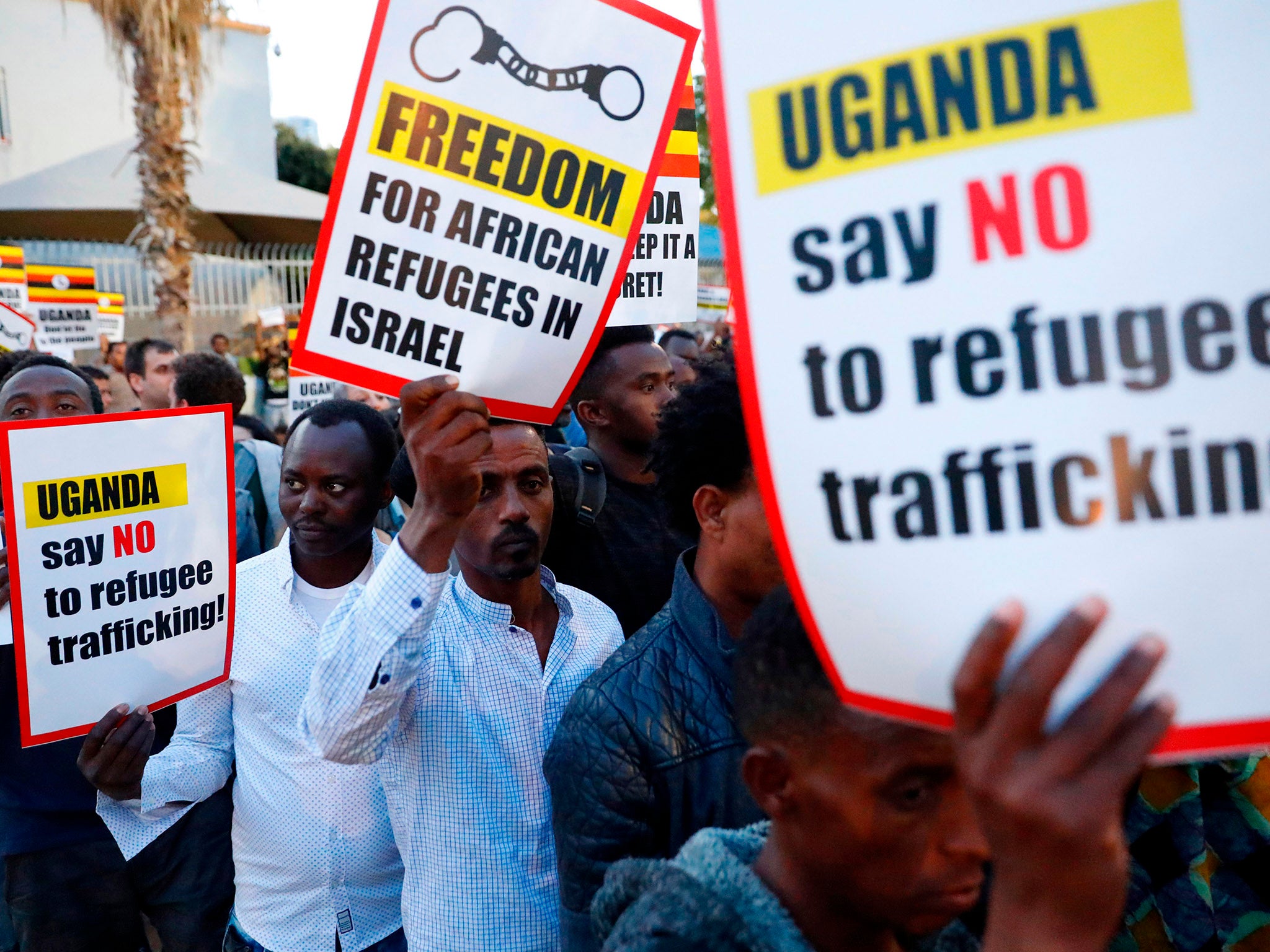 Israel's deportation of Eritrean and Sudanese asylum-seekers is "cruel and unlawful", Amnesty International has said in a report calling for an end to the practice.
The study, published on Monday, says the African migrants are being sent to Uganda, which Israel has an agreement with. A similar agreement with Rwanda recently collapsed.
It claims immigration officials routinely offer an ultimatum to asylum-seekers: to go back home, to leave voluntarily for Uganda, or to face indefinite detention in Israel.
One was allegedly told: "If you don't leave…you will leave Israel in a coffin".
Charmain Mohamed, Amnesty International's head of refugee and migrant rights, said: "Israel is one of the most prosperous countries in the region but it is going out of its way to shirk its responsibility to provide refuge to people fleeing war and persecution and who are already on its territory."
According to the UN refugee agency, there are about 27,000 Eritrean and 7,700 Sudanese seeking asylum in Israel.
The new 45-page report - called Forceful and Unlawful - says it has interviewed 30 of them about their experience, although none are named.
One, who spoke while at Israel's Saharonim Prison, is quoted as saying: "Every day, all the time, the prison guards and the Interior Ministry officers tell me that it would be better for me to go to Rwanda. They say: 'If you don't leave for Rwanda, you will leave Israel in a coffin'… But I have friends in Rwanda who tell me not to come, that the situation there is very difficult. I prefer to die in Eritrea so that my mother can visit my grave than to go to Rwanda or Uganda. I have nothing there."
World news in pictures
Show all 50
The report also throws doubt on Israel's claim that the Eritreans and Sudanese are economic migrants. Rather it states most are fleeing persecution or serious human rights violations.
And it says that many of those who did agree to go to Rwanda or Uganda are left with questionable legal status in the new country – despite Israeli assurances they will have assured legal status there.
Uganda has repeatedly denied the existence of an agreement for the reception of deportees. In April, the Israeli Government admitted that Rwanda refused to accept further deportations but Amnesty reported that, at the time of publication of its report, "voluntary" transfers to Uganda continued.
The Independent has contacted the Embassy of Israel in London for comment.
Join our commenting forum
Join thought-provoking conversations, follow other Independent readers and see their replies