Ivory Coast citizens become first in world to receive Covid vaccines under Covax initiative
Some 504,000 Oxford/AstraZeneca jabs arrived in Abidjan on Friday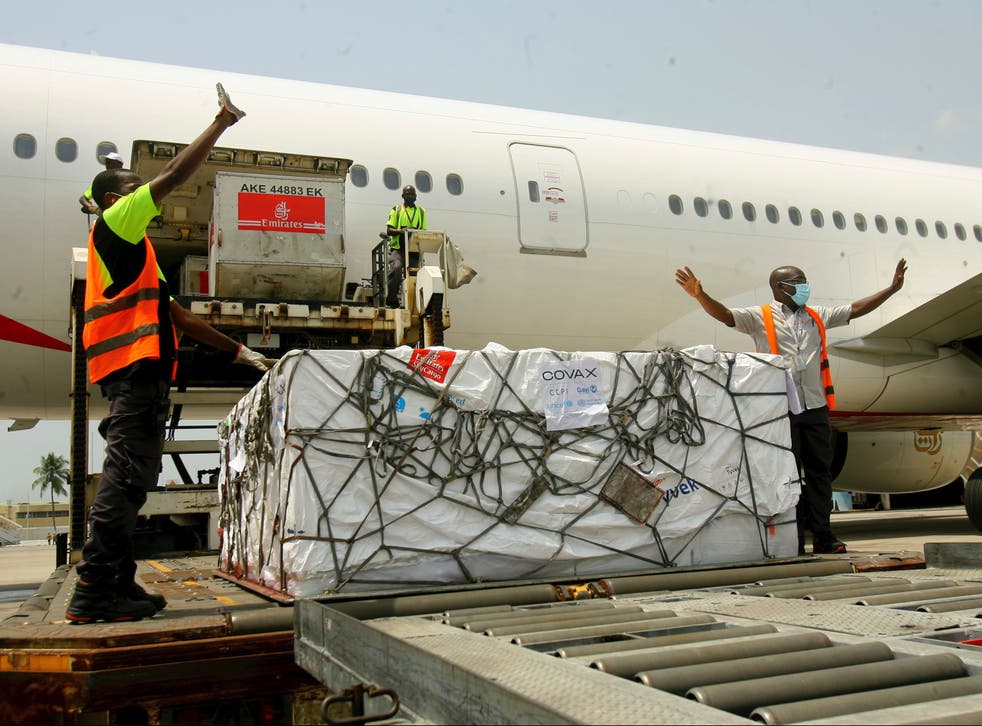 People in the Ivory Coast will be the first in the world to receive coronavirus vaccines under the Covax initiative.
The roll-out began in the West African nation on Monday under the international initiative to vaccine some of the most vulnerable people.
Some 504,000 of the Oxford/AstraZeneca vaccine arrived in the commercial capital of Abidjan on Friday as part of the scheme, which the UK has committed to giving £548m in aid funding.
The foreign secretary, Dominic Raab, said: "Today, with UK aid support, people in Cote D'Ivoire are the first to receive vaccinations through Covax - the biggest ever global vaccine campaign to end the pandemic.
"We're proud to be one of the biggest donors to Covax, securing over one billion doses for the most vulnerable around the world. We do it because we want to be a force for good in the world, and because we need a global solution to a global pandemic."
Although the UK government is among the biggest donors to Covax, it has come under criticism for slashing the aid budget from to 0.5 per cent of gross national income, despite the Conservative manifesto pledging to keep it at 0.7 per cent.
Richard Mihigo, immunization and vaccine development manager at World Health Organisation's regional office for Africa, told BBC Radio 4's Today programme it was a "really big day" because "many countries in Africa have been waiting for this for quite some time".
He added: "For the Covax facility itself it's really a new beginning and it promises to deliver a vaccine equitably to all countries."
Asked if there were concerns about the Oxford/AstraZeneca vaccine after South Africa suspended its use and several European countries questioned its efficacy in older people, Dr Mihigo said: "Absolutely not.
"The WHO has issued a recommendation after looking carefully at all the data, including for people beyond 65 years of age and has recommended this vaccine to be used widely, even in places where we have new variants. So we are confident this is a tool that will help countries."
Pressed on the situation in South Africa, he said the country made the decision following the results from a "small study" that he said "did not include people who were at risk and [those with] severe diseases".
Dr Mihigo urged countries selling their extra vaccines to developing nations to instead pool their supplies through Covax to allow them to be distributed through the initiative.
"The vaccines procured through Covax are being given to countries without cost and that will be to cover up to 20 per cent of their population.
"Now some countries have tried to look for additional doses to go beyond that 20 per cent and we are seeing bilateral deals with other vaccine manufacturers and that is of concern because if those vaccines are being charged a lot this is money that could be used for the development of the country and other public health needs.
"To force this global solidarity we are calling on the countries that are making these bilateral deals and sometimes very small donations that really will not necessarily make a big difference to pool all of these supplies through Covax so they can be equally distributed across poor countries.
"That way we can make a difference in the countries."
Join our new commenting forum
Join thought-provoking conversations, follow other Independent readers and see their replies