Video shows people fleeing Ivory Coast attack
Ivory Coast shooting: At least five dead in gun attack on Grand-Bassam beach resort popular with Western tourists
The government says six gumen have been 'neutralized'
Sixteen people have been killed after six heavily armed gunmen attacked a beach resort in Ivory Coast, officials say.
The government has said the attackers have been 'neutralised.'
Al-Qaeda in the Islamic Maghreb have reportedly taken responsiblity for the attack, which marks the first Islamist terror attack on the West African nation since 2011.
The violence happened near the Hotel Etoile du Sud, in the coastal city of Grand-Bassam, which is popular with Western tourists.
On a visit to the area following the attack, President Alassane Ouattara said: "Six attackers came onto the beach in Bassam this afternoon"
"We have 14 civilians and two special forces soldiers who were unfortunately killed," he told Reuters.
State Minister Hamed Bakayoko also appealed for calm.
Witnesses reported hearing the gunmen shout "Allahu Akbar" (God is great) as they opened fire.
There are varying reports of both the number feared dead and the number of attackers.
A government spokesperson told Bloomberg at least five attackers had been killed and another five were on the run.
The shooting started at the Hotel Etoile Du Sud's Koral Beach and continued in nearby establishments, according to the website Ivorian Connection.
Local media had reported the gunmen had entered the hotel and took guests and staff hostage.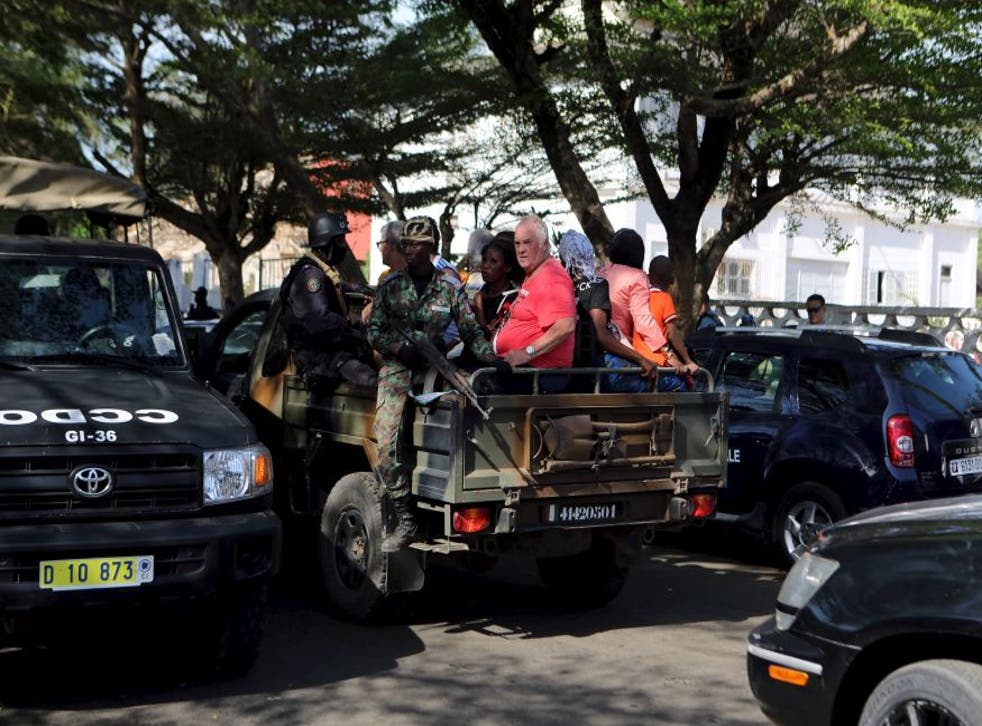 However, a receptionist at the Etoile de Sud hotel told Associated Press that everyone in the hotel was safe, and gendarmerie were present.
"We don't know where they [the gunmen] came from, and we don't know where they've gone," he said.
Images of the attack on social media show bodies on the beach.
The beach and surrounding area has now been evacuated by the army.
An American embassy delegation was in Grand-Bassam on Sunday but the U.S. Embassy said it has no evidence that U.S. citizens were targeted or hurt.
Grand-Bassam is a Unesco world heritage site and is around 40km (25 miles) east of the country's economic capital, Abidjan.
Join our new commenting forum
Join thought-provoking conversations, follow other Independent readers and see their replies