Jacob Zuma: How South Africa turned on its President
Jacob Zuma has lurched from one scandal to the next during his presidency. But the latest – involving allegations that he sacked his finance minister to placate his mistress – could prove to be fatal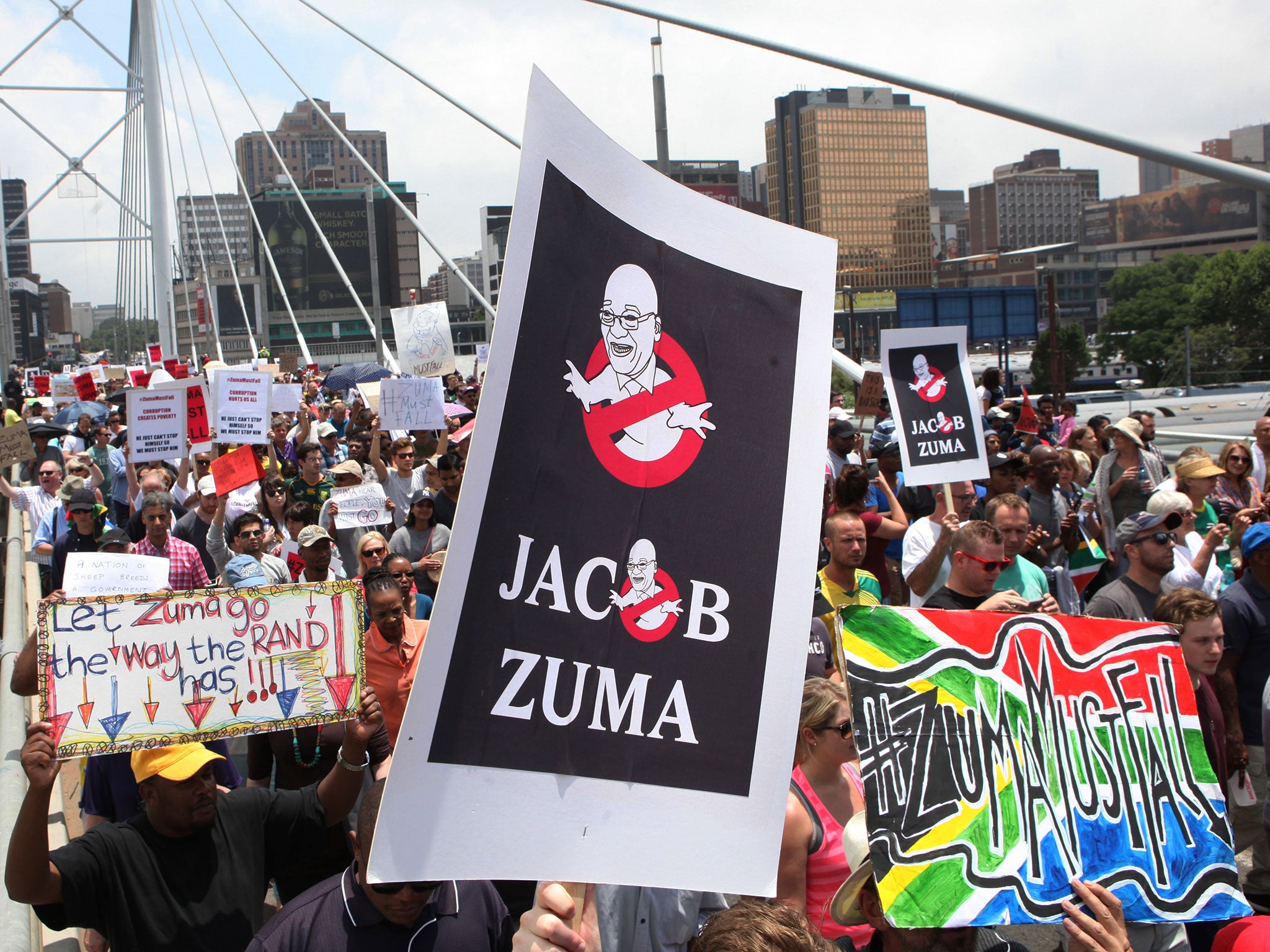 Jacob Zuma, the South African President, has faced potentially career-killing scandals before: taxpayer-funded upgrades to his private estate, corruption allegations linked to an arms deal, and a rape charge, on which he was acquitted after arguing he had unprotected but consensual sex with an HIV-positive woman.
Throughout it all, his powerful position within the African National Congress has carried him through. But Mr Zuma's latest scandal, the sacking of a respected minister of finance – followed by an embarrassing reversal – may have put him on the back foot, a year into his second term as president.
The tide may be turning for Mr Zuma. People once loyal to the nation's leader are abandoning him. This week, thousands of South Africans took to the streets demanding he step down.
In a shock move last week, Mr Zuma sacked Nhlanhla Nene, who had opposed profligate state spending including by the ailing South African Airways, of which Mr Zuma's close friend, Dudu Myeni, is the board's chair. The presidency has denied claims Ms Myeni is Mr Zuma's mistress. "Rumours about a romance and a child are baseless and are designed to cast aspersions on the President," the presidency said.
Mr Nene had also warned that South Africa could ill-afford a trillion-rand Russian nuclear deal said to have been brokered by Mr Zuma. He also, much to the presidency's ire, vetoed plans for a new presidential jet.
Mr Nene was replaced by a virtually unknown backbencher, Des van Rooyen, who many feared would be unable to say no to the President. The move triggered fears among investors just days after credit rating agencies moved South Africa a step closer to "junk" status, and sent the rand into a tailspin. Critics called the decision "an act of wilful sabotage" and "grotesquely irresponsible". And then, just as unexpectedly, Mr Zuma announced that he had changed his mind, and instead named Pravin Gordhan as Finance Minister. The appointment of Mr Gordhan, who served in that position from 2009-2014, has calmed investors and halted the currency's slide, but lasting concerns about Mr Zuma's meddling with the treasury continue. South Africa, on its third finance minister in a week, has been left reeling.
Thousands of mainly middle-class South Africans marched in Johannesburg, Pretoria and Cape Town on Wednesday as part of a #ZumaMustFall campaign, while more than 175,000 have signed an online petition against him. While Mr Zuma remains powerful within the ANC leadership, he has become increasingly unpopular among South Africans, including rank and file members of his own party.
World news in pictures
Show all 50
A recent survey found that public approval of Mr Zuma's performance had dropped from 64 per cent in 2011 to just 36 per cent. "A majority of citizens of all race groups disapprove of his performance in the past year," it said.
"People are just pissed off," said Mpho Lekota, 60, who joined the anti-Zuma march across Johannesburg's Nelson Mandela Bridge. "The ANC is shooting itself in the foot because they are uniting people in opposition."
Zwelinzima Vavi, former general secretary of Cosatu, the trade union federation allied with the ANC, decried the "corrupt hyenas that are ripping our society apart". Mr Vavi, who was expelled from Cosatu last month, said the top-level ANC officials who support Mr Zuma are also to blame. "The people who are giving him a round of applause don't deserve our trust any more," he said. "We are tired of crooks who are hiding behind the legacy of the ANC."
The political discontent comes amid frustration about the lack of change in the country more than 20 years after apartheid. The country's GDP is expected to grow by just 1.4 per cent this year. One in four are unemployed. "This is not what Mandela spent 27 years in jail for," Mr Vavi said. "If they continue doing what they are doing then we will be in the same position as Zimbabwe is today."
Several ANC stalwarts have spoken out against Mr Zuma. Barbara Hogan, a former Health Minister, said that Mr Zuma had "crossed a line" by firing Mr Nene.
"Ordinary citizens must rise up and say enough is enough," Ms Hogan told Ground Up, a community news organisation. "We do not have the power to recall the President. Only the ANC has the power to recall. This man is creating economic sabotage."
Mosiuoa Lekota, leader of the Congress of the People, an ANC splinter party, said that corruption is the most urgent problem in South Africa today. "The only way to eliminate it is to get rid of the source of the corruption, which is Jacob Zuma and the ANC," he said.
"The international community has lost confidence," he added. "It's not a question of tomorrow, it's a question of now. Zuma must go and the ANC leadership must act."
Susan Booysen, author of Dominance and Decline: The ANC in the Time of Zuma, said that Mr Zuma's reversal of his decision and appointment of Mr Gordhan shows pushback by other ANC executives. "He has definitely been called to task and cut down to size," she said. "He had become deluded." She thinks this will be a boost to Mr Zuma's deputy, Cyril Ramaphosa, one of the leading candidates to succeed him as President.
Zuma tries to reassure migrants after xenophobic attacks
Mr Zuma, in his final term as President, has been promoting his ex-wife Nkosazana Dlamini-Zuma, the current African Union chairwoman, as a successor (she is thought unlikely to want to see the father of her children put in prison). While there is no formal campaigning within the ANC, the other main contender to succeed in the presidency is Mr Ramaphosa, a former union leader.
In Mr Zuma's home province and stronghold, KwaZulu-Natal, ANC conferences have turned into battlegrounds over succession, with the recently elected provincial chair a supporter of Ms Dlamini-Zuma. Municipal elections next year are expected to be a major test for the ANC, which may dip below 50 per cent support in several major cities.
The leftist Economic Freedom Fighters, led by Julius Malema, a former ANC youth league leader who was turfed out of the party after a spectacular fallout with Mr Zuma, described "a serious pathological crisis in the leadership and direction of the country". Mmusi Maimane, leader of the liberal opposition Democratic Alliance, said that Mr Zuma was "playing Russian roulette" with the economy. He is demanding that a no-confidence motion be debated when Parliament reopens in the new year.
Join our commenting forum
Join thought-provoking conversations, follow other Independent readers and see their replies