Jacob Zuma: South Africa's ruling ANC party says it has decided President must leave office
'We haven't given him any deadline to respond ... the organisation expects him to go'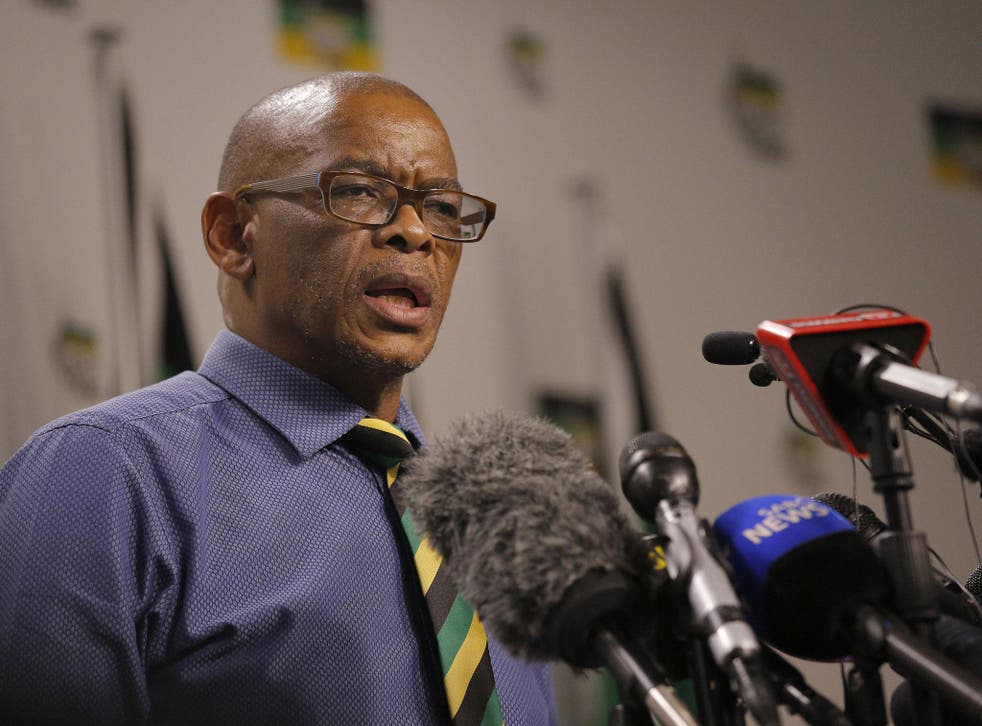 South Africa's ruling ANC party says it has "recalled" Jacob Zuma as president, ordering him to leave office.
Under South Africa's constitution, Mr Zuma cannot be forced to quit by the ANC - but if he does not go willingly, he faces a likely vote of no confidence in Parliament on 22 February.
Mr Zuma had earlier proposed to resign with a notice period of three to six months, said ANC secretary general Ace Magashule.
The party had formally requested the President resign "urgently... for the sake of the country", Mr Magashule said, and that they expected a response from Mr Zuma on Wednesday. The official stressed that leading members "didn't take this decision because President Zuma has done anything wrong".
Mr Magashule said he had met Mr Zuma personally to pass on the decision. "We haven't given him any deadline to respond ... the organisation expects him to go," he said.
A string of corruption allegations have dogged Mr Zuma's two terms as president, relating specifically to a 1999 arms deal and his relationship with the powerful Gupta family. He and the Guptas have denied any wrongdoing.
And crucially, Mr Magashule said that a decision had still not been made on whether the majority-wielding ANC would united against Mr Zuma in a confidence vote.
The man who is expected to replace Mr Zuma, when he does finally go, is Cyril Ramaphosa, a confidante of the late Nelson Mandela and unionist turned business leader, who was named the leader of the ANC after a close vote in December where he defeated Mr Zuma's ex-wife Nkosazana Dlamini-Zuma.
The secretary general said it was "obvious [the ANC] want Comrade Ramaphosa to come in as the president of South Africa". He said the party ultimately expected Mr Ramaphosa to give Mr Zuma's delayed State of the Nation address.
On Friday, one of polygamist Mr Zuma's wives, Tobeka Madiba-Zuma, posted comments on Instagram suggesting the President, who has challenged and defied multiple attempts by the ANC and courts to rein him in, was prepared to go down fighting. The post even suggested Mr Zuma believed he was the victim of a Western conspiracy.
"He will finish what he started because he does not take orders beyond the Atlantic Ocean," she said.
Join our new commenting forum
Join thought-provoking conversations, follow other Independent readers and see their replies