Justice for Liz: Rapists jailed for 15 years following protests over grass-cutting punishment
Over 1 million people signed a petition calling for justice for the raped teenager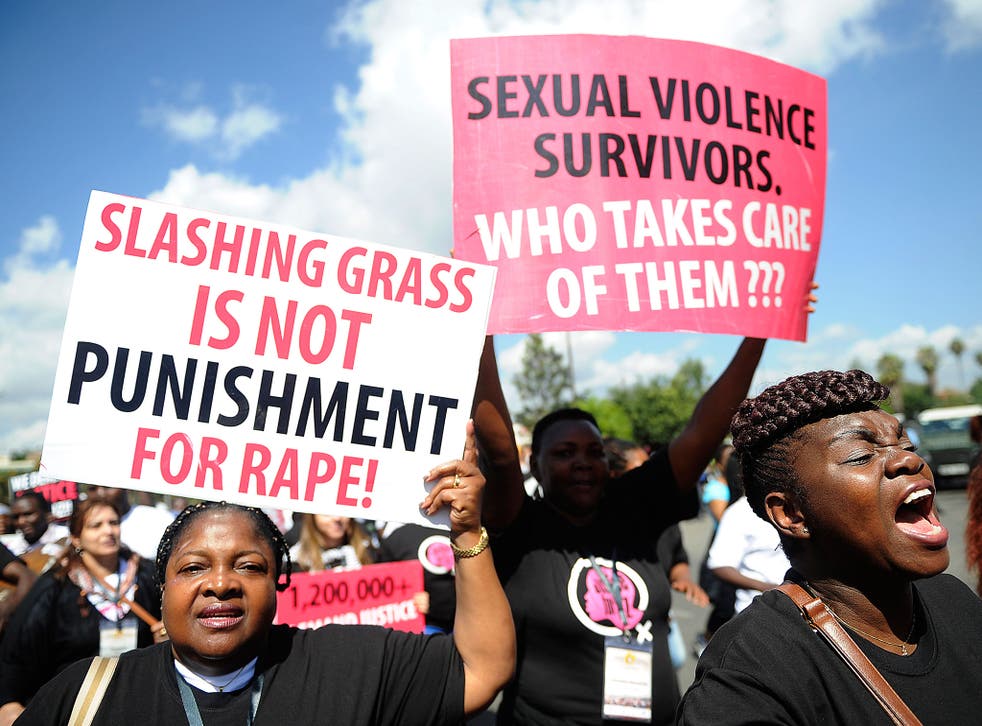 A Kenyan court has sentenced three men to 15 years in prison for gang raping a teenage girl, after protests erupted when police initially punished the men by making them cut grass.
The victim, referred to as "Liz" in order to protect her identity, was raped as she returned home from her grandfather's funeral in the western county of Busia in 2013.
After the brutal attack the perpetrators dumped her in an open sewer. She suffered fistula and a spinal injury from the attack, which means she must now use a wheelchair.
When Liz was found, she said she had been attacked by six men, but she was able to identify only three of them, BBC News reported.
The men were detained by villages who took them to the police, but officers chose not to officially prosecute the men and instead tasked them with cutting the grass around a police station in Busia, near Lake Victoria.
The incident sparked international outrage, and hundreds of people marched to the office of the head of the police in Nairobi to deliver a petition containing the signatures of 1.2 million people protesting over the lenient sentencing.
The protesters draped underwear on the gate of his office and waved placards reading: "Slashing grass is not a punishment for rape."
Over 1.8million people have since the online petition demanding justice for Liz, and the case was subsequently referred to the country's judicial watchdog.
Last year, a court in the western county of Busia began retrying the three men, and they have now been sentenced to 15 years for gang rape and seven years for causing grievous harm, prosecutor Jecinta Nyamosi told Reuters. The sentences will be served concurrently.
Her mother told the BBC News that she was happy that justice had finally been served.
Equality Now, a group which campaigned for Liz, praised the court for the fresh sentencing.
"Liz has finally gotten justice and her case will hopefully continue to be a wake-up call for all," a statement read on its website.
"We must continue to push for safe environments for girls, where sexual violence is not tolerated and is punished to the fullest extent of the law," it said.
Additional reporting by Reuters
Register for free to continue reading
Registration is a free and easy way to support our truly independent journalism
By registering, you will also enjoy limited access to Premium articles, exclusive newsletters, commenting, and virtual events with our leading journalists
Already have an account? sign in
Register for free to continue reading
Registration is a free and easy way to support our truly independent journalism
By registering, you will also enjoy limited access to Premium articles, exclusive newsletters, commenting, and virtual events with our leading journalists
Already have an account? sign in
Join our new commenting forum
Join thought-provoking conversations, follow other Independent readers and see their replies