K9 Killer: Dog receives PDSA Gold Medal for helping to save rhino from extinction
Canine receives animal equivalent of George Cross after risking his life sniffing out poachers in South Africa
Katie Grant
Friday 08 January 2016 00:07 Comments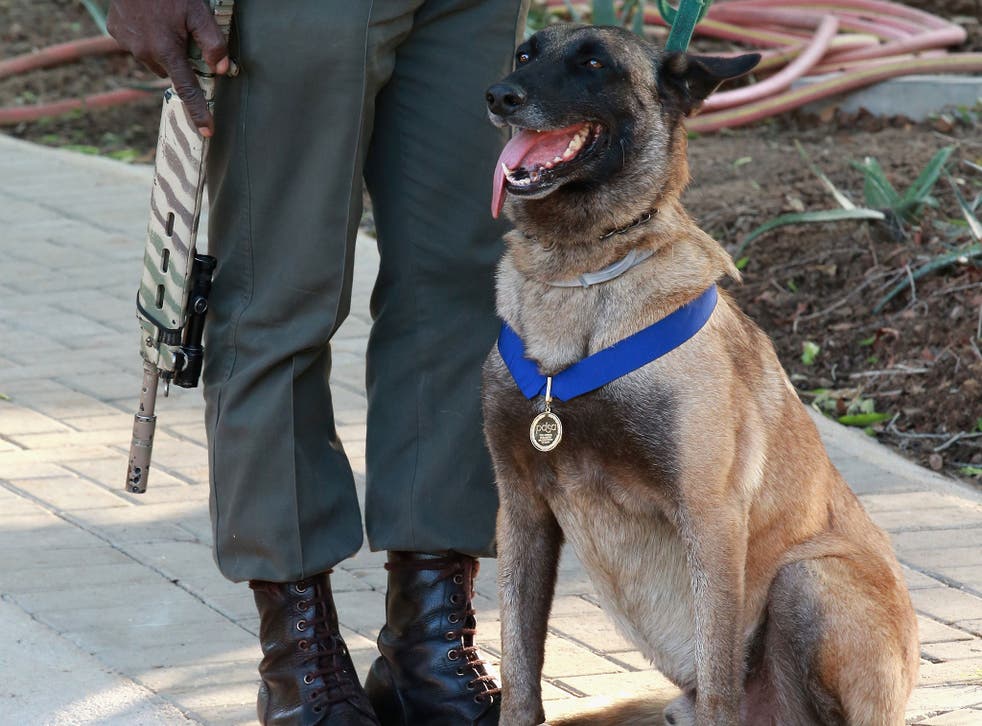 Pets win prizes?
This particular pooch has been handed the most prestigious accolade an animal can receive. K9 Killer has been awarded the animal equivalent of the George Cross, the PDSA Gold Medal, for his bravery and devotion.
"K9 Killer"? How adorable.
He might have a menacing name but his bark is worse than his bite – probably. The fearsome canine has been recognised for the role he has played in helping to save the rhino from extinction, risking his life by sniffing out poachers deep inside the Kruger National Park in South Africa.
What does his job involve?
Alongside his handler, Amos Mzimba, Killer is flown into the park on a helicopter as part of a four-strong team to help track armed poachers. On one patrol Killer even came under fire from a heavy calibre rifle.
His fur must have been standing on end!
It was all in the line of duty. "Killer's sense of smell is absolutely amazing at tracking people," said the Environmental Crimes Investigation Unit's Bruce Lesliem who nominated the determined dog for the award. "He makes us more successful and increases our arrest rate."
Wouldn't he rather enjoy a game of fetch?
It's all work and no play for the Belgian Malinois, whose detective work has led to 77 arrests during his four years of service. Killer's award was formally presented by the comedian and animal welfare advocate Ricky Gervais on behalf of the PDSA, the UK's leading veterinary charity.
Every dog has its day…
"Killer does fantastic work in the Kruger National Park," Gervais said. "Rhinos are wonderful creatures that are being killed in their hundreds by these poachers. He's making a huge contribution to rhino protection in South Africa."
Register for free to continue reading
Registration is a free and easy way to support our truly independent journalism
By registering, you will also enjoy limited access to Premium articles, exclusive newsletters, commenting, and virtual events with our leading journalists
Already have an account? sign in
Join our new commenting forum
Join thought-provoking conversations, follow other Independent readers and see their replies