Kenya election 2017: Tear gas fired at Nairobi polling station amid tense vote
Angry protests after polling station opening is delayed for several hours without explanation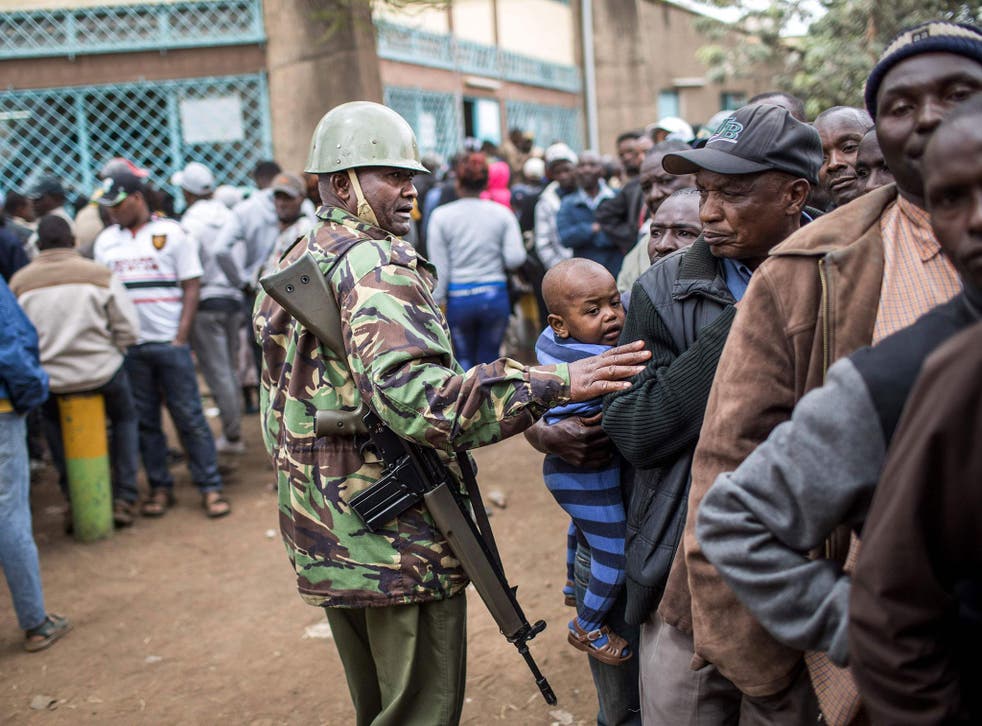 Kenyans headed to the polls today in the culmination of a tense and bruising electoral campaign marred by murder and allegations of rigging, with President Uhuru Kenyatta pledging to step down if defeated.
Raila Odinga, 72, is making his fourth attempt at the presidency in a bid to unseat President Uhuru Kenyatta in a race that is widely considered too close to call.
Long queues snaked round polling stations, through fields, and down streets, as Kenyans across the country poured out to vote. They braved early starts and drizzle, with many joining the queues in the early hours of the morning ahead of polls opening at 6 am.
While voting passed off peacefully at most polling stations, there were rowdy scenes at some amid claims of defective technology, delayed openings to the polling stations, and voters missing from registers. Police fired tear gas in the vicinity of one Nairobi polling station to quell protests after its opening was delayed for several hours without explanation.
This election is being particularly closely watched amid concerns that any perceived irregularities could trigger widespread unrest. A decade ago, vote tallying abruptly stopped mid-count, with the incumbent later declared winner. The delayed announcement prompted country-wide killings and attacks along ethnic lines that left more than 1,200 dead, and 600,000 displaced.
Mr Kenyatta and William Ruto, now his vice president, were taken to the International Criminal Court for their alleged role in the violence, but their cases later collapsed for lack of evidence.
Electoral tensions this year escalated following the torture and murder of Chris Msando, a high-profile election official, a week before the vote, and the sudden deportation of foreign strategists hired by the opposition.
It is the second time that Mr Odinga and Mr Kenyatta have gone head to head, and the opposition leader has claimed that he was rigged out of the two previous presidential contests.
After voting, Mr Kenyatta, vying for a second and final term in office, said he would step down if he lost, and that his main opponent should do the same.
"In the event that they lose, let us accept the will of the people," he said after voting at his local polling station 20 miles north of Nairobi. "I am willing myself to accept the will of the people, so let them too."
Mr Odinga voted in the poorer Kibera neighbourhood of the capital, surrounded by supporters chanting "Uhuru [Kenyatta] must go". Final results are not expected before Wednesday, and could take several days.
World news in pictures

Show all 50
In Kibera, opposition voters said they did not foresee violence if the voting was seen as free and fair. But Mr Odinga has repeatedly accused Mr Kenyatta's ruling Jubilee party of trying to sway the vote and if he loses, much will depend on his response.
"In 2007, [the violence] came abruptly. Nobody expected it," said Teresa Akini, a 23-year-old beautician. "This time, people are really waiting, and it will be a great disappointment [if Mr Odinga loses]. I know these people - they have transported their wives and kids home, and have come back ready to fight."
Join our new commenting forum
Join thought-provoking conversations, follow other Independent readers and see their replies