Kenya election 2017: Two dead in clashes amid fears protests over contested result could become widespread
Police fire live rounds at angry opposition supporters in Nairobi and in areas of southeastern Kenya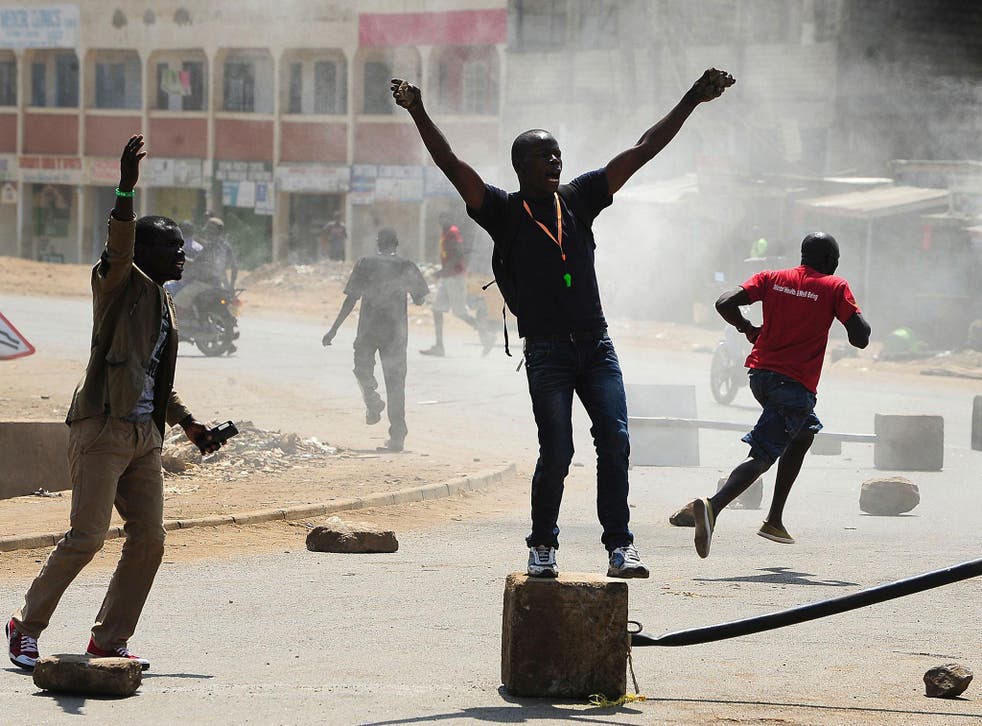 Raila Odinga, Kenya's opposition leader, has accused his rival, President Uhuru Kenyatta, of pulling off a "massive" fraud to steal elections, triggering protests in western Kenya and Nairobi.
With just four polling stations still to declare, Mr Kenyatta retained a commanding lead of 54 per cent to Mr Odinga's 44 per cent in the presidential vote, giving him a margin of 1.4 million votes.
Appearing tired and harried at a press conference, Mr Odinga, 72, alleged that hackers penetrated the Independent Electoral and Boundaries Commission (IEBC) servers, manipulating results as they appeared in a live stream. He claimed that an internal tally by his party, Nasa, put him ahead of the incumbent by nearly a million votes.
He also linked the death of a senior election official, found strangled and tortured a week before the polls, to the alleged penetration of electoral servers.
Elections are being closely watched in East Africa's most stable democracy, where the memory of the bloodshed that ensued after the 2007 elections, when Mr Odinga claimed victory was stolen from him, is still raw. Deadly violence along ethnic lines left more than 1,200 dead and 600,000 displaced.
Within hours of Mr Odinga's statement, protests erupted in opposition strongholds in Kisumu, Mombasa and Nairobi, with reports of three people killed across the country. In the Nairobi slum of Mathare, angry voters poured onto the streets, and three were shot dead by police. Officers said the men were looting. Tensions also started to pick up in Kibera, a sprawling slum that is strongly supportive of Mr Odinga, with protesters gathering in large crowds, and burning tyres.
The electoral commission last night robustly defended the electoral process, saying that its systems were secure, with "no interferences before, during and after" Tuesday's election.
Earlier Mr Odinga, making his fourth and probably last stab at the presidency, said that unknown persons had "conspired and executed a scheme to deny Kenyans their democratic right to elect their leaders."
"From the information in our possession, some persons gained entry into the IEBC [electoral board] election management database and assumed the role of our collective sovereign," he added.
He went on to say that hackers had installed an algorithm that maintained a roughly 11 percent gap between the candidates as results came in. He said that the hackers had used the login of Chris Msando, the murdered official, but did not reveal where he obtained the information.
In Kibera, a sprawling slum that backs up against affluent Nairobi neighbourhoods, anxious supporters huddled around television sets to listen to Mr Odinga speak. He called for calm, but added, "I do not control the people." Kalonzo Musyoka, his running mate, also urged calm as they looked into the matter of alleged fraud, but added, "there may come a time we may have to call you into action."
Many fear protests could spread, with opposition voters led to believe before the election that they couldn't lose. In Kibera, the mood started to turn increasingly ugly within hours of Mr Odinga's comments, but supporters said they were waiting for the word from the opposition's leadership before taking to the streets.
"We've always being played," said Jane Auko, a 40-year-old teacher, in Kibera. "We never know if the election has been stolen [or not] … but today we know the truth. We are running out of patience."
Others appeared ready to fight. "It's better to die for our rights," said Lawrence Namai, 18. "If there's no justice, there's no peace."
Riots break out after Kenya election's contested result
The mood was in sharp contrast to the previous day, when voters on both sides of the divide said they hoped the country would not erupt in the same kind of tribal violence seen in previous elections. Mr Kenyatta represents the Kikuyu elite, which for the last three presidencies out of four, has held power, while Mr Odinga is allied to the Luo community of western Kenya.
Human rights bodies appeared to support Mr Odinga's claims that the vote might be flawed. Key to the final result, and its acceptance by both sides, will be the publication of the 34A and B forms from voting stations, handwritten results that are by law required to be scanned and submitted to the IEBC at the time the votes come in by text message.
The Kenyan Human Rights Commission (KHRC), a non-governmental body, said that it had collected thousands of forms from its own observers that did not agree with results on the IEBC's website.
KHRC's Maina Kiai said that the differences by polling station were not much - between eight and 10 votes in the sheets they'd seen - but multiplied by thousands of polling stations they could start to add up, although unlikely by enough to make a significant dent on Mr Kenyatta's lead. The victor must garner one vote more than 50 percent to win, and at least a quarter of the vote in 24 of Kenya's 47 counties.
World news in pictures

Show all 50
There are also a high number of rejected votes, which, again, do not always tally with the original forms, Mr Kiai said. In one constituency in Nandi Hills in the Rift Valley, the IEBC recorded rejected votes as 439, but the polling station's form seen by the human rights body showed nine votes had been rejected. Nearly 400,000 votes in all have been spoiled, according to the IEBC.
By early evening, only a handful of forms had been uploaded onto the IEBC website, and they tallied with reported results.
Kenya's election commission said it would look into Mr Odinga's allegations. "For now, I cannot say whether or not the system has been hacked," said Wafula Chebukati, the commission chairman, but it denied that any passwords had been compromised.
Rafael Tuju, a top official in Mr Kenyatta's party, said the opposition's claims were unfounded, and urged them to concede defeat.
In a statement, international observers, including a mission led by former US Secretary of State John Kerry, urged people to stay calm and let the IEBC work freely to count the votes. Mr Kerry said that the electoral process seemed "very, very strong."
But Mr Kiai said that if the electoral commission did find discrepancies, it would face a conundrum.
"The question will be now that if they do use the [forms], and find results are different, what will they do about it?" he said. "Will they say Mr Kenyatta has lost? Will they be willing to go that far? Institutions do not go into reverse gear."
Register for free to continue reading
Registration is a free and easy way to support our truly independent journalism
By registering, you will also enjoy limited access to Premium articles, exclusive newsletters, commenting, and virtual events with our leading journalists
Already have an account? sign in
Register for free to continue reading
Registration is a free and easy way to support our truly independent journalism
By registering, you will also enjoy limited access to Premium articles, exclusive newsletters, commenting, and virtual events with our leading journalists
Already have an account? sign in
Join our new commenting forum
Join thought-provoking conversations, follow other Independent readers and see their replies