Kenya election re-run: Hopes fade for legitimate vote as opposition calls boycott
Supreme Court fails to meet to consider postponement, meaning Kenyans will go to the polls on Thursday without a genuine opposition to vote for
Adam Withnall
Wednesday 25 October 2017 17:45 Comments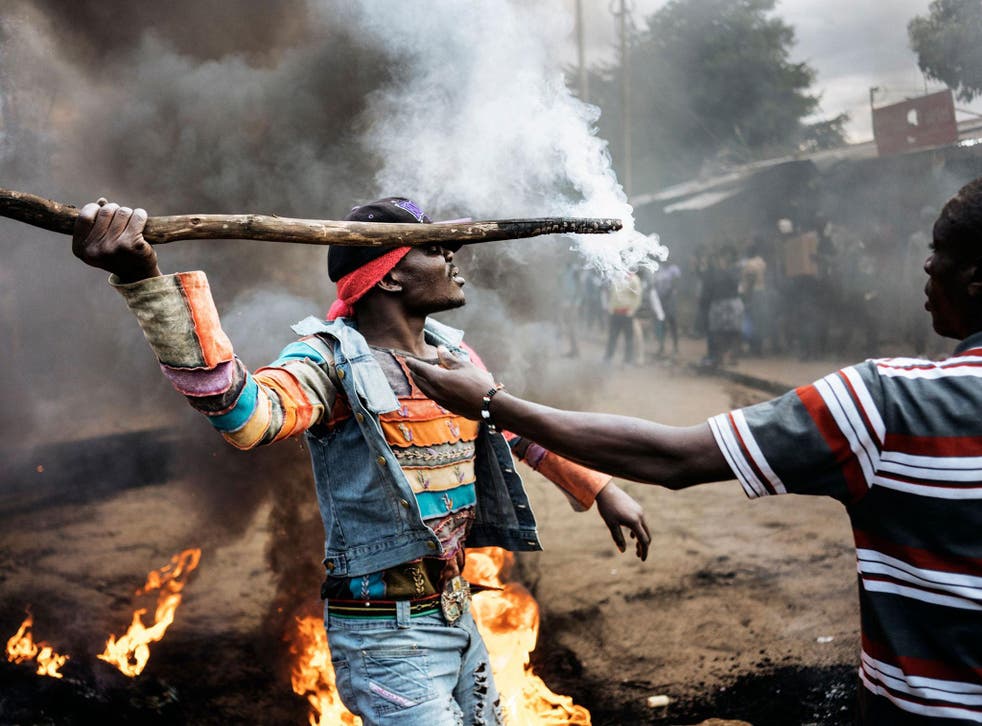 Hopes for a last-minute postponement of Kenya's general election re-run on Wednesday flickered and died, with a deeply flawed vote now set to go ahead amid the country's greatest political crisis for a decade.
A Supreme Court hearing in Nairobi was supposed to give the judiciary a final chance to push back the election a couple of months, allowing room to bring the opposition – which has effectively withdrawn from the ballot – back to the negotiating table.
But that hearing could not go ahead as five of seven judges failed to show. At least one of them cited security concerns: Deputy Chief Justice Philomena Mwilu had her bodyguard shot and injured on Tuesday night. Chief Justice David Maraga said in a live TV address that another judge was unwell and a third was abroad.
Supporters of the opposition Nasa alliance and its leader, Raila Odinga, had pinned their hopes on the Supreme Court – the same court which annulled the first attempt at an election on 8 August after there were found to be irregularities when counting the results.
Its failure to even stage a hearing on Wednesday is now just another reason the opposition will use to dismiss Thursday's vote, which the government of President Uhuru Kenyatta has vowed will go ahead regardless.
Speaking in Nairobi's Uhuru Park in the afternoon, Mr Odinga called on his loyal supporters to boycott the vote, saying his party will become a "resistance movement" when they now inevitably lose.
He pulled his name out of the running for the presidency earlier this month when his demands for electoral reform in the wake of August's aborted ballot were not met. "Do not participate," he said at Wednesday's rally, adding that a fresh election should be held within 90 days.
Harun Ndubi, a lawyer for the petitioners to the Supreme Court, suggested that those judges who did not provide good reasons for missing the hearing were failing their constitutional duty.
"The justices must forever be available," said Mr Ndubi. "I don't buy their explanation. I don't see a credible or legitimate election happening tomorrow," he said, adding that any vote that does go ahead "would be a farce".
All signs pointed to Kenya not being ready to hold a national election with just hours to go until ballots open. Images from the western opposition heartlands of Kisumu, posted to social media, showed little evidence of preparations at schools and town halls supposedly to be used as polling stations.
Even in pro-government regions where turnout could still be high, observers said lots of stations had yet to receive lists of registered voters.
And while OT-Morpho, the French digital security company providing equipment for use in the vote, said it was able to deliver a "credible poll", it also admitted some of its capabilities were not ready. Stations with poor 3G or 4G mobile coverage would not be able to send their results by text, as they did in August.
There are some suggestions that it is a matter of time before the Supreme Court annuls the re-run itself, something it has said it is willing to do. In another related ruling, High Court Judge George Odunga said on Wednesday that there was evidence some local election officials had been appointed in an irregular manner, but stopped short of withdrawing them at the last minute.
He admitted that the failure to remove them now, citing the chaos it would cause, would provide further grounds for a legal challenge after the vote takes place.
The concern is that a prolonged breakdown of political order could lead to a repeat of 2007's election violence, in which more than 1,200 people died. Those clashes proved so deadly because they were between ethnic groupings across the country – in the current crisis, the overwhelming majority of the few dozen deaths have been at the hands of police shutting down protests.
A Kisumu governor stoked fears earlier on Wednesday, saying that the people would be within their rights to lead a rebellion if Thursday's vote went ahead. Anyang Nyong'o told reporters: "If the government subverts the sovereign will of the people... then people are entitled to rebel against this government."
Protesters blocked roads with boulders, sticks, and burning tyres in sections of the town. Riot police used tear gas to disperse them, and two protesters received gunshot wounds, a witness for the Reuters news agency said.
But at his Uhuru Park rally, Mr Odinga sounded a note of caution, and told supporters to "stay home" rather than head out to demonstrations.
"We advise Kenyans who value democracy and justice to hold vigil and prayers away from polling stations, or just stay at home," he told a cheering crowd of thousands.
"Convince your friends, neighbours and everyone else not participate," he said. If they support the president, he warned: "do not insult or assault them. Instead, seek to open their eyes."
For his part, Mr Kenyatta avoided making any conspicuous public statement on the eve of the poll. But in an interview with the Star newspaper on Tuesday night, he promised to include all sides in talks once the election was over.
He warned against any attempts to block the vote. "Let people of Kenya go to the ballot and decide their leader," he said. "Once that leader is picked, then that leader will have to talk to everyone from Kenyans to regional leaders to international leaders.
"The rights of all Kenyans must be respected. They can insult me for all they want, but I dare them to try and disrupt election."
Register for free to continue reading
Registration is a free and easy way to support our truly independent journalism
By registering, you will also enjoy limited access to Premium articles, exclusive newsletters, commenting, and virtual events with our leading journalists
Already have an account? sign in
Join our new commenting forum
Join thought-provoking conversations, follow other Independent readers and see their replies