Nine-year-old among 24 people killed in Kenyan election riots
Deaths come as Kenya's domestic poll monitoring organisation says it has found no evidence of vote rigging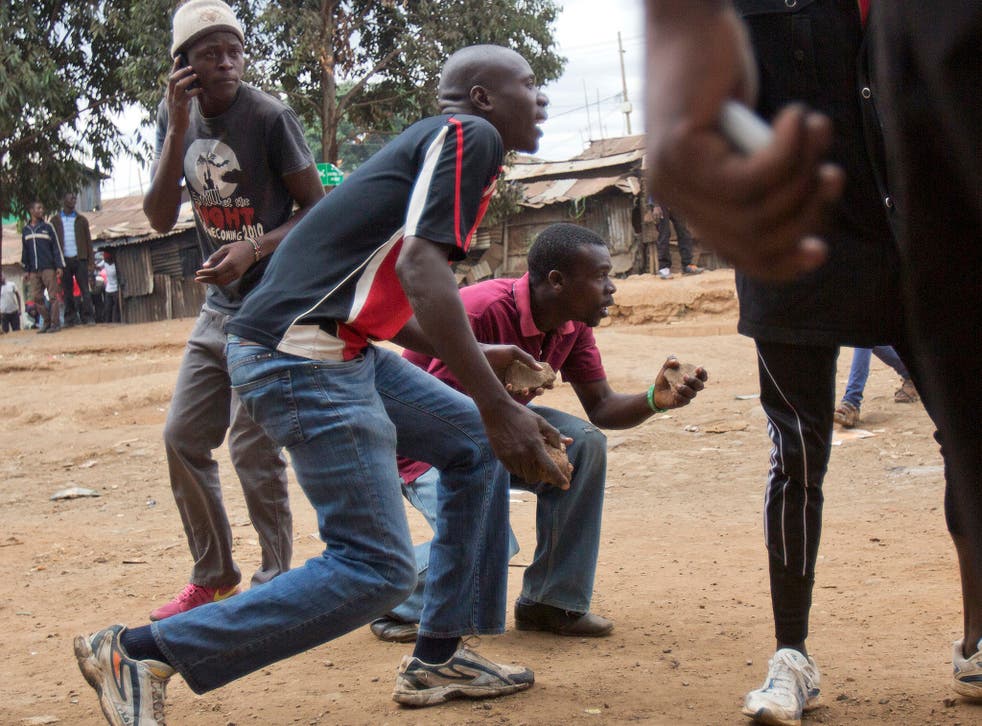 A total of 24 people, including a nine-year-old child, have reportedly been shot dead in Kenya by police since Tuesday's disputed re-election of President Uhuru Kenyatta.
It is thought the boy was hit by a stray bullet while standing on a balcony as police opened fire in Mathare, a slum area of Nairobi.
Earlier reports said the child was a girl, but the death has been confirmed by the boy's family, AFP reported.
The shooting follows a night of unrest in the western city of Kisumu on Lake Victoria, and Nairobi's overcrowded Kibera area. People in both areas are largely supportive of opposition leader Raila Odinga.
At least two people were shot dead by police in Kisumu, a regional police commander confirmed.
In Nairobi, police reportedly opened fire after opposition protesters had blocked roads and set up burning barricades.
The unrest follows a fiercely fought presidential election in which Mr Odinga has repeatedly claimed the vote was rigged.
Mr Kenyatta won a second term as president with 54.3 per cent of the vote to Mr Odinga's 44.7 per cent and a margin of 1.4 million votes.
Mr Odinga has repeatedly alleged that the election was rigged, and has denounced the process as a "sham" and a "massive fraud"
Riots break out after Kenya election's contested result
News of the boy's death comes as Kenya's main domestic poll monitoring organisation, ELOG, announced it had found no evidence to suggest the election was manipulated or inaccurate.
The organisation's official vote tally projected a victory for Mr Kenyatta, giving him 54 per cent of the vote. The official count gave him 54.3 per cent, which is well within ELOG's 1.9 per cent margin of error, Reuters reports.
At least five people have been killed in violent clashes since the results of Tuesday's vote were announced.
World news in pictures

Show all 50
On Friday Mr Kenyatta urged opponents to set aside differences and work together.
To our brothers, our worthy competitors, we are not enemies," he said.
"Elections come and go, Kenya is here to stay. There is no need for violence."
Register for free to continue reading
Registration is a free and easy way to support our truly independent journalism
By registering, you will also enjoy limited access to Premium articles, exclusive newsletters, commenting, and virtual events with our leading journalists
Already have an account? sign in
Register for free to continue reading
Registration is a free and easy way to support our truly independent journalism
By registering, you will also enjoy limited access to Premium articles, exclusive newsletters, commenting, and virtual events with our leading journalists
Already have an account? sign in