Worst flooding in generations in Kenya devastates communities reeling from locust swarms and Covid-19
About 233,000 people have been affected by the floods after record-breaking rains, reports Ed Ram from Lake Victoria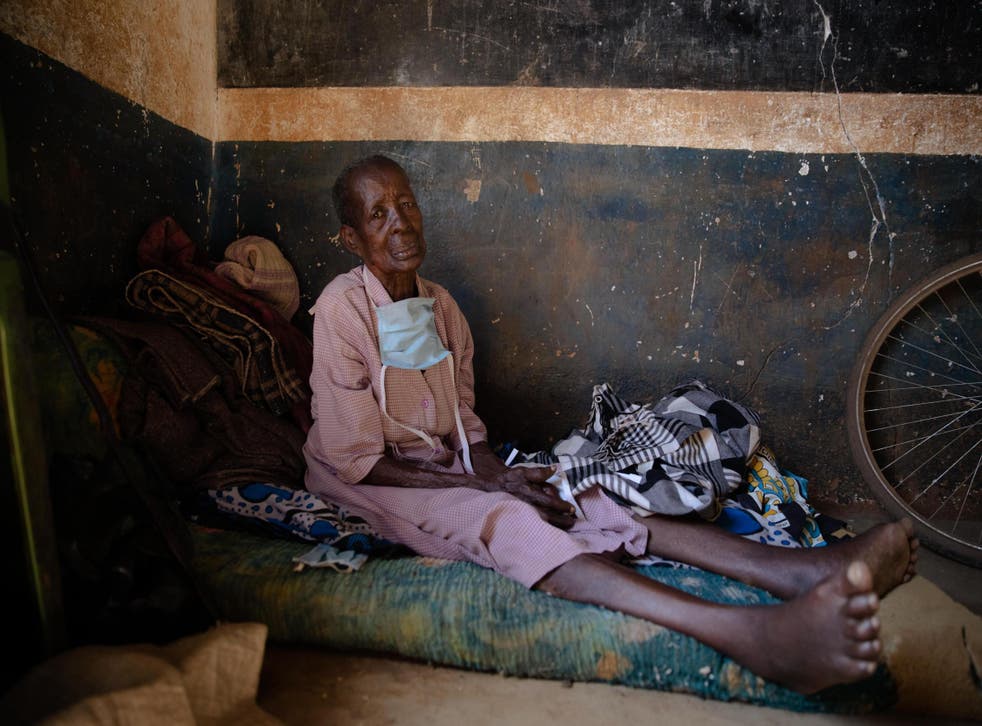 Eighty-year-old Christina Aloo's thin legs lie straight out as she sits up on a mattress in the corner of a dark classroom scattered with other people's belongings.
"I can't walk," she says. "The floodwater came into my mud house at night and my grandson picked me up and helped me to escape."
Kenya is experiencing some of the worst flooding for generations, adding a third layer of crisis to a nation buckled by the threat of Covid-19 and battling a massive locust invasion that is destroying vast areas of crops.
About 233,000 people have been affected by the floods, including more than 116,000 displaced, according to the Kenya Red Cross, after record-breaking rains caused rivers to burst their banks, devastating towns and villages.
In the west of the country, Africa's largest inland body of water, Lake Victoria, which is shared by Kenya, Uganda and Tanzania, is at its highest level ever recorded – 13.42 metres – and has enveloped whole villages around its shores.
The Kenyan government says 237 people who were unable to escape the water have died from the flooding.
"These are the worst floods I've ever seen, we've lost everything," says Aloo, who has a breathing condition that causes shortness of breath when there is humidity in the air.
Schools in Kenya were closed in March because of fears of the spread of Covid-19. Now more than 100 are full again, packed with families whose makeshift houses are flooded or completely destroyed by water.
Social distancing is not possible for the hundreds, like Aloo, sleeping on classroom floors in Nyambare Secondary School in Siaya County.
Outside in the schoolyard, James Owende is shouting desperately in the middle of a tight circle of onlookers.
"My house was drowned. All my animals – my cows, my hens, my goats have all drowned. I can't work," he says. Owende earned a living by digging sand, used for construction, out of the lake, but the mines have been overwhelmed.
For many in the area, it is the only source of income. "I'm just begging the government, they have to do something for me."
"We need food," someone in the crowd calls. "We need houses,'' says another.
The Kenya Red Cross is giving out emergency food parcels and basic living items such as pots, pans, thick plastic sheets to make temporary shelters, face masks and mosquito nets.
Last Sunday, Kenya's president, Uhuru Kennyatta, said the government is dispatching 250m Kenyan shillings (£190,000) every week to vulnerable families impacted by the economic crisis and 1bn shillings has been set aside for flood control measures, he said.
James Okumbe, deputy governor of Siaya county, told The Independent about plans, which have been delayed, to build a dam and dykes to control the flow of rivers that burst their banks.
"It could have been finished, but the national government has not completed the compensation of the landowners [who need to be relocated and] live along the river banks", says Okumbe.
The unknown threat of Covid-19 hangs over the displaced and defenceless communities.
"I'm worried about corona," Owende continues. "Kids are asking their mothers: 'Mum am I going to die?'"
Kenya has recorded 63 deaths from Covid-19 and 1,888 confirmed cases, as of Saturday. Movement has been restricted in and out of big cities and a national 7pm to 5am dusk-until-dawn curfew has been enforced, with police using violence and teargas.
Informal labourers make up 83.6 per cent of the Kenyan workforce, many of whom are struggling to find work in an economy on its knees.
"This is the worst business we have ever had," says Eddie Ochieng, who gives boat rides to tourists in the port city of Kisumu on the shores of the vast lake.
Even if riverside hotels weren't submerged, they would be largely empty. Kenya's tourist industry evaporated when international flights were grounded on 25 March, leaving tens of thousands of jobs in jeopardy.
People are really suffering, says Ochieng, who is also living in school: "Floods aren't unusual in this region, but normally the water doesn't wash away houses then stay high for weeks."
Weather scientists point to global warming to explain the increasing frequency of record-breaking climate systems over the past decade.
Guleid Artan, director of the Nairobi-based Climate Prediction and Application Centre, explains that the higher temperatures in the western Indian ocean heat water and suck moisture into the atmosphere; this moisture is then dumped over the higher ground in east Africa, causing record-breaking rainfall.
"Now there is more water going into the lake than coming out," says Artan. The land is saturated with water and "rivers leading out of the lake are also full, so the water gets backed up," he says.
On Lake Victoria's shores in Uganda, chunks of farmland have broken away to form floating islands and have been clogging dams that generate much of east Africa's power and drain the lake.
Stepping from a road into a long wooden boat in Debani, Busia County, Gertrude Nerima explains that her mud house has been destroyed. She's going to stay with some friends with her husband and four children.
Bony cows perch on a dry spit of grass surrounded by water and roads taper off into the new shores of the muddy lake.
Like tens of thousands of others around the lake, Nerima is homeless. Her small farm and recently planted crops have been completely swept away.
"I'll have to rebuild my house and replant crops when the water goes down in the next couple of weeks, and we'll try to get back to normal."
Around her feet, the flood can be seen sliding backwards – inland towards a river.
The World Meteorological Organisation has warned that above-normal rainfall is predicted between June and September in the region.
In Homa Bay county, 100km away, Owiena Hezekiah, assistant chief of Kogembo tells The Independent: "This is the worst situation that the community has experienced – the worst."
"Three villages in the area are now partially underwater. There are more mosquitoes which cause malaria and aggressive hippos have come inland," he says.
"We are worried about sanitation and cholera. People relied on pit latrines which are now overflowing with water."
On the floor in Nyambare Secondary School, Aloo says the community needs to build houses on higher ground. "I worry about younger generations. We can't keep living in these areas, but without government support we have no choice," she says.
In the classroom next door, which is now home to 20 people, Kennedy Oduor sits with his wife and eight children.
"I'm stressed. My life is broken now; I can't work and I have nowhere to live,'' he says. "Our fathers and grandfathers have lived by this lake, but it's getting too dangerous. The problem is we don't have money to buy land so there is nowhere else to go."
Register for free to continue reading
Registration is a free and easy way to support our truly independent journalism
By registering, you will also enjoy limited access to Premium articles, exclusive newsletters, commenting, and virtual events with our leading journalists
Already have an account? sign in
Register for free to continue reading
Registration is a free and easy way to support our truly independent journalism
By registering, you will also enjoy limited access to Premium articles, exclusive newsletters, commenting, and virtual events with our leading journalists
Already have an account? sign in
Join our new commenting forum
Join thought-provoking conversations, follow other Independent readers and see their replies