Kenya gripped as democracy takes to stage in presidential election debate
Country's two key candidates put on spot about violence that engulfed elections four years ago
Daniel Howden
Tuesday 12 February 2013 19:44 Comments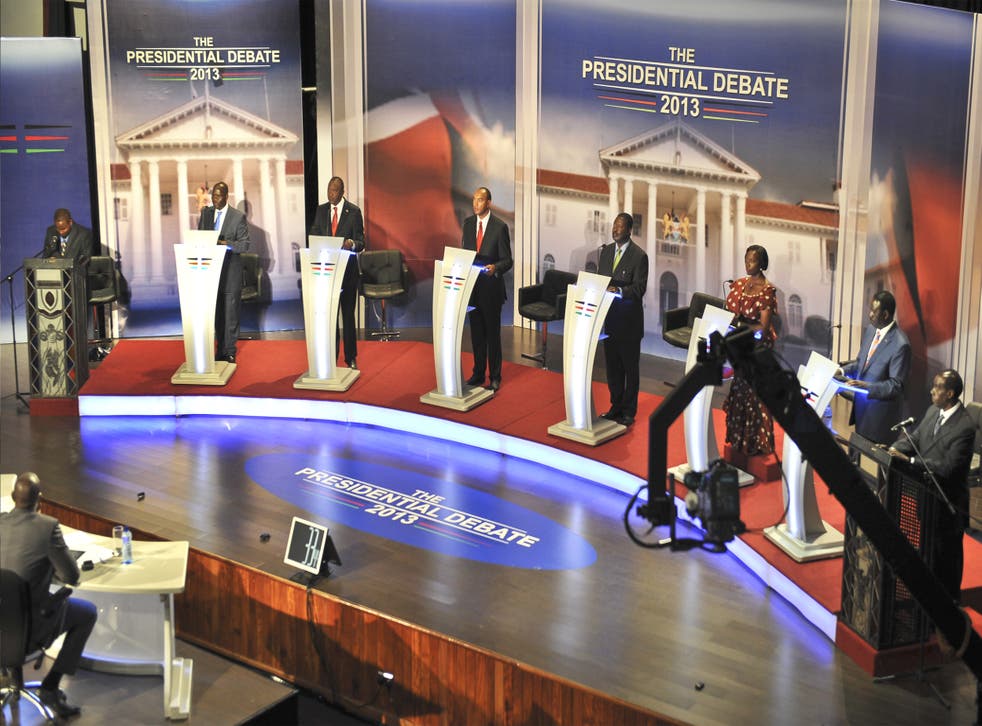 With its stage dressed in red, white and blue and a blown up image of an imposing, white-pillared mansion, some Kenyans might have wondered if they had accidentally tuned in to watch a rerun of a US presidential debate. Some even joked that the studio set had been borrowed from the last Kenyan to win such a debate, US President Barack Obama.
In fact, the pillars were those of the State House in Nairobi and the next three-and-a-half hours on Monday night were a showcase for the best and worst of African democracy. Millions of Kenyans settled in front of the television at home, big screens erected at bus stops, or transistor radios in the slums, as all the major radio and TV stations broadcast the country's first ever debate ahead of critical elections of 4 March.
East Africa's biggest economy has been described as being at a crossroads and the outcome of next month's vote will be watched for signs that the continent's upward trajectory is sustainable. Kenya can be seen as emblematic of Africa's rise: its economic growth of close to five per cent outstrips the moribund US and EU; its pioneering technology scene that gave birth to mobile money transfer systems has seen it branded the "silicon savannah"; and its middle class has been pushing the boundaries of media and political freedoms. It is also dogged by insecurity, rampant corruption and the spectre of its last election which pitched the country dangerously close to civil war and left four Kenyan "ringleaders" facing charges at the International Criminal Court.
The two main rivals, Prime Minister Raila Odinga and former deputy prime minister Uhuru Kenyatta – sharing the stage with six lesser lights – were immediately forced to answer questions that remain from the killings four years ago. They were asked: why are Kenyan politics dogged by tribalism?
Mr Kenyatta, Kenya's richest man according to Forbes magazine, described tribalism as a "cancer" that had caused conflict and death. Mr Odinga, a political veteran, whose supporters believe had the last election stolen from him, called it a "disease of the elite".
Atypically the leading contenders' platitudes were challenged. Why then had they campaigned on explicitly tribal lines in Mr Kenyatta's case, or fought the previous election by calling on 41 of Kenya's 42 ethnic groups to gang up on the other one, the moderator asked.
The last polls held at the tail end of 2007 resulted in a maelstrom of violence. Street battles between rival supporters left some 1,500 people dead and hundreds of thousands displaced. Two of the four people considered most responsible for the violence, Mr Kenyatta and his running mate William Ruto, are due in the dock at The Hague one month after polling day. Kenya could face sanctions if a new administration flouts the ICC.
How would the son of the country's founding president run the country while standing trial, he was asked? When he ventured the idea of video conferencing, Mr Odinga replied with the zinger: "You can't run the government by Skype."
By this stage the Kenyan debate had knocked the Pope from the top of global Twitter trends with early estimates showing 300,000 Tweets reaching an audience of 189 million. On Twitter, African election watchers wondered why they had nothing like this in South Africa. Even Nigeria's debates were snubbed by the incumbent in 2011 until his realistic rivals were removed. Here was the window on Africa that observers had longed for: optimistic, irreverent and tech savvy despite being haunted by corruption and gross abuses of power.
Kenyan election: Meet the candidates
Mohamed Dida
A political minnow whose eccentric references to "devil-worship" made him the jester of the evening
Prof Ole Kiyapi
Long-serving government man whose failure to turn academic achievements into any change in office is typical of his generation
Uhuru Kenyatta
Fabulously rich and unused to answering tough questions, he faces trial at The Hague and may need to win to avoid jail.
Peter Kenneth
One of three of Kenya's most powerful ethnic group the Kikuyu, but still polling inside the margin of error.
Musalia Mudavadi
The "safe pair of hands" hoping to earn third place and a seat at the governing table after a divisively tribal campaign.
Martha Karua
Popular with educated urban Kenyans and a strident debater had the best lines but her campaign has failed to break the tribal blocks.
Raila Odinga
The champion of Kenya's second largest tribe the Luo is trying to run one last time as the reform candidate despite four years in office.
Paul Muite
Veteran lawyer who forced his way onto stage and made important points on corruption and tribalism but unlikely to register at polls.
Register for free to continue reading
Registration is a free and easy way to support our truly independent journalism
By registering, you will also enjoy limited access to Premium articles, exclusive newsletters, commenting, and virtual events with our leading journalists
Already have an account? sign in
Join our new commenting forum
Join thought-provoking conversations, follow other Independent readers and see their replies