Kenya attack: Suspected al-Shabaab militants kill 48 people in coastal town of Mpeketoni
The militants shot men in a hotel, and told women to watch, according to a police commander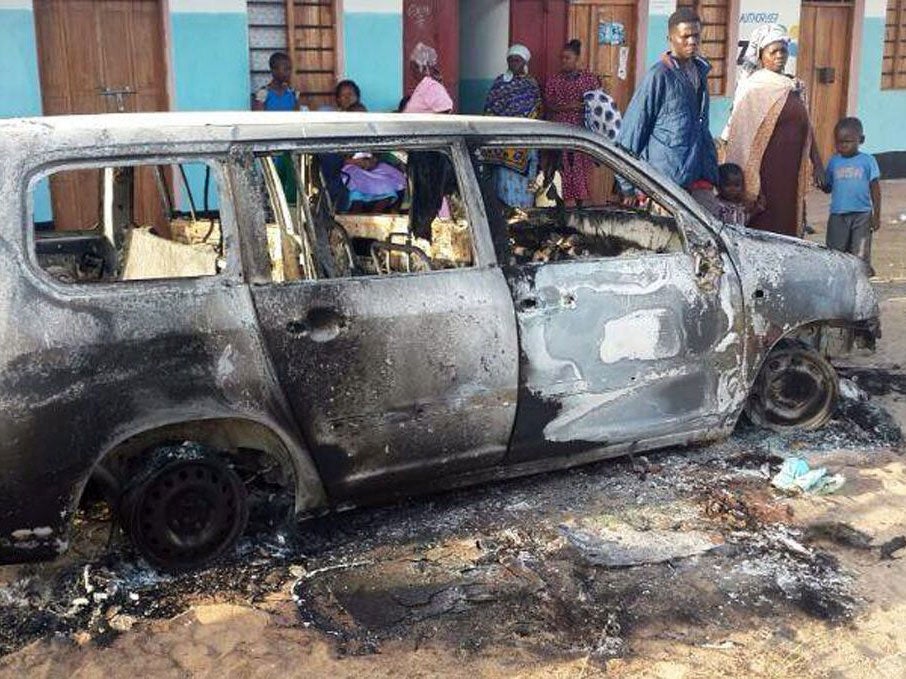 At least 48 people were killed in Kenya on Sunday evening, after dozens of suspected Somali gunmen sped into the small coastal town of Mpeketoni in two minibuses, and shot World Cup spectators in a hall, as well as attacking hotels, a bank, and the police station, according to the authorities.
No group has yet claimed responsibility for the violence that raged until Monday morning, but Kenyan authorities suspect al-Shabaab – the al-Qa'ida-linked terror group based in neighbouring Somalia – are behind the attack.
Witnesses said that a 30-strong group of militants threw explosives into a police station before entering to steal weapons.
The gunmen then set two hotels on fire, and sprayed bullets into the streets during the incident that started at around 8pm local time, as residents watched Fifa World Cup matches on TV.
A Reuters television reporter in the town saw at least six bodies strewn on roads, as well as ten burnt-out vehicles in the area.
Kenya hotel attack: Suspected al-Shabaab militants kill 48 people in Mpeketoni
Show all 10
The attack reportedly met little resistance from Kenya's security apparatus in the town around 30 miles southwest of the tourist resort of Lamu, and about 60 miles from the Somali border.
Kenya's top commander David Kimaiyo confirmed the death toll on Monday, and said an officer who worked as a driver for a police chief in the town was among the fatalities.
Many Mpeketoni residents fled from the attack into nearby forests, said Kimaiyo, adding no arrests had yet been made in connection with the attack.
"Right now it is still premature to say who is behind the attack until investigations are done, but the initial suspicion is Al Shabaab," Mwenda Njoka, spokesman of Kenya's internal security ministry, told a Kenyan television channel.
The assault is the worst since last September when al-Shabaab gunmen attacked Nairobi's Westgate shopping mall, killing 67 people. At the time, al-Shabaab said they would continue their attacks until Kenya withdraws its troops from Somalia.
But Kenya has said it will not withdraw its troops, who are deployed as part of an African peacekeeping force battling militants.
The attack mirrors an al-Shabaab bombing in Uganda against crowds watching World Cup soccer matches on television in Kampala in 2010, killing 77 people. Uganda also has troops in Somalia.
Warning: Video contains some upsetting images
Somali website Somali Memo said the extremist Islamist group had claimed responsibility.
Earlier in the day, however, al-Shabaab used its radio station in neighbouring Somalia to broadcast denials that it had carried out the attack, sources in the Somali capital, Mogadishu, told the Telegraph.
"The attackers were so many and were all armed with guns. They entered the video hall where we were watching a World Cup match and shot indiscriminately at us," witness Meshack Kimani told reporters.
"They targeted only men but I was lucky. I escaped by hiding behind the door," she added.
When the gunmen arrived at the Breeze View Hotel in the town, there to they only pulled men aside, but ordered the women to watch as they killed them, they were copying what Kenyan troops do to Somali men inside Somalia, a police commander said on condition of anonymity.
Some of the casualties had been evacuated to a hospital in Lamu, a tourist resort situated along the long coastline that runs north from Mombasa port to Somalia, Kenya Red Cross told reporters on Monday.
The Kenyan Interior Ministry also confirmed the attack took place, while Kenya's National Disaster Operations Center added that military surveillance planes were launched shortly afterwards.
Following the Westgate Mall massacre, a wave of gunfire and explosive attacks has continued in the east African nation. The US, UK, France, Australia, and Canada have all recently upgraded their terror threat warnings for the country, while US Marines are now stationed on the roof of the US Embassy in the capital, Nairobi.
Nearby Lamu is a UNESCO World Heritage Site and is the country's oldest continually inhabited town and a historic Arab trading port. The region saw a spate of kidnappings of foreign tourists in 2011 that Kenya said was part of its motivation for attacking Somalia. Since those attacks and subsequent terror warnings tourism has dropped off sharply around Lamu.
However, there were no immediate reports of foreign visitors being hurt in Sunday's attack, as Mpeketoni is not a major holiday destination.
Kenya's Tourism Board issued a statement on Monday stressing that visitors to the country are safe, and Lamu is in no way affected by the attack.
Additional reporting by agencies
Join our commenting forum
Join thought-provoking conversations, follow other Independent readers and see their replies