Kenya police 'murdering terror suspects' as they battle menace of al-Shabaab Islamist group
Gruesome accounts – backed by a new human rights commission report – that security forces are taking the law into their own hands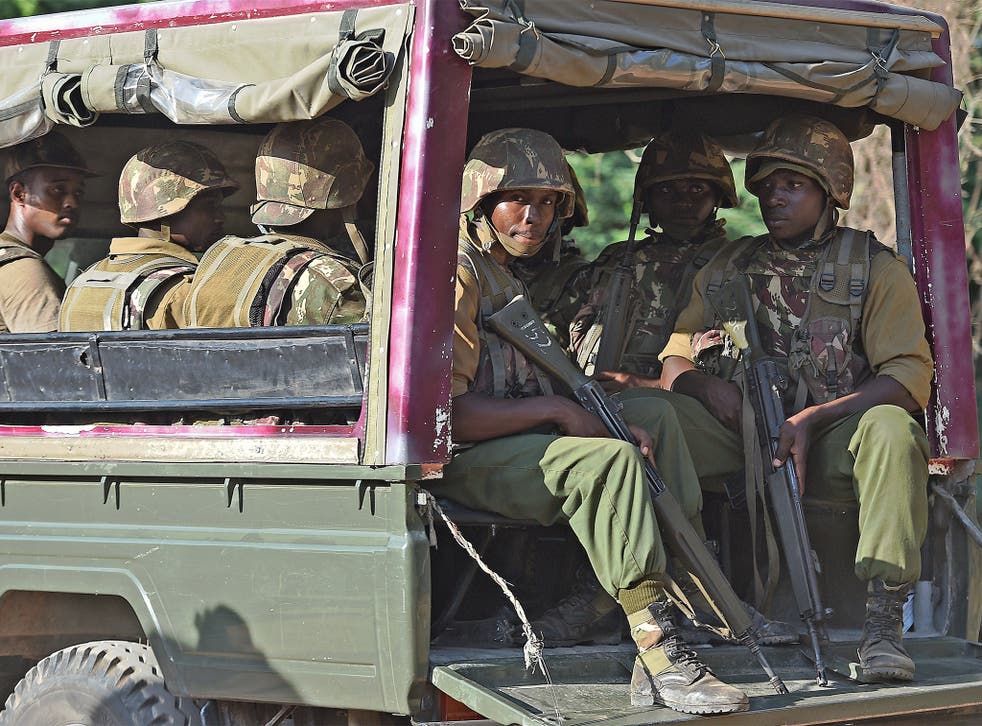 Kenya's security forces, including a police anti-terror unit which receives funding from Britain and the US, have abducted and murdered scores of terror suspects in recent months, activists and relatives of those missing have told The Independent.
According to chilling accounts backed up by a report by the Kenya National Commission of Human Rights (KNHCR), some of those arrested have been found dead, their bodies dumped in shallow graves to be devoured by wild animals. Others have vanished into the bowels of the security agencies, their families unable to establish their whereabouts. The Kenyan government stepped up its campaign against suspected members of al-Shabaab, the Somali Islamist group, after it killed 148 people, mainly students, in an attack on a north-eastern university in April, the group's deadliest assault on Kenyan soil so far. But far from stamping out terrorism, human rights groups say, the "illegal" methods aimed at subduing Kenya's Muslim and Somali communities are pushing more young men into al-Shabaab's embrace.
"Using the defence that they are fighting terrorism, the security forces are taking the law into their own hands," said Abdikadir Ore, an opposition MP from the north-eastern Wajir province, who is campaigning for an investigation into the disappearances. Activists conservatively suggest that at least 200 people have vanished since April.
Among them is Omar Yussuf, 32, a taxi driver, who on an April evening was enjoying a drink with friends in Mandera, a border town in northern Kenya, days after he and his wife had celebrated the birth of their first son. Plain clothes police officers, who were recognised by witnesses, arrested him. He has neither been seen nor heard from since. "I don't know if he is still alive, or if they have already killed him," said his brother Adan Yussuf, 24, from Nairobi's predominantly Somali suburb of Eastleigh.
Mr Yussuf has trawled police stations, seeking news of his brother, who he insists had no connection to terrorism. At every step, he has faced official denial. There is no record of his arrest at the police station in Mandera, where it is thought he was initially taken, and he has not appeared in any court. Kenyan law prohibits a suspect from being held for more than 24 hours without a court order.
"We don't know where to start, who to connect to," Mr Yussuf said. "The police are supposed to protect us, but we feel they are just targeting us as a community."
Some of those seized have been released, and have given accounts of torture during detention. The report by the KNCHR, the country's official human rights group, claimed that security forces' methods included "beatings, waterboarding, electric shocks, genital mutilation, exposure to extreme cold or heat, hanging on trees, mock executions and exposure to stinging by ants in the wild".
Others turn up in shallow graves, dumped during the night when there is less risk of witnesses. Mr Ore, who recently visited two mass graves in Wajir, said the decomposing bodies were found with bloody bandages, and bullet holes in their skulls. The graves are just a few miles from a military camp and Mr Ore said that he was "almost certain" that the men had been killed by the Kenyan Defence Forces, partly because locals reported unusual activity near the camp around the time the men were buried. Despite pressure, there has been no official effort to determine the identity of the remains.
Also accused by the KNCHR of the killing and torture of suspects are several units of the police, including the ATPU anti-terrorism unit, the border patrol unit and the police's Rapid Deployment Unit. Security forces have denied the allegations. "The military does not have any detention camps, it does not get involved in those kinds of [acts]," said Colonel David Obonyo, KDF spokesman. "We have clear rules of engagement." A police spokesman said they were looking into the allegations, but could not comment.
Last December, Kenya introduced a draconian security bill that gave agencies including the ATPU sweeping powers to combat terrorism. The bill was challenged by opposition MPs, who accused the government of turning Kenya into a "police state".
It is not the first time that the Kenyan police has been accused of overstepping its authority. The counter-terror unit, which receives funding, equipment and training from the UK, is strongly suspected of involvement in the targeted killings of several radical Muslim clerics in Mombasa.
A spokesman for the British High Commission in Nairobi said the UK "regularly monitors the ATPU to ensure compliance with human rights standards" and challenged it when allegations were made. "If there is credible evidence that our support is being misused, we will take immediate action," he added. "We call on the Kenyan authorities to fully investigate all allegations."
Al-Shabaab has been stepping up its efforts to take revenge on Kenyan soil for the country's participation in an African Union force that has squeezed the Islamist group out of its key strongholds in Somalia. Kenya's security forces have faced increasing pressure to produce results since the 2013 Westgate mall siege in Nairobi, where 67 people were killed amid accusations of a bungled response by security forces. But activists accuse them of alienating the very communities they are mandated to protect. "What they have done is harden communities, make them very wary and suspicious of the counter-terror effort," said Al-Amin Kimathi, a human rights activist. "Those caught in the net are now becoming extreme."
Register for free to continue reading
Registration is a free and easy way to support our truly independent journalism
By registering, you will also enjoy limited access to Premium articles, exclusive newsletters, commenting, and virtual events with our leading journalists
Already have an account? sign in
Register for free to continue reading
Registration is a free and easy way to support our truly independent journalism
By registering, you will also enjoy limited access to Premium articles, exclusive newsletters, commenting, and virtual events with our leading journalists
Already have an account? sign in
Join our new commenting forum
Join thought-provoking conversations, follow other Independent readers and see their replies