Kenyan police ignored al-Shabaab killing spree for 12 hours, say investigators
Witnesses say inquiry included random beatings and extrajudicial killings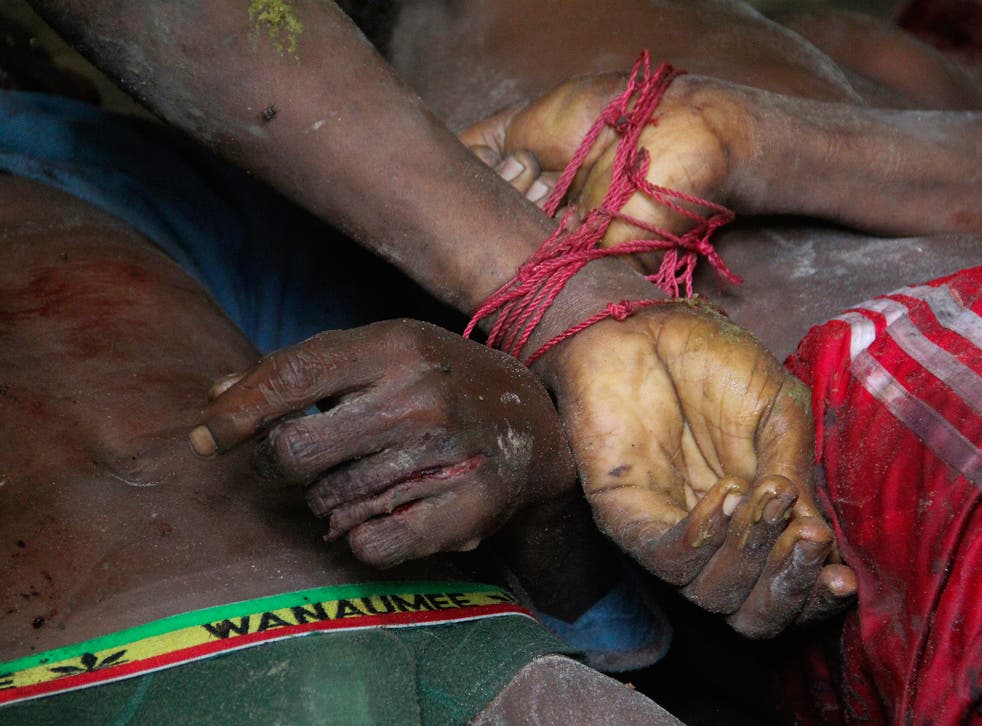 Kenyan police repeatedly ignored besieged villagers' pleas for help and allowed Islamist jihadists to rampage unchecked in a killing spree that claimed 87 lives last summer, a report has alleged.
An investigation by Human Rights Watch and the Kenyan Human Rights Commission (KHRC) claims that the police arrived some 12 hours after the first shots were fired, allowing killers linked to Somali terror group al-Shabaab to escape and commit more atrocities in nearby settlements along the coast.
The reputation of the police is further tarnished by allegations that they did not properly investigate the killings, conducted arbitrary arrests and then tortured and detained suspects for prolonged periods before releasing them for a lack of evidence.
Kenya's police force was criticised in an earlier report by the UK-funded Independent Police Oversight Authority, which accused it of cowardice and calling off pursuit of the jihadists to greet a police delegation from Nairobi.
"Kenya is faced with enormous security challenges but the authorities have an obligation to respond effectively and protect rights at the same time," said Davis Malombe, the deputy director of KHRC. "A response that ignores basic rights… only risks making the situation worse."
It is just over a year since up to 100 attackers, armed with bazookas, sub-machine guns and grenades, swept into Mpeketoni, a coastal town near the Somali border, at around 8.30pm, shooting men on sight, and setting fire to buildings and cars during a six-hour rampage. The first police did not arrive until the next morning, eyewitnesses said, supporting the oversight authority's findings that they waited until the shooting stopped to move in.
Al-Shabaab, which declared jihad on Kenya in retaliation for its participation in a military force to oust the group from Somalia, claimed responsibility for the attack in which 47 Kenyans died, most of them non-Muslims. It was the opening salvo of a five-week reign of terror, during which the militants forced their way into homes, shot dead those who could not recite the Islamist creed and slit the throats of others.
Many saw President Uhuru Kenyatta's claim that "local political networks" were responsible for the attacks as evidence that the government had not grasped the gravity of the terror threat facing Kenya and was intent on making political capital out of it. Although the President promised a robust security response, the attackers continued to strike with impunity in villages and at police posts over the following weeks, ratcheting up the death toll.
The police rounded up hundreds of suspects, many of them ethnic Somalis, and allegedly tried to extract confessions by force. In one village, according to a witness, they gathered every resident into a field, where they beat the boys and men. They then arrested 41 men, seemingly at random, all of whom they later released without charge.
"They took turns to beat us, as they shouted 'Terrorists! Terrorists!'" one 42-year-old man was quoted by the report as saying. "I think they only stopped beating us because they were tired."
Human rights campaigners criticised the police response as brutal and discriminatory. "People in Lamu and Tana River deserve protection and justice, not further violence after the horrific attacks a year ago," said Leslie Lefkow, Human Rights Watch's deputy Africa director. "Police should… ensure that law enforcement operations are free of discrimination and abuse." The police did not respond to a request for comment.
More than 400 people have been killed in terror attacks in Kenya in the past two years, including 148 at a university in Garissa in April, and the police have repeatedly been accused of a bungled security response – including a collapse in the command chain that allowed al-Shabaab gunmen to regroup and prolong the 2013 Westgate mall siege.
The report echoes rising concern about the brutal treatment of terror suspects by the state. Muslim groups have also accused the police of carrying out extrajudicial killings of Islamist clerics, several of whom have died in mysterious circumstances.
Analysts argue that such tactics further alienate marginalised Muslim communities. It seems likely that al-Shabaab acted in tandem with disaffected Muslim groups, pointing to an emerging homegrown terror threat.
Register for free to continue reading
Registration is a free and easy way to support our truly independent journalism
By registering, you will also enjoy limited access to Premium articles, exclusive newsletters, commenting, and virtual events with our leading journalists
Already have an account? sign in
Register for free to continue reading
Registration is a free and easy way to support our truly independent journalism
By registering, you will also enjoy limited access to Premium articles, exclusive newsletters, commenting, and virtual events with our leading journalists
Already have an account? sign in
Join our new commenting forum
Join thought-provoking conversations, follow other Independent readers and see their replies