Leaders at African summit vote to have immunity from war crimes and genocide prosecution
Journalists were excluded from the session in Equatorial Guinea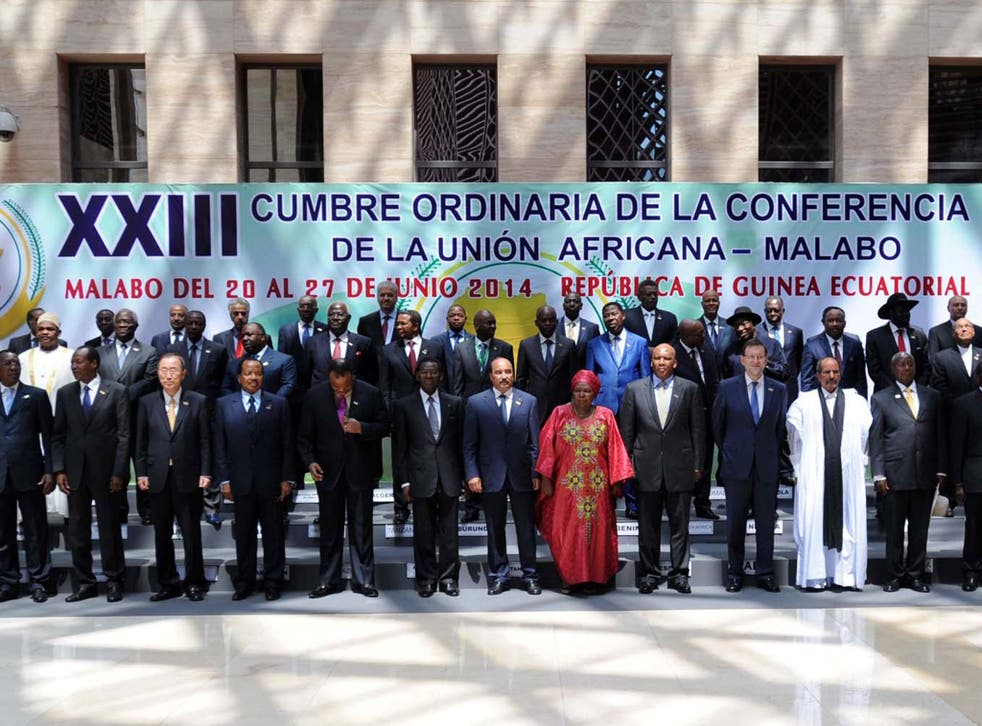 Leaders at an African summit have voted to give themselves immunity from prosecution for war crimes, crimes against humanity and genocide at a new African Court of Justice and Human Rights.
The continent already has two sitting presidents and one ousted president facing charges at the International Criminal Court.
The vote took place on Friday at an African Union summit vote in Equatorial Guinea, during a session journalists were excluded from, and news of it was only mentioned in a statement about the outcome of the summit on Monday, according to Amnesty International.
It came to light in a paragraph listing legal instruments agreed at the meeting included the "Protocol on Amendments to the Protocol on the Statute of the African Court of Justice and Human Rights".
The amendment bars the court from prosecuting sitting African leaders and vaguely identified "senior officials". It was objected to by forty-two African and international civil society and rights groups.
The decision was condemned by Amnesty International as "a backward step in the fight against impunity and a betrayal of victims of serious violations of human rights".
Amnesty's Netsanet Belay said: "At a time when the African continent is struggling to ensure that there is accountability for serious human-rights violations and abuses, it is impossible to justify this decision which undermines the integrity of the African Court of Justice and Human Rights, even before it becomes operational."
Ahead of the vote, Simon Allison of the South African-based Institute for Security Studies warned: "There are enough compromised African leaders who might stand to benefit from the immunity on offer."
He argued guaranteed immunity for presidents and senior officials might actually encourage African states to engage more enthusiastically with the proposed new court, and to abide by its rulings.
"If Africa's leaders aren't worrying about their own fate, they won't have anything to lose by cooperating," he added.
Additional reporting by Associated Press
Register for free to continue reading
Registration is a free and easy way to support our truly independent journalism
By registering, you will also enjoy limited access to Premium articles, exclusive newsletters, commenting, and virtual events with our leading journalists
Already have an account? sign in
Register for free to continue reading
Registration is a free and easy way to support our truly independent journalism
By registering, you will also enjoy limited access to Premium articles, exclusive newsletters, commenting, and virtual events with our leading journalists
Already have an account? sign in
Join our new commenting forum
Join thought-provoking conversations, follow other Independent readers and see their replies